The Best Places in America to Watch the Total Solar Eclipse
If you've been avoiding the news for the past six months (and hey, I don't blame you) you may have missed that America's about to experience its first total eclipse of the sun in 38 years. On August 21 the moon will completely blot out the sun, and stretches of the United States will be in complete darkness as the moon casts its shadow. During an eclipse like this, the temperature drops, light takes on a spooky filtered effect, and the sun's corona is visible as a spectacular aura around the moon, just for a moment.
People are rightfully stoked. This is the first time since 1979 the US has been in the path of a full eclipse, and even then it was visible only in six Northwestern states. This year's will cross the country from Oregon to South Carolina, marking the first time in 99 years that we've had a coast-to-coast eclipse.
The madness is still ramping up. If you haven't made travel plans yet, be sure to look for late flight deals to cities in the path of totality, and watch out for counterfeit eclipse glasses.
But unlike in horseshoes, hand grenades, and any work you do after lunch on a Friday, "close enough" just isn't going to cut it. As one quote from Columbia, South Carolina's dedicated eclipse page put it:
"For those who choose to experience this eclipse outside the path, a partial eclipse is all they will see. Even if the sun is 99.9% eclipsed for these observers, they will not experience the full, jaw-dropping, knee-buckling, emotionally-overloading, completely overwhelming spectacle that is totality." -- Dan McGlaun, veteran of 12 total solar eclipses
What Dan is trying to say, y'all, is that to really experience this thing you're probably going to have to travel. The "line of totality" is only about 70 miles wide, and even within that 70 miles the duration of the eclipse can only be a few seconds, so only a handful of places will be truly great for viewing. We took a look at The Great American Eclipse's picks for the best places to see it, and found out what's going on there. Then, three days from the eclipse, we added the weather forecasts for each, courtesy of Wunderground.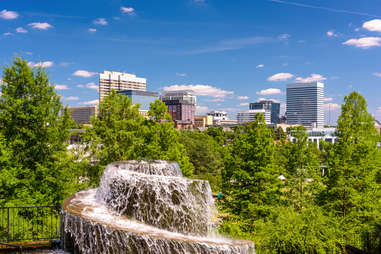 Columbia, South Carolina
Time of eclipse: 2:43pm
Duration: 2 minutes, 35 seconds
Site: totaleclipsecolumbiasc.com
Weather forecast: Not great. Chance of rain all day, spiking above 20% in the afternoon.
Along America's heavily populated eastern seaboard, Columbia is the largest city in the line of totality. So expect pilgrimages to the Palmetto State capitol from folks from New York down to Miami. Columbia's meeting them in style, with space-themed performances from the SC Philharmonic and a Columbia Fireflies baseball game taking place during the eclipse. The Columbia Motor Speedway will be the only race track holding a total eclipse viewing party, and the city has a number of public spaces hosting smaller events.
Madras, Oregon
Time of eclipse: 10:19am
Duration: 2 minutes, 4 seconds
Site: madraseclipse.com
Weather forecast: Immaculate. A 0% chance of rain during the eclipse.
This tiny town in central Oregon has been cited by some as THE best place to see the eclipse, and it's definitely the top far-west spot to put yourself in the line of totality. The city has set up a campground along the centerline dubbed "solartown" where outdoor enthusiasts can hang out and wait for the show. Did we mention weed is legal here? So there's that. There's also three days of live music featuring local acts and tribute bands to Aerosmith, Heart, and Tom Petty.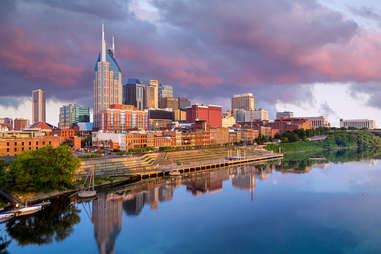 Nashville, Tennessee
Time of eclipse: 1:27pm
Duration: 1 minute, 57 seconds
Site:visitmusiccity.com/eclipse
Weather forecast: Outstanding. Clear with a 1% chance of rain.
We didn't call out Nashville as one of the best places to visit in 2017 because we liked the Predators' chances in the playoffs. It's the only metropolis in the line of totality, and the city boasts more than a few rooftop bars, restaurants, and pop-up locations to view the most unusual two minutes of the decade. In addition to all the parties, the Adventure Science Center will host a music and technology festival from the 19th to the 21st, and the Nashville Sounds will have a special eclipse party during their Monday game. Every park in the city as well as the zoo and public waterways have some kind of festivities going on. If you can snag a hotel room (or a couch) Music City might be the most exciting place in America on August 21.
Hopkinsville, Kentucky
Time of eclipse: 1:24pm
Duration: 2 minutes, 41 seconds
Site:eclipseville.com
Weather forecast: Ideal. Clear with about a 2% chance of rain.
Hopkinsville is promoting itself as "the point of greatest eclipse," which while it may not technically be true doesn't diminish the wealth of activities in one of the longest-eclipsed cities in the country. Its Kentucky Bourbon Mashoree kicks off on the 17th, drawing bourbon makers from all over Kentucky to the MB Roland Distillery for four days of food, music, and sweet brown liquor. Sunday will feature a Bluegrass Bash at nearby Burdoc Farms, and Eclipse Con will bring luminaries from the world of comics, anime, and sci-fi to the Bruce Convention Center for the weekend as well.
Great Smoky Mountains National Park
Time of eclipse: 2:35pm
Duration: 1 minute, 17 seconds
Site: www.nps.gov/grsm/planyourvisit/2017-solar-eclipse.htm
Weather forecast: Strong. Clear with 3% chance of rain midday.
Straddling the border of Tennessee and North Carolina, America's most-visited National Park will get an even bigger boost this year, as it's the only one with significant viewing areas in the line of totality. The parking lot at the Clingman's Dome trailhead will be closed to host scientists, storytellers, and park rangers explaining the cultural and natural significance of the event. The dome is the park's highest point, and will offer the best viewing, but events are also planned for Cades Cove and Oconaluftee. Even if you can't make those, anywhere in the western part of the park should give you an excellent view.
Greenville, South Carolina
Time of eclipse: 2:38pm
Duration: 2 minutes, 10 seconds
Site:visitgreenvillesc.com/eclipse/
Weather forecast: Could be better! Partially cloudy with a 15% chance of rain.
Greenville's spanking-new Up on the Roof bar at the Embassy Suites and SIP Tasting Room will be your go-to rooftop spots for daytime darkness. Furman University will open up Paladin Stadium and have a guided presentation by one of its senior physics profs. The Roper Mountain Science Center -- home to the world's eighth-largest refractor telescope -- will host a weekend-long space extravaganza at its newly renovated planetarium. And the Red Sox Single-A affiliate Greenville Drive has moved its game time to 1pm so it can conveniently be interrupted by the eclipse.
Carbondale, Illinois
Time of eclipse: 1:20pm
Duration: 2 minutes, 41 seconds
Site: eclipse.siu.edu
Weather forecast: Pretty good. Partly cloudy, no chance of rain.
The longest duration of the eclipse's totality will be just south of Carbondale in the Shawnee National Forest. But does that forest have a football stadium from which to see the blazing corona? No, it does not. Southern Illinois University in Carbondale does, however. It's opening up Saluki Stadium for viewing, charging $25 a ticket, with luxury suite packages available if you really wanna go all out. Around the stadium will be a technology expo, arts & crafts fair, and food vendors. Mat Kaplan, the host and producer of Planetary Radio, will be your guide and MC for the day. If you miss this one, Carbondale will be right in the same path for our next solar eclipse, in 2024.
St. Joseph, Missouri
Time of eclipse: 1:06pm
Duration: 2 minutes, 39 seconds
Site:stjosepheclipse.com
Weather forecast: Could get interesting. Chance of rain all day, hitting 15% at midday.
Sure, Kansas City might sport more bars, restaurants, and public viewing spaces. But it's only getting the eclipse for, like, 50 seconds. St. Joseph, a city of 77,000 about an hour north, has one of the longest eclipse times of any significantly populated area in the country, and nearly the longest viewing possible. The Rosecrans Memorial Airport will host one of the largest organized public viewing events in the country, where Front Page Science will bring a team of astronomers and safety-filtered telescopes to help enhance the experience.
North Platte, Nebraska
Time of eclipse: 11:49am
Duration: 1 minute, 50 seconds in town / 2 minutes, 30 seconds just north
Site:2017nebraskaeclipse.com
Weather forecast: Not bad. A chance of clouds, no chance of rain.
The beautiful sandhills of western Nebraska offer your best chances for clear skies in the eclipse's path, with 74% of late-August days historically reporting good viewing conditions. The closest city is North Platte, a cattle town of about 25,000 just off I-80. From there it's a short drive up to the sandhills, where the tiny communities of Tryon and Stapleton will have massive (for them) parties for the event. Make sure you stick around after it gets light, then dark again. The sandhills are known as one of the best star-gazing spots in America.
Casper, Wyoming
Time of eclipse: 11:42am
Duration: 2 minutes, 26 seconds
Site: eclipsecasper.com
Weather forecast: Pristine. Clear and dry in the morning, with a chance of rain in the afternoon.
Wyoming and its big, clear skies have been at the top of many an eclipse-viewers list for places to watch the event. The best viewing in a populated area is going to be Casper, where a five-day festival will descend on the city, culminating in the main event on the morning of the 21st. The Astronomical League is holding its annual convention here just before the eclipse, so there will be plenty of people around to explain everything in painstaking detail. And though places like Jackson Hole and Grand Tetons will be in the eclipse's path too, Casper is the only place in the direct line of totality. And will likely be less crowded -- and maybe cheaper -- than other parts of the state.
Snake River Valley, Idaho
Time of eclipse: 11:33am
Duration: 2 minutes, 18 seconds
Site:eclipsophile.com/idaho
Weather forecast: Glorious. A few clouds, no chance of rain.
Seeing the eclipse in the great out-of-doors might make it feel like a more transcendent experience than in a big city. For drop-dead gorgeous scenery and recreation, no place tops the Snake River Valley. This region about four hours north of Boise has some of the best whitewater rafting in the northwest, and the drive through the Snake River Canyon scenic byway is worth a trip any time. But a gondola ride up to the top of Bald Mountain and its 9,150 foot summit offers one of the most unobstructed, close-up views of the action.
Still not satisfied? None of these great places good enough for you? Check out Thrillist's state-by-state viewing spot guides for the 2017 Total Solar Eclipse in Georgia, Idaho, Illinois, Kansas, Kentucky, Missouri, Nebraska, North Carolina, Oregon, South Carolina, Tennessee and Wyoming.
Sign up here for our daily Thrillist email and subscribe here for our YouTube channel to get your fix of the best in food/drink/fun.
Matt Meltzer is a staff writer with Thrillist who's been looking for an excuse to get back to North Platte. Follow him on Instagram @meltrez1.