Who's up for a "hood pass" to Rio's slums with rapper Don Blanquito -- formerly Alex Cutler, a Jewish MBA from LA? He studied Portuguese, eschewed the wolves on Wall Street, and moved to Rio's projects to pursue his passion: funk music. Now a local celebrity headlining shows and known affectionately as "Sir Whiteboy" in the favelas, he's offering his services as tour guide.

Recommended Video
Here's Your First Look at Disney's Star Wars Land
For $75, DB'll take you around Ladeira dos Tabajaras (better known as Tabajaras), in the heart of Copacabana. A bit steep? Not when you consider the fee includes lunch... AND one of his CDs! Throw another twenty his way and you can take pics together, too.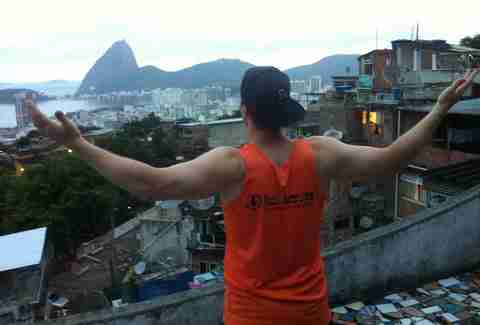 "It's a full blown tour; you're going to sweat, and you're going to see how the locals live -- this is not a zoo tour inside of a caged truck. I have a hood pass since I've lived here for four years, and know pretty much everyone, so no need to hide your Gucci and Louis V." Sold!

Still on the fence? Check out the official video for "Good Old Days", in which DB reminisces about his ho-gettin' days back before he was 30 and married. The lyrics are NSFW, and the message will leave you feeling embarrassed and old. And in the mood to book a tour. 
Sophie-Claire Hoeller is Thrillist's über-efficient German associate travel editor. She's had frequent flyer status ever since her mother gave birth to her at a Lufthansa terminal. Follow her adventures @Sohostyle.