A cool $1.5 million gets you a private jet around the world
Providing yet another reason to take cash over the Chili's gift certificate from the Coinstar machine, Flexjet has partnered with luxury travel outfit Abercrombie & Kent to create Passport to the World, a globe-spanning private jet journey that'll take you from Japan to Paris, with curated stops along the way. It'll also cost you a lot of jars of change -- as in $1.5 million worth.
Here's what your two-week adventure will include, though:
First, your ride:
It'll be a Challenger 605 aircraft, replete with leather seats that turn into beds, global Wi-Fi, and a cutting edge audio/video system.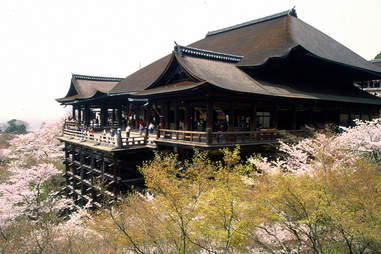 Day 1: Osaka, Japan
Upon completing the first leg of your jet journey, you'll be whisked to The Ritz-Carlton, Osaka, where -- after settling into your suite -- you'll grab some dinner at one of the hotel's prestigious restaurants.
Day 2: Kyoto, still Japan
From Osaka, you'll skip over to Kyoto for a traditional Japanese tea ceremony and to visit a handful of Buddhist temples that're normally off-limits to the public. You'll also eat lunch at Arashiyama Kitcho, a three Michelin-starred resto, with a geisha and her apprentice -- neither of whom will have sex with you. Sorry. Moving on.
Days 3-5: Beijing, China
Hopping back on your jet, you'll wing it to the mainland for a three-day stay in China's capital city; expect to see Tiananmen Square, the Forbidden City, and the Temple of Heaven, as well as meet both a Feng Shui and Tai Chi master. You'll finish things off -- much like the ancient Chinese did -- with a boozy champagne picnic on the Juyongguan section of the Great Wall.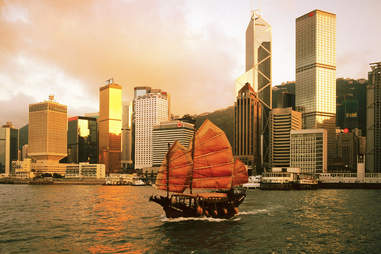 Days 6-7: Hong Kong, China
This former British colony's your last stop in China, so savor every last bit of it as you scope the city from on high in a private Peak Tram car. From there you'll take a sunset cruise around Victoria Harbor, before enjoying a sound and laser light show during dinner. Your final day in China includes a Buddhist nunnery, Daoist gardens, lunch at another Michelin three-starred restaurant, and a traditional reflexology treatment (because stress is for people without a private jet).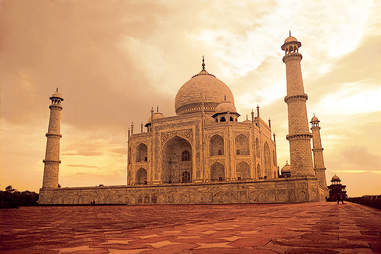 Days 8-9: Agra, India
After checking into India's only hotel with a view of the Taj Mahal, the Oberoi Amarvilas, you'll wander about before partaking of sunset cocktails and canapés on the terrace. Day 2 in India includes a visit to Agra Fort (a UNESCO World Heritage Site) and the "Baby Taj".
Days 10-11: Istanbul (Not Constantinople), Turkey
Your time in Turkey is all about the Hagia Sophia, the Hippodrome, and Istanbul's Old Town, not to mention a private meal at Çirisan Palace. Oh wait, the next night you'll also dine with a member of the Ottoman royalty, in his home. Because that's how things go down when you take a million-dollar vacation.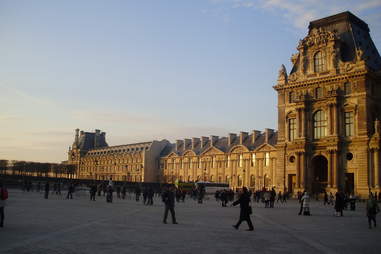 Days 12-14: Paris, France
Your jet journey concludes in the City of Light, where you'll shack up in the Le Meurice hotel overlooking the Tuileries Garden. Pencil in wine pairings at the hotel's restaurant, as well as a landmark dinner at the Eiffel Tower's Jules Verne Restaurant -- and be sure to make a trip to the city's museums, or go on a restaurant tour with a local food critic. You'll also take a private, after-hours tour of the Louvre's permanent collections and a dinner cruise down the Seine on a luxe yacht.
So, really, the only way your $1.5 million vacation could end up any better is if they gave you back the money. Or at least the bowl you collected it in.

Gianni Jaccoma is an editorial assistant for Thrillist Travel, and is fluent in more than seven languages that he made up himself. Follow him on Twitter @gjaccoma.