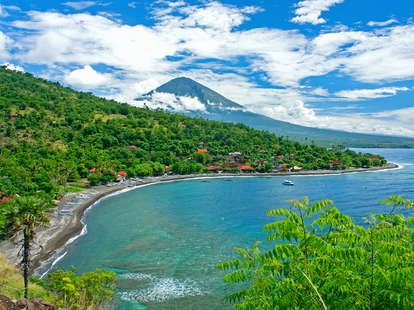 Bali, Indonesia

| Elena Anisimova/Shutterstock
Bali, Indonesia

| Elena Anisimova/Shutterstock
This Travel Site Sends You to a Mystery Destination Anywhere in the World
So long as it's not a flat tire or a canceled flight, a dash of surprise can make a vacation really crackle. Hence the popularity of stuff like Pack Up + Go, which sizes up your budget and then sends you to a mystery US destination for the weekend. Which is cool, but what about taking that concept, and expanding it to….THE ENTIRE FREAKING UNIVERSE. Or, lacking a reliable flight to Mars, at least all of planet Earth.
Such is the premise of Jubel, a service that ships you off to a mysterious destination somewhere in the world, and guides you through the experience with a series of envelopes. It's custom designed for your budget and travel preferences: keeping you in one city or having you hopscotch across multiple continents. Kinda like The Amazing Race, without the bickering.
How does it work?
Since no two people like to travel the same, Jubel's first task is determining what you like to do. To accomplish this, you must select one of five different "paths," specific terms that categorize types of experiences: active nature, party purist, culturist, oceanist, and chilled nature. If you don't like putting labels on things, you can choose a sixth option -- Jubelist -- which takes a bit from each.
You fill out a survey on where you want to travel (or don't), your preferences for scenery, how nice a hotel you want, and what kind of rental car you can drive. It also asks how much of the trip you want to be a surprise. Then you and Jubel confab by phone to talk through the trip: budget, specific preferences, and time frames.
Imagine a scavenger hunt where the clues reveal the next leg of your adventure.
Based on those parameters, Jubel then sends you two proposals with loose descriptions and activities (so as not to spoil the surprise). You pick one, then put down a deposit.
As Meredith Veit -- a journalist from Philadelphia who was one of Jubel's earlier clients -- put it after Jubel sent her to Indonesia, where she worked with orangutans and ate fresh lychees off the trees: "It was like I had planned my own perfectly orchestrated surprise."
You might spend your entire vacation in one place. You might also opt to visit a few different countries over a couple of weeks and not know what they are until you open your envelopes. Trips average less than a week, but you can go as long as you like. (And if you want to know specifically what you're doing, Jubel will spill.)
A few weeks before your trip, Jubel sends you the first envelope in "the Jubel Pack," a series of envelopes that details your journey. The first contains your flight itinerary and lists your hotel. Then, at your destination, envelopes will be waiting for you to open as you go. Each one contains an itinerary with bespoke activities based on your preferences and budget.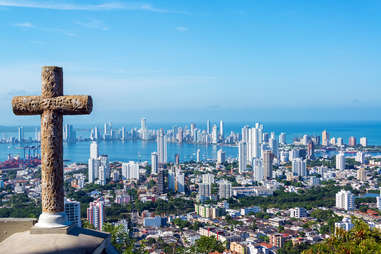 The chaos of group travel, solved
A recent Jubel customer named Ethan Goldman, who went to Colombia with a group of five friends, recounts an afternoon when he and his group were planning a big night on the town and opened their envelope for the next day. "Turns out we were booked on a 10am flight to Santa Marta the next day," he said. "We still hit the town and had a great night, but that was probably the most surprised and thrown off-guard we were all trip."
For large groups, where deciding what to do becomes the main activity of every day, this sense of direction can be freeing. "Trying to get all of us to agree on a specific agenda would have been difficult," Goldman said. "Jubel essentially took the burden of making decisions away from us and forced us to just go with whatever was written in the envelopes." Imagine a scavenger hunt where the clues reveal the next leg of your adventure. Jubel has relationships with locals and tourism specialists around the world, so you'll get to see undiscovered gems wherever you go. But if you just want to plop on a beach for a week, that's cool, too.
Sounds amazing. How much?
Oh, yes. That. Per Jubel co-founder José Pablo Toscano: "It varies between 10 to 15% of base costs depending on how much effort is put into crafting their experience. We don't rely on hotel commission. We don't want to focus on which suppliers give us the best commission, and instead focus on giving the customer the best possible experience." If 15% of your budget is worth someone else sorting out the trip, then it's a deal.
What if the trip's a dud?
Car rental companies and youth hostels still bring an element of chance, so Jubel can improvise. Though it's rare, the company will find other activities, lodgings, or transportation. And often cover it for you, because customer service is not yet dead.
And, no, you do not get your money back if you don't like your destination. You need a certain level of trust to make the most of Jubel, and if you're not big on surprises or want to control your entire travel experience, you're going to need to look elsewhere. But if the element of surprise makes your vacation better, this is the ultimate way to see the world with a virtual blindfold. And if you've ever wanted to explore unknown areas, but lack the time to do the requisite research, this service might be your solution.
Sign up here for our daily Thrillist email, and get your fix of the best in food/drink/fun.