The Best City in America Is...
Whether you live up north in Canada or in the heartland of America, one thing holds true: everyone likes to think hometown is the be-all end-all of cities. But much like Highlanders, soulmates, and Steve Buscemis, there can be only one "best city" in North America -- and Travel + Leisure just announced its pick.
The 2015 edition of T+L's annual "World's Best" survey ran from November 3rd, 2014 through March 2nd, 2015, with voters weighing in via social media, newsletters, the T+L website, and just about every other method imaginable. Voters ranked North America's cities by assigning scores for criteria including sights/landmarks, culture/arts, and restaurants/food, people/friendliness, shopping, and value, with each city receiving an indexed average of those scores. Thusly, a top 10 was formed.
Coming in strong at number one, for an impressive third year running, was none other than Charleston, SC, with a score of 89.84. In truth, the entire top three was dominated by southern burgs, with New Orleans snagging second place (88.11) and Savannah, GA, closing it out in third (87.02).
As for the Canadian side of things, only Quebec City (85.52, 6th) and Victoria, BC (84.88, 9th) made the top 10 -- although, in fairness, the fact that Quebec City beat New York should cheer those crazy Canucks. Somewhere up in the frozen tundra, Rick Moranis and Dave Thomas are sobbing into each other's shoulders.
Check out the full top 10 below:
10. Asheville, NC (84.84)
9. Victoria, BC, Canada (84.88)
8. New York City (85.07)
7. Chicago (85.18)
6. Quebec City, Canada (85.52)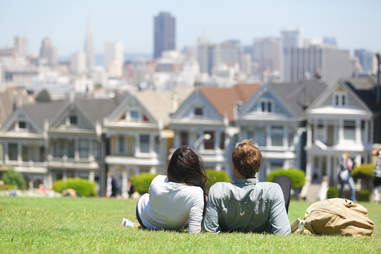 Shutterstock
5. San Francisco (85.70)
4. Santa Fe, NM (86.10)
3. Savannah, GA (87.02)
Shutterstock
2. New Orleans, LA (88.11)
1. Charleston, SC (89.84)

Gianni Jaccoma is a staff writer for Thrillist, and he's amazed Punxsutawney, PA didn't make this list. Follow his sour grapes on Twitter @gjaccoma, and send your news tips to news@thrillist.com