That Tuesday morning FOMO is a killer. While your friends were diligently scooping up all those big Cyber Monday deals, you did something irresponsible like go to work. Or travel home. And now you're on the sidelines for the Tuesday morning pissing contest to see who got the best deals.
But don't be so hard on yourself for missing the big sales. Because like the old bull at the top of the hill, turns out you were just taking your time so you could strut down and take them all.
Our clairvoyant friends at the travel app Hopper analyzed literally billions airfare quotes over the years, and found Tuesday is actually when the most flight sales occur. Yep.
"We've noticed that the Tuesday after Cyber Monday actually offers the greatest number of flight sales," says Patrick Surry, Hopper's chief data analyst. "So we've taken to calling it 'Travel Deal Tuesday.'"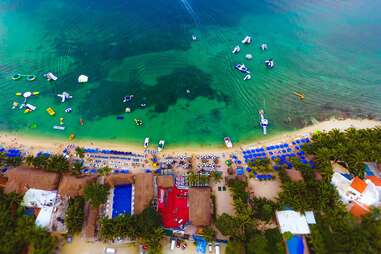 Travel Deal Tuesday is the new Cyber Monday
The numbers Surry mentioned aren't a small uptick in sales, either. In 2016, Hopper found about 110 flight sales on Cyber Monday. The day after? A whopping 180. That's more than double the fare sale activity on a normal day. In 2015, Hopper observed over six times the typical number of fare sales on Tuesday. No guarantees on that level of insanity this year, but history is on our side.
"Travel demand tends to be low between Thanksgiving and Christmas," Surry says. "So the airlines are more inclined to have these major fare sales right after Thanksgiving to entice travelers to book during that slow period."
Airlines, for their part, aren't exactly trumpeting Travel Deal Tuesday as THE day to shop for cheap airfares. Some send out promotional emails saying they're extending Cyber Monday deals, but that's about all.
So if you are inclined, how exactly does one go about finding this deluge of discounts? Of course, Surry suggests using a price monitoring tool like Hopper, where you can enter your desired destination and dates and wait for an alert when prices drop. Or if your travel dates and desired destination are flexible, use their new "flex" option, where you can swipe left and right through travel dates and locales like a globetrotting Tinder. Otherwise you can sign up for promotional emails from any and all airlines to get hipped to the sales first. Or just poke around the internet and see what you can find: We recommend these cheap-flight sites for best results.
Where will the best flight sales be this year?
"We saw some amazing deals last year," Surry recalls. "Lots of deals from the US to Europe for under $500. Also, Hawaiian Airlines, Alaska, and Virgin America were all offering great deals to Hawaii."
Taking a look at the data, however, domestic destinations like Chicago, Orlando, Fort Lauderdale, Denver, Las Vegas, Miami, and New Orleans all see the most sales historically. Mexico City, Cancun, Bogota, Quito, Reykjavik, and Shanghai are all near the top for international destinations, alongside a litany of cities in Mexico and Central America.
So don't sweat missing out on Cyber Monday. Unlike your talk-radio-parroting uncle at Thanksgiving dinner, Hopper actually IS right 95% of the time, which means Tuesday should see a windfall of airfare sales greater than what you would've seen yesterday. Meaning sitting out Cyber Monday wasn't such a bad idea after all, and makes you look like a much more savvy shopper than you probably are.
Sign up here for our daily Thrillist email and subscribe here for our YouTube channel to get your fix of the best in food/drink/fun.
Matt Meltzer is a contributing writer to Thrillist who'll still probably forget to shop for flights on Tuesday. Follow him on Instagram @meltrez1.