Win a Free Trip to Belize on Tinder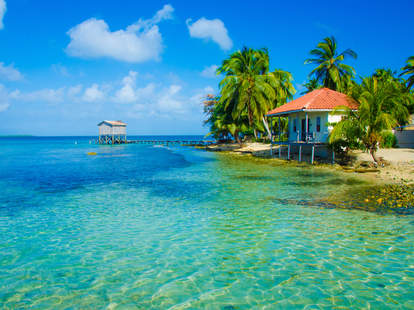 There are plenty of ladies on Tinder offering "private services" for 125 roses/hour. Which is a really weird payment system, because what can anyone really do with 125 roses?
But if you use the dating app in New York or LA this week, you'll encounter an even better offer: a free trip for two to Belize. That's right. All you have to do is swipe right to win a trip to the Central American paradise -- no roses necessary.
The all-inclusive getaway, offered to one NYC-based and one LA-based winner by Belize Tourism Board, includes a five-night stay in a luxury hotel, return flights, and meals -- so you can go ahead and order the lobster. You've just gotta get swiping before Valentine's Day. And of course, you've gotta be right-swiped by Belize, too.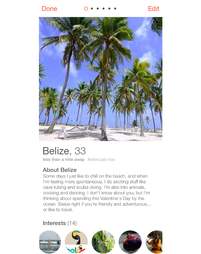 Tinder
Getting right-swiped by Belize is pretty much like any other Tinder match: the tourism board's looking for a "fun, people-person with a good sense of humor" over 21 with an interest in travel, adventure, and good food. No mention of Instagram handles or height preferences, though.
Once you've matched, start a conversation ("Hey gurrrrl") and the tourism board will send back details to schedule a trip whenever suits you (of course, there are some blackout dates).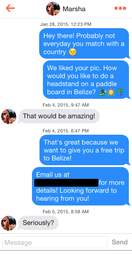 And who knows? Maybe your five-night hookup with that hot piece of sovereign nation that is Belize could turn into something longterm.
The country will be swiping right this week, so stay glued to Tinder for your chance to win, and remember to delete that steamy photo of you with Costa Rica.

Chloe Pantazi is an editorial assistant on Thrillist's travel team. She might have to return to Tinder just for this. Follow her trying to convince her boyfriend this is a good idea on Twitter at @ChloePantazi.