Forget credit card rewards and frequent flier miles: all you need these days to score travel freebies is a Twitter account. Hotels and airlines are trading discounts and perks -- like free stays, upgrades, and airport lounge passes -- for little more than your hashtags, uploaded pics, and social media love. Here are the easiest ways to take advantage.
Facebook
Hilton
Win everything from hotel robes to a five-night stay in Hawaii by commenting on their FB posts as part of Hilton's @PLAY campaign.

Best Western
Play Best Western's weekly Travel Trivia Tuesday challenge on Facebook -- where you try to guess the destination featured in a scrambled image -- and you'll be rewarded with a $100 Best Western Travel Card. The cash can go toward room charges at any of their hotels worldwide.

Wyndham Hotels
While Wyndham runs a number of contests on Facebook, its current Do Not Disturb Sweepstakes ends this Friday, March 13th. Enter for a chance to win a seven-night stay at any of their resorts, as well as 100,000 United Airlines miles. Eight winners will also receive 25,000 miles each.
Instagram
1888 Hotel
Sydney, Australia
It isn't called the "Instagram Hotel" for nothing. Named for the year Kodak launched the first box camera, 1888 features "selfie spaces" and Instagram walks, and is decorated with photos taken by guests. The hotel also gives away free nights each month to the guest who uploaded the best Instagram picture with the hashtag #1888hotel, as well as to anyone with over 10k Instagram followers.

Carlson Rezidor Hotel Group
Keep an eye out for Club Carlson's Instagram Challenges, in which participants post their travel photos (with the hashtag #ClubCarlsonInstaSweeps) for a chance to win 30,000 Gold Points. They also host the occasional #TweetForPoints contest where weekly winners are awarded up to 70,000 points for their tweets. And speaking of tweets...
Twitter
Sol Wave House Hotel
Mallorca, Spain
Where there's an Instagram hotel there must be a Twitter hotel. And that would be Sol Wave, where guests interact with one another through an app that only works on the hotel's Wi-Fi. It can also be used to order food, drinks, or a minibar restock, simply by tweeting certain hashtags at the "Twitter concierge." The hotel also throws a #TwitterPoolParty every Friday, where guests using the service score a free drink.
MGM Resorts M life Social Rewards
Sign up for M life Social Rewards and trade your check-ins, tweets, and Instagram uploads for credits that can be cashed in for room upgrades, pre-sale concert and fight tickets, and priority reservations, among other rewards.

Kimpton Karma
Basically, the more you tag and tweet about them, the more points you earn for free nights, room upgrades, and spa credits. Even better, the more you interact with Kimpton Karma, the more they get to know you; next thing you know they're offering personalizing perks, like sending bottles of your favorite booze up to the room. Finally, following them on Twitter (or Facebook) gives you access to "social specials" and the passwords needed to unlock the perks. Members also get free Wi-Fi and a $10 mini-bar credit every time they stay at a Kimpton.
Marriott Rewards Plus Points
Marriott recently beta tested a program that lets customers link their social media accounts and tweet or retweet about the hotel for points. You could also win a Marriott bed (and the bedding!) or a five-night stay at any of their properties just by tweeting about their current sweepstakes.
Expedia
Every Wednesday, experts share their travel tips as part of #ExpediaChat. And joining them enters you in a contest to win some pretty insane prizes, like a round trip ticket to South Africa or four nights at a luxe resort in the Caribbean.
Aloft Cupertino Hotel
Cupertino, CA
This one's a little weird, but Silicon Valley's Aloft Cupertino Hotel has a robot bellhop named A.L.O. Botlr, who will gladly accept positive reviews/tweets in lieu of tips when he brings you stuff. So, the perk here is you're saving tip money. Which you probably would've done anyway, since you know, you're not tipping a robot. But whatever.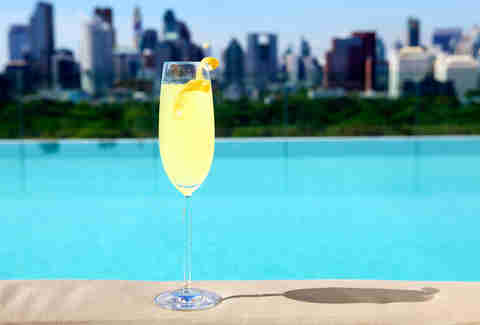 Foursquare
Finding freebies is Foursquare's raison d'être: simply checking in wherever you are with Foursquare should unlock discounts and specials unique to your location.
Starwood's SPG program
Specifically though, enroll in Starwood's SPG Program and link it to your Foursquare (and Facebook) page so you can check in and track promotions. The program pays in Starpoints, which can be redeemed for free nights, upgrades, Delta flights, air miles, gift cards, and access to music, sports, and other events. They also have a cool SPG Social Traveler function which creates specific itineraries based on what you and your friends follow/like on social media.
Connect with these sites
Priceline Freebies
Priceline has a nifty page that lets you browse freebies by location, as well as filter by perks. There are 10 easily searchable categories on the site, from room upgrades to spa credits.
CitizenM
Signing up with the citizens-only program is free and entitles you to 15% off their best rate, every time. Plus a welcome drink. You can also win free nights at one of their new locations simply by following them on Twitter and Facebook.
Social Rewards
Register by connecting one or all of your social media accounts to the site and earn exclusive rewards by tweeting or posting about their clients, which include Caesars Palace, Planet Hollywood, and Harrah's in Vegas, among others.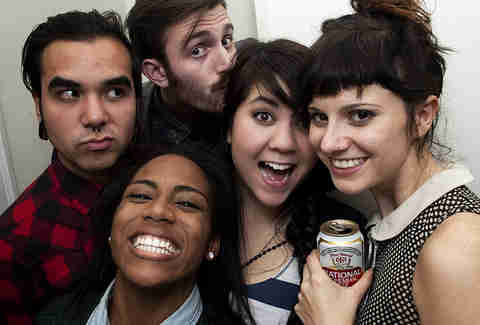 Just be popular
Hotelied
This hotel booking site rewards popular clients with personalized discounts. The more Facebook friends or Twitter followers you have, the bigger your discount will be. Once you sign up and add your social networks, they'll negotiate with hotels to get "influencers" (aka you and others with a lot of followers) up to 50% off your room.
American Airlines
American Airlines likes to play the popularity game too, having given away VIP Lounge passes to travelers with a Klout.com score of 55 or more. They've also hosted Instagram contests in the pasts, like their #AATravelSweeps, so follow them to stay in the loop.

Sophie-Claire Hoeller is Thrillist's über-efficient German associate travel editor, and has had frequent flyer status since she was born in a Lufthansa terminal. Follow her @Sohostyle