Learn to say "Let's party, b*tches!" in every language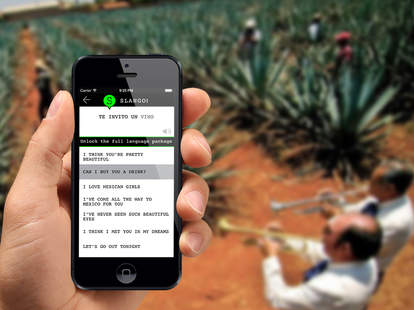 Because you'll never impress the women of Bartheylona with a sheepish, "Perdóneme, which way to the deeethcoteque?," put down that borrowed "Travel Phrases" and download Slango!, an app that helps you avoid sounding like a tourist by "translating hundreds of English phrases into their local, colloquial equivalents", right down to swear words, pick-up lines, and dirty talk for the boudoir. That's "bedroom", by the way. In French.
Slango!
Just select a language (Spanish only, but many more promised soon) and choose from phrases in categories like "Making Friends", "Getting Around", "Partying", and "Picking Up Babes", which is also known as "Partying", right amigo!? Slango! will then kick out both written and audio translations for such gems as "I feel like getting drunk", "Let's go bitches!", and "I think I've met you in my dreams", a phrase typically only uttered by foreigners. If you find yourself at a loss for words Slango! can't provide, hit them up with an email and they'll try to work it into a future release.