It's probably safe to say the idea of tipping the flight attendant has never crossed your mind, but apparently a whopping 30% of flyers have done it. How do you feel now, cheapskate?
While tipping in restaurants is a fairly black and white (albeit highly divisive) issue, the rules get blurred on vacation. Suddenly, there are outstretched hands everywhere, and you have no idea with whom to leave your money. The guy scrambling eggs? Really?
In an effort to make your next airport shuttle ride considerably less awkward, we asked national etiquette expert and owner of The Protocol School of Texas, Diane Gottsman, exactly who we should be tipping, and how much. And here's what she said:

Skycaps
$1-$2 per bag. Unless you're checking in curbside, in which case it's $5 for one bag, $3 to $5 for each additional bag.

Host(ess)/Maitre D'
You don't typically tip a hostess, but if they reserve you that special table overlooking the hibachi chef who also makes tableside guac -- definitely slip 'em $10-$20.
Flight attendants
Don't tip them. They get paid a salary, and they're not working for a gratuity or relying on tips to pay their rent.

Taxi driver
A minimum of 10-15% is average. 20% and above for a driver who assists you with your heavy luggage.

Limo/town car driver

Some car companies include gratuity, but if you had a smooth ride and want to leave a favorable impression for the return trip home, feel free to throw them a little something extra. If a gratuity is not built in, tip 15-20% of the fare.

Shuttle driver
$1-$2 per person, depending on how much they assist with your bags.
Hotel doorman
There's no tip required for a smile and a held door. However, if they perform a special service such as helping carry shopping bags from the taxi to the front desk, or holding an umbrella from the front door to the car, think about $2-$5.

Hotel bellman
Generally, $1-$2 per bag. Although, if you're asking the bellman to lug your one Eddie Bauer duffle bag up to the 23rd floor, make it worth his trip and give him $5.

Hotel valet
$2-$5 when you pick up your car.

Front Desk
You don't typically tip the front desk staff, nor do they expect it. But if they work in a concierge capacity and score you a dinner reservation at that spot where everybody in El Paso wants to eat, you should thank them with $5-$10.

Hotel concierge
For quick directions to the nearest coffee shop, no tip. For theater tickets or dinner reservations, tip $5-$10. If said tickets are to the most popular show in town, however, you're looking at more like $20. May seem steep, but at least you're not stuck at Jersey Boys.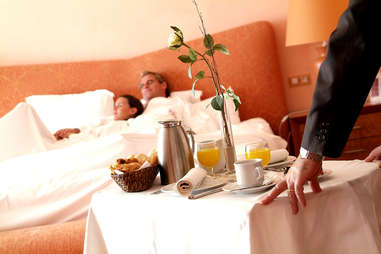 Room service
If the room service fee hasn't already been added to the cost of the meal, add 15%. If it has, then it's up to you how generous you feel about the luxury of eating without pants.

Hotel housekeepers
$3-$5 daily, or if there are more than five guests in the room, $1 per person per day.

Buffet servers
$2-$5 per diner for servers who refill drinks, clear plates, and score you extra dinner rolls.

Buffet cooks
Depends on how much you liked that omelet. If there's no tip jar, though, you're in the clear.

Bartender
If you're running a tab, tip 15-20% of the bill. If you're paying as you go, it's $1-$2 per drink.

Restroom attendant
Some people may have never seen a person assisting in the restroom until they visit a larger city (or the Charlotte airport, for some odd reason), and may be confused as to what to do or say. Greet the attendant with a broad smile and a cheerful "hello", and then walk straight out without leaving a nickel. JK! Drop $1-$2 into his or her basket, depending on the service provided (fresh towel, mints, mouthwash, etc.).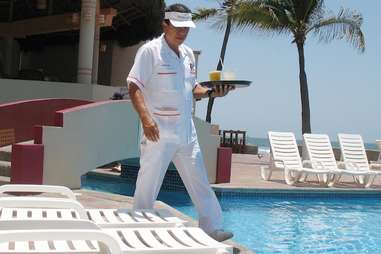 Pool staff
If they bring you a towel and/or drink, anywhere from $1 per item. If they're rearranging chairs, setting up umbrellas, or applying your suntan lotion... we mean, saving your seats, plan on $5.
Public tour guide
$1-$2 per person for an hourly to a half-day tour. $2-$3 per person for a day trip. That said, there's no need to tip government or national parks employees.

Private tour guide
Check to see if it's added, otherwise include 15-20%.
Spa employee/massage therapist
Check the tipping policy, as some spas do not allow gratuity or include it in the bill. If neither is the case, tip 15-20% of the service.

Boat captain/staff
This varies. While chartered captains aren't expecting a tip, the crew should get anywhere from 10-20%.

Camp counselor/Childcare attendant
They're not expecting a tip but you'd be a nice person if you brought them a Starbucks card or something. Check first, though, some daycare providers can't accept gratuities.

Weird dude letting tourists take pictures with his python
Anywhere from $2-$5. Or, whatever you have, really.

Sophie-Claire Hoeller is Thrillist's associate travel editor, and did a very brief (3-day) stint in housekeeping in a hotel in Hawaii. She was tipped. Follow her @Sohostyle