The Best Way to Explore a New City? First, Ditch Yelp.
When my old college buddies and I set out to conquer one of America's most overlooked cities, we decided to do it the old-fashioned way. We had 48 hours to spend in Cincinnati, anchored by a visit to Great American Ballpark, and I wanted to experience the best of a city I knew jack about (beyond the fact that they once had a killer fictional radio station with a DJ named Johnny Fever).
But the best does not necessarily mean "highest rated." We could've crowd-sourced the eating and drinking and general hellraising we'd do -- you know the drill: scan TripAdvisor, read the tea leaves on Yelp, search Google Maps, bicker over this scant information, cross your fingers. That's a giant time-suck, especially when you're traveling with companions. Someone finds a Michelin-rated sushi place, but someone else just had sushi last night and would rather hit up this high-end Latin fusion place. Meanwhile another guy in the group mopes unless he gets to have a burger and beer at the dive bar Anthony Bourdain featured on his show. And by then you're hungry enough to start plugging quarters into the hotel vending machine.
So the question we all face is, how does a person get these monsters to:
1) Walk out the damn hotel door; and
2) Be open to having a good time, despite the lack of plan?
The answer is deceptively simple: Leave our fate up to the locals. Unencumbered by bucket-list destinations and yet huge enough to contain real treasures, Cincinnati seemed like the perfect turf for us to run this DIY single-input algorithm. Our experiment unfolded in ways I couldn't have predicted -- but in some ways, that was exactly the point.
When asking locals for advice, curate your locals
Your easiest tipster for local recs will be at the hotel front desk. But take a hotelier's advice with a grain of salt. They may direct guests to inoffensive tourist-friendly spots -- sometimes as part of a business relationship. Having made a solemn oath to only rely on locals, we overruled our hotel concierge's very basic recommendation and instead listened to the hotel's valet, who recommended we seek our first drink at Krueger's. Done.
To reach this gastropub, we walked a few blocks into the scrappy and increasingly hipsterized O-T-R (Over the Rhine) past some flagrant drug dealing in front of a giant statue of President James Garfield (an underrated American badass, truly). At a pleasant roof deck bar, we sampled well-crafted takes on Midwestern delights, like a Bavarian pretzel served with "Hot Beer Cheese," sausages of plentiful variety, and an otherwise perfectly healthy and tasty salad served ON TOP OF a damn fried chicken cutlet. Our gregarious bartender poured us a pitcher of a cocktail called a John Daly -- which made you want to gain 100 pounds and play inexplicably good golf -- then took the time to provide us with a handwritten cheat sheet of dive bars and microbreweries we should hit up in town.
We'd done no higher-level thinking, and yet we were delightfully fed and watered. Stage 1 was a rousing success.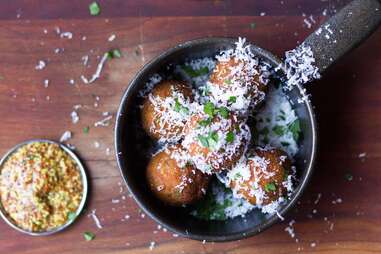 Following the first of our two Reds' games at Great American Ballpark -- as friendly and accessible a Major League park as you're likely to find -- we stumbled upon a preserved piece of the Berlin Wall outside the National Underground Railroad Museum. This was an unexpected delight for the Cold War history geeks among us, and a stark reminder that giant walls are remembered most fondly when they're pulled down.
We capped our night -- on the suggestion of a fellow baseball fan -- at Bakersfield, where I feasted on chili-marinated pork tacos and a spicy margarita. Seated at communal tables on a bustling Friday night, we struck up a conversation with the couple next to us, who clued us in on Cincy's burgeoning microbrewery scene. Our list seemed to be growing organically.

A good problem to have: Choosing among the best
The next morning, we didn't feel like beer for an eye-opener, so we instead took a recommendation off our bartender's cheat sheet and hit up the Pilot Inn -- a no-frills sports tavern with a crowd of regulars watching Ohio State football and eating fat burgers with waffle fries. A few Kentucky bourbons later, we plotted a walking course for MadTree -- a microbrewery that one of our taco companions raved about.
Then, mere blocks from the bar, a record store derailed us.
MetaModern Music is less than a year old, owned and operated by a Cincinnati native who also happens to be the world's biggest fan of The Black Crowes (specifically Chris Robinson). With a nice mix of new and used vinyl, there was a deep collection of hippie jam band rock, glam, metal, hip-hop, country, and jazz. As someone who makes it a point to patronize at least one record store in every city I visit, I was buzzing at our pure-chance discovery.
This, too, is an advantage of listening to locals: Once you walk away, you can totally overrule their recommendations. It's far easier to do that than to overturn a decision that took 20 minutes to reach in committee with your buds.

MadTree served exceptional beers in a spacious indoor beer hall with a solid, shaded outdoor auxiliary bar. One of the locals even offered to buy me my next round after admiring my New York Yankees T-shirt bearing the name of Cincinnati native Paul O'Neill. I had deliberately worn the shirt to annoy my Red Sox fan compatriots, but to also tip my hat to Cincy -- and it paid off! A bar side conversation with a bodybuilding Marine veteran about his home-brewing operation led to a dinner recommendation, but more on that later.
After our second Reds game (which the Red Sox won, sigh), we were felled by the smell of barbecue smoking on the sidewalk about a mile from the stadium. Fins & Feathers -- located directly across from the den of sketch that is Garfield Park -- was operated by a guy people were calling "Reverend" in the remains of an old barbershop. He couldn't have been friendlier as he heaped rib tips -- the last meat available before he closed -- and cornbread so sweet and light I didn't even need a drink of water to wash it down.
We then staggered, Godzilla-like, from our BBQ feast to high-end homemade pasta at Sotto, an Italian spot recommended by our MadTree drinking buddies. Two consecutive meals of meat and pasta knocked us unconscious, effectively concluding our Cincinnati adventure.
Victory can be yours, as well
Afterwards I audited the weekend online and wondered whether we could've Googled our way into a better experience. The verdict: Maaaaaaybe.
Most of our chosen destinations trend well on Yelp. Krueger's, Bakersfield, Sotto all had 4.5 stars from hundreds of reviewers. But we would've overlooked places like the Pilot Inn (just 16 reviews), MetaModern (brand-new, only three reviews old at the time), and even the well-reviewed MadTree brewery had we not hit up that first bartender. And forget about Fins & Feathers. That's a place you have to see to experience. No reviews could ever do it justice.
Just as importantly, we skipped that part of the trip where we might've been squabbling over fractions of star ratings. We got to know the locals more intimately, and we kept our eyes on the Queen City, rather than our phones (which itself a time-sucking and soul-quashing experience).
Sign up here for our daily Thrillist email and subscribe here for our YouTube channel to get your fix of the best in food/drink/fun.
Anthony L. Fisher is a journalist and filmmaker in New York whose work has also appeared in The Daily Beast, The Week, Vox,
New York Daily News
, and Reason. He also wrote and directed the feature film
Sidewalk Traffic
, available on major video-on-demand platforms. He is on Twitter @anthonyLfisher.