If you've ever dreamed of following the Red Sox on a road trip, or seeing Auburn play in Tuscaloosa, or catching Maroon 5 live in London, well… seriously, Maroon 5? Really? Ok, that's cool. Either way, doing any of the above is now infinitely easier thanks to Travelatus, an all-in-one event-planning hub that helps you score tickets, hotels, and even flights -- everything you need to catch your favorite bands and sports teams around the globe.
You have three search options right out of the gate: 1) type in the team/band you want to see, 2) use the psychic algorithm to provide personal recommendations based on your FB profile, or 3) hit the random result-generating "Some Magic" button and find yourself at… a Bieber concert in Toronto!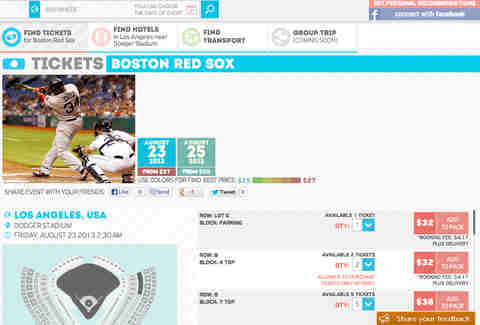 Regardless of which option you picked, scroll through a picture-filled list of upcoming games/tours (sorted by date) before deciding that a Red Sox game at Dodger Stadium would, indeed, be pretty awesome. Add the tickets to your "Travel Pack".
But where to stay in LA? Such a sprawling town. Oh look! The next tab provides details on hotels located at (or around) the event. That was easy. If you want to stay on the beach, in a 5-star hotel, or even where they filmed Encino Man, use the filters (distance from venue, budget, etc.) to re-sort the list. Add a hotel to your Travel Pack.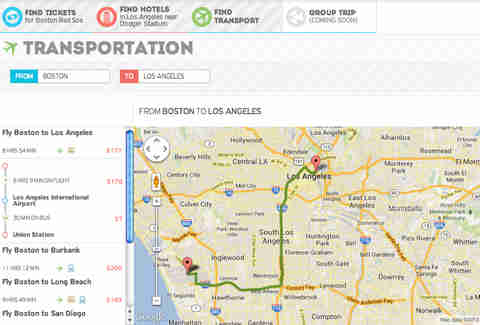 You see where we're going here, right? Tickets are done. Hotel is set. Now it's time to find a flight, train, or bus to get there, and while you're at it you can spy a handy Gmap with directions from the airport to the event venue.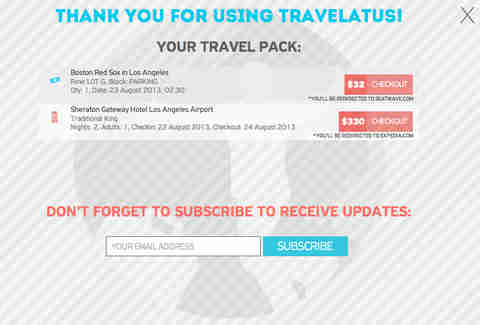 Finally, break out the credit card and head to the checkout (to make sure you don't get Marooned).