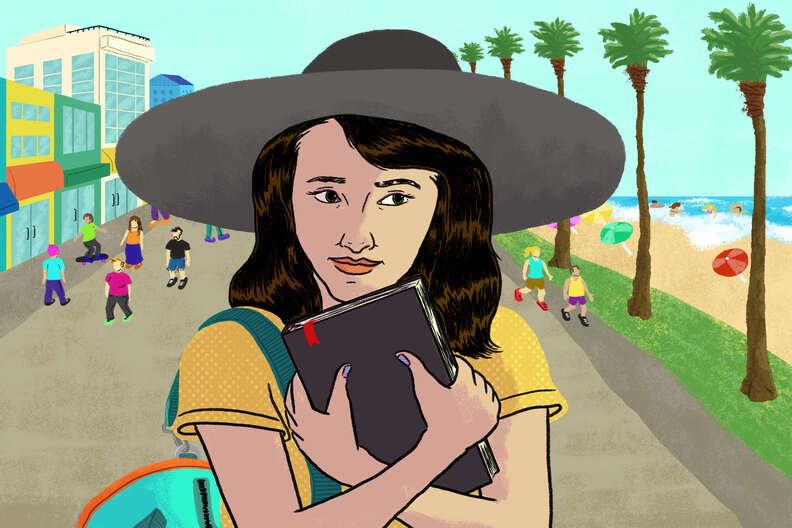 How Traveling Alone Helped Me Overcome Anxiety
Traveling alone to an unfamiliar city seems like an unlikely feat for someone like me -- that is, someone with an anxiety disorder. In my everyday life, the unknown is terrifying. I take three different medications to keep my brain chemicals balanced and nervous breakdowns at bay. Yet somehow the idea of exploring a new place, by myself, is absolutely exhilarating. It gets my brain racing, but in the good way -- not with irrational thoughts or mortal dread.
Whether you suffer from anxiety or not, the general consensus seems to be that going on a vacation sans travel companion automatically makes you a weird, friendless loser. Over and over I get comments like, "You're going to Miami alone?!" or "Aren't you scared?" and "I could NEVER do that!" For the first time in my life, I love doing something that other people find nerve-racking and off-limits. People tell me I'm brave; never in a million years did I think I'd be associated with that word. Truth is, traveling by yourself doesn't have to feel intimidating or lame; I attest that it can actually be really fucking fun, healthy, and rewarding in a million lovely, unexpected ways.
In my everyday life, the unknown is terrifying.
For as long as I can remember, I've been scared of basically everything. I was diagnosed with generalized anxiety disorder at age 11, promptly ushered into therapy, and prescribed psychotropic medications. I often skipped school, or cried at the nurse's office until she sent me home. I avoided anything that involved leaving the house for an extended period of time. A sleepover at a friend's? Thanks but no thanks. Snowboarding in Pennsylvania for my birthday? Nah. A field trip to Spain with my Spanish class? There wasn't enough Xanax in the world.
My mental state only worsened when I got to college. On top of the anxiety, I was diagnosed with major depressive disorder. Stakes were getting higher; I passed up a summer fashion internship in London -- a dream opportunity -- and kicked myself over it for a year. With seemingly no hope for a change, I accepted my fate of staying trapped in New York forever.
In 2016, I made a New Year's resolution -- and actually kept it -- to do more things that scared me. When my friend Maddi won an all-expenses-paid trip to LA for a night (a mega-luxe hotel, fashion line launch party, and meeting Courtney Love were all on the docket), I forced myself to accept her invitation to tag along. Twenty-four hours in California made me realize A) planes aren't really so bad, B) palm trees are quite relaxing indeed, and C) I wanted to go again.
So I booked a flight back to LAX and an Airbnb in Marina del Rey. Made a list of things I wanted to do and see. Texted the people I knew in LA to let them know I'd be in town. Was immediately flooded with overwhelming fear and regret. How stupid was I to think I had the balls to take a trip alone? Crying and mid-panic attack, I attempted to cancel the flight -- it was non-refundable. The thought of throwing all that money away only worsened the anxiety, so I took the trip. There was no other option.
Those who also suffer from anxiety can, in all likelihood, relate: My mind continuously went to the worst-case scenario, intensified by the fact that I would be in Los Angeles totally alone. Nobody would be there if I became gravely ill or had a heart attack, and I'd die. Nobody would be there if I got mugged or murdered. Or I'd lose my medications and go into withdrawal and consequently lose my mind. Or I'd feel painfully bored, and painfully lonely.
None of those things happened. Nothing even remotely as bad as those things happened. I woke up in my Airbnb fresh as a daisy at 9am (something I'd never do at home). I took my time, made coffee, and parked myself on the sun-drenched balcony overlooking the marina. Then I took the owner's bike out for a spin. Sometimes the bike paths ran out and I found myself in traffic, amongst cars -- something I'd never attempted. But instead of thinking about dying, I tried to focus on the never-ending path of swaying palm trees that lay ahead of me, the feeling of my hands gripping the handlebars, the smell of the nearby light-speckled water. This was a technique I used throughout the trip. If we're gonna get therapy technical, it's a practice called "grounding."
Another secret to traveling solo: You probably won't spend the whole time alone.
What do you do when you're in LA for fun all by yourself? Laze on the beach for hours on end. Read a great book, explore Hollywood, wander into record shops, stroll the Venice Beach Boardwalk. Eat at some damn good restaurants. (Pro tip: If you feel weird dining alone, sitting at the bar is always less intimidating. Befriend the bartender. Hell, befriend the dude next to you!) This sounds cheesy, but everywhere I went, I felt like the coolest girl there. I probably, er, definitely wasn't the coolest girl there -- but let's call it a side effect of feeling intensely, exuberantly confident. I was fucking DOING IT.
Another secret to traveling solo: You probably won't spend the whole time alone (unless, of course, you want to). Chances are you know a guy who knows a guy. My sister connected me to one of her old friends and we went to the Griffith Observatory together. One of my Instagram friends, whom I'd never met in real life, drove up from Orange County. We drove around blasting Nirvana and staged a fashion shoot on the beach. I made a friend on Tinder (just a friend, mom and dad). We swapped stories, went shopping, grabbed a slice, and played on playgrounds. When I went back to my Airbnb each night, I didn't feel lonely. I felt proud.
Fast-forward a year. I got laid off, my boyfriend dumped me, and New York City was getting dumped with snow. On a whim, I found flights to Miami Beach that were surprisingly cheap, and I hit BUY. Three days later, I was journaling in the airport terminal; putting thoughts to paper, I realized I had absolutely zero anxiety about this flight -- and felt a general sense of calm about my life despite the curveballs I'd been thrown. I felt zen. Which is more than most "normal" people can say when they're at the airport.

Visiting Miami was a challenge of an entirely different scope -- it's probably the last place you'd think to vacation solo. More akin to visiting a foreign country, the city is a jumble of Latin American cultures; the conversations being had around you are rarely in English. The rules are different, the price tags are steep, and the people-watching is one-of-a-kind. I loved it. I walked almost the entirety of South Beach in a day. I took an Uber and explored Wynwood, the arts district. Once again, I made a friend on Tinder (I have no shame, people). I spent hours on the beach.
Biking in traffic was peanuts now -- this time, I went kayaking. In the ocean. Unsteadily climbing into the seat, the employee gave me directions that I could barely remember a minute after. I asked him if I was gonna die and he said no. I believed him because he looked like a young, tan, beautiful blond Jesus.
Out on the open water, other than a few paddleboarders in the distance and the manatees swimming below, I was alarmingly alone. When a boat sped by, I panicked that I'd capsize in its rocky wake. I didn't. I rowed over the waves and looked around me, drinking in the Miami skyline. I kept repeating aloud, "Holy shit, holy shit, holy shit!" Partly because the anxiety was very present, but mostly because it was one of the coolest things I'd ever done. And I know it sounds like a kid who ties her shoes for the first time, but I did it all by myself.
Whether or not you suffer from an anxiety disorder, here are my tips if you want to go on a solo trip:
For your first time, stay in a city where you have friends or family nearby. Even if you don't end up contacting them, you still know they're just an Uber ride away should you need them.
Utilize your network. Ask your friends and family if they know anybody in the destination you're looking into and let them be your travel-friend matchmakers! Ask them to set up a group chat or start a message thread on Facebook and go from there.
Take advantage of social media. Chances are, you know a lot more people online than you do "in real life." Maybe you've got people you've been following on Instagram and chatting to for years who live in the area. Ask them to go out for coffee or a hike, whatever you're into. They'll probably be happy to meet you, too.
Don't be afraid of dating apps. Yes, you can use them to make friends -- just be sure to make your intentions clear from the start. Let your matches know you're visiting and looking for a pal. And hey, if you want more than that, you do you. As always, use your best judgment and be cautious when meeting people from apps or the internet.
Always let at least one person know your plans. Give your family members or friends the address of where you're staying and your general itinerary. Especially when meeting someone from online, let a friend know who you're meeting and where. JUST IN CASE!
Bring a journal. Not only will this be great for remembering your trip, but it helps you sort out your thoughts if you're feeling anything negative. Plus, it's a helpful prop if you feel awkward dining at a restaurant solo.
If you live with an anxiety disorder or depression, having an on-the-go therapist is a great resource. I use Talkspace, and it's great for when I'm on the road and can't make it to an in-person therapy session. There are all sorts of online counseling services, from text messages to video chats.
Right now, I'm writing this on a flight to LA. Yes, I'm going back, and yes, I'm solo. I have a coffee, a Diet Coke, and three bags of Cheez-Its -- basically ready to conquer the world. You've heard the cheesy inspirational BS, "Buy the ticket, take the ride." I stand behind it. Buy the ticket, take the ride… even if you're alone. Even if you're scared.
Sign up here for our daily Thrillist email, and get your fix of the best in food/drink/fun.