Ayn Khor Waterfall/Salalah Oman

| Santhosh kumar sundaresan/Shutterstock
Ayn Khor Waterfall/Salalah Oman

| Santhosh kumar sundaresan/Shutterstock
The Chillest Country in the Middle East Is Also the Most Gorgeous
For more than a year, my husband, Geoff, lobbied for our big 2018 overseas trip to take place not in the south of Italy -- but rather in a small Middle Eastern country four hours south of Dubai. "It's just like Hawaii!" he claimed. I told him he'd been smoking too much frankincense.
But Geoff wasn't pitching the country blindly. My husband's best friend had married a woman whose family lived in Oman. Tagging along on a family vacation once, Geoff had fallen in love with the country (and the family). In marriage, you compromise, or so I gathered from a relationship column at some point. So we booked our tickets. And sure enough, between hiking copper-colored cliffs and swimming through caves with waterfalls, I fell in love, too.
Unlike its flashier neighbors, Oman isn't great at self-promotion, and Americans often overlook it. This is a shame. While Dubai and the UAE beckon with man-made islands and towering skyscrapers, and Jordan draws visitors with the astonishments of the ancient city Petra, Oman's beauty tilts decidedly natural, defined by its golden red cliffs, green-tinged mountains, turquoise seas, and vast deserts. And though development and modernizations have been priorities of Sultan Qaboos, the classical music loving sultan who took over the country in 1970, you can still see the handprints of time here. Centuries-old terraced farming villages cling to the sides of mountains, and every Friday, locals still purchase their livestock at a live goat and cattle auction in Nizwa.
Oman's location, a stone's throw from Saudi Arabia and north of Yemen, can make people (like my mother) nervous. But Omanis practice a brand of Islam, called Ibadi, known for its openness and hospitality. The constitution prohibits discrimination based on religion; Oman is the only country in the Middle East to score a zero on the Global Terrorism Index. Our most dangerous moment on the trip happened when I tripped getting out of the swimming pool and almost lost my toenail. Indeed, five minutes into conversations with locals, we were fielding invitations for future visits. And with a new $1.8 billion dollar airport in Muscat, it's suddenly become a lot easier for people all over the world to discover the beauty of this under-the-radar country.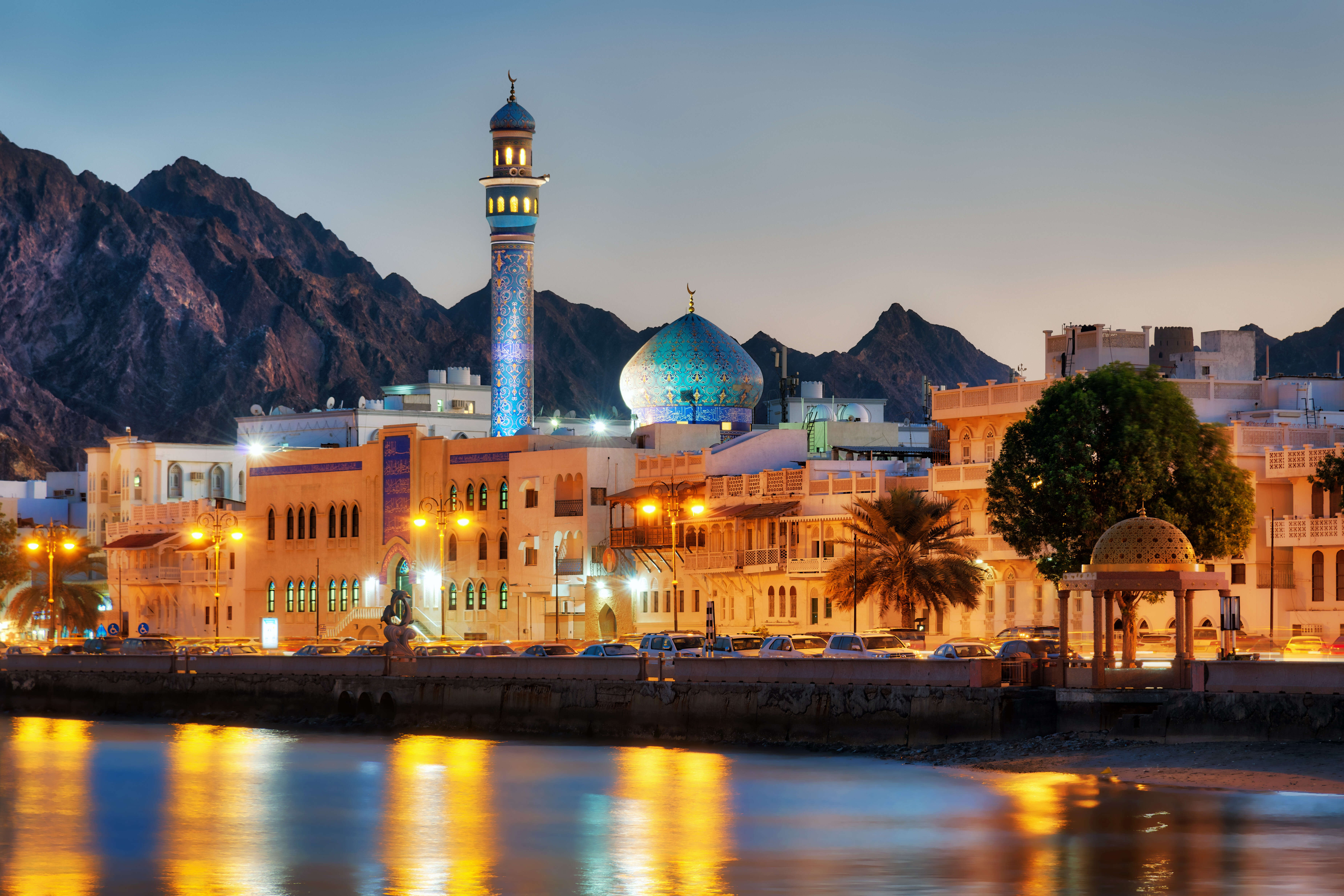 Muttrah Corniche
Oman has long been a seafaring country. Strolling along the long esplanade that makes up the Muttrah Corniche, you can see its living history. The waterfront promenade -- dotted with restaurants and cafes -- wraps around the Muttrah Harbor, where you can see traditional wooden fishing dhows sailing alongside luxury yachts. (Here's where the Sultan moors his Al Said yacht, one of the largest in the world.) At night, the fountains light up, and the whole corniche takes on a romantic glow. Bonus: You can get some awesome deals in the Muttrah Souq, open late most nights.
Bimmah Sinkhole
Who needs an expensive pedicure? Sitting on the edge of the Bimmah Sinkhole – a large, natural emerald colored watering hole located an hour and a half from Muscat, small fish nibble at your toes, and scrape the dead skin off your feet. Scientists say that 20- to 30-meter deep hole, surrounded by walls of limestone, was caused by erosion -- but locals might tell you that the sinkhole was formed by a meteorite. The sinkhole is located inside the Hawiyat Najm Park (Falling Star Park) -- and with its sparkling, clear water, the place feels as magical as its name.
Birkat Al Mawz
This abandoned ghost town at the base of the Al Hajar Mountains gives you a glimpse of what life was like for Omani villagers hundreds of years ago. You can still walk through the remains of mud and adobe houses; many windows, archways, and stairs are still intact. Our driver climbed up a steep, roadless hill to get a view of the village and surrounding date trees. Unless you have a 4x4, walking gives you just as good a look, minus the vertigo.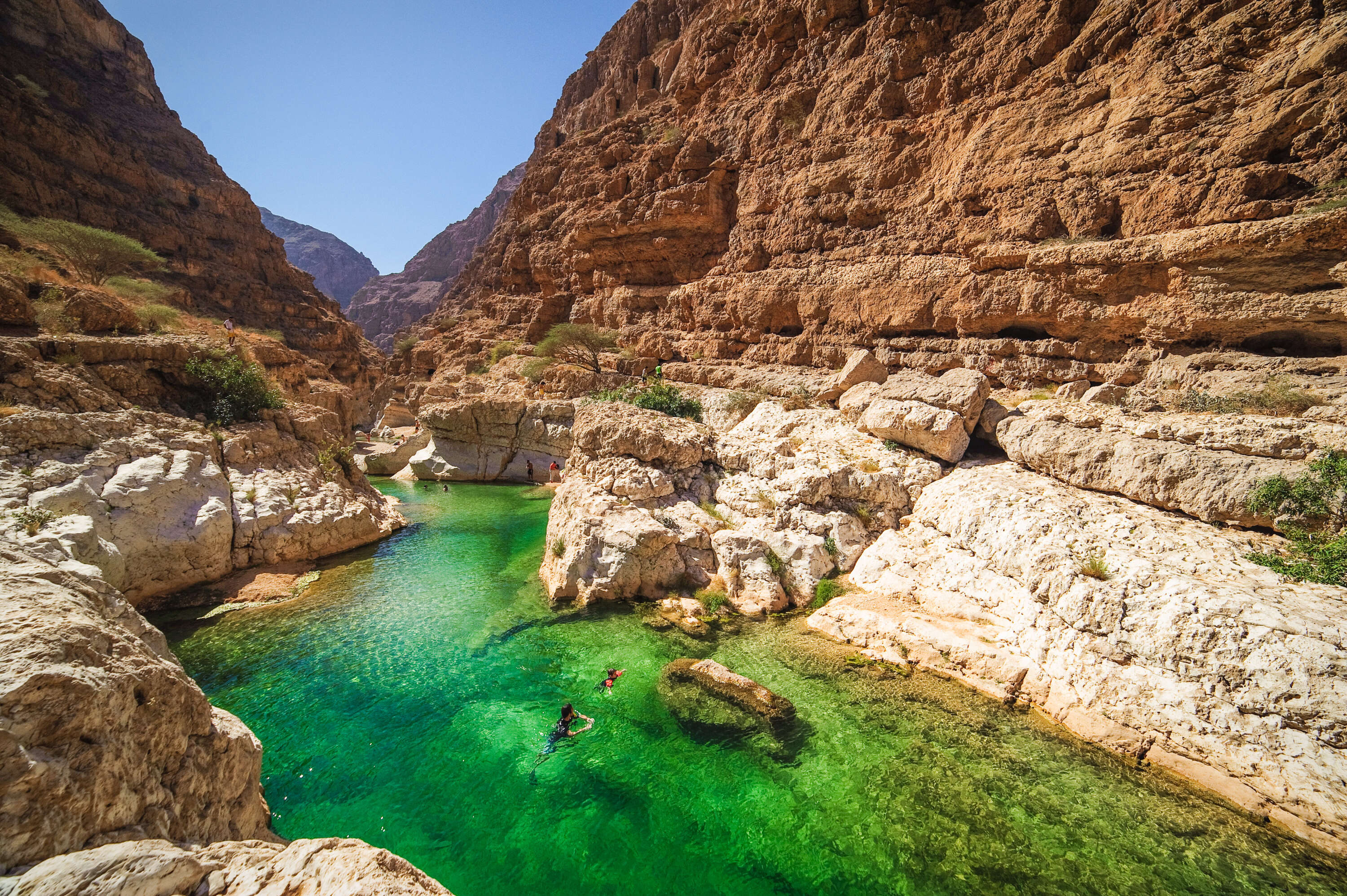 Wadi Shab
With diving cliffs as tall as 35 feet, Wadi Shab -- one of the most picturesque gorges in Oman -- is a natural playground for the adventuresome, who jump and dive off the ledges. But the real treat awaits the patient traveler. After hiking for 40 minutes up a rocky, craggy path, ensconced by golden red canyons, the color of a sunset, you will arrive at the base of a still, turquoise-green pool. If you continue to swim upstream, passing through a narrow gap between two boulders, you will emerge inside a hidden cave, with a cascading waterfall. There, hikers hoist themselves up by the thick, knotted rope next to the falls, then dive down into the pools, their bodies like arrows through the air.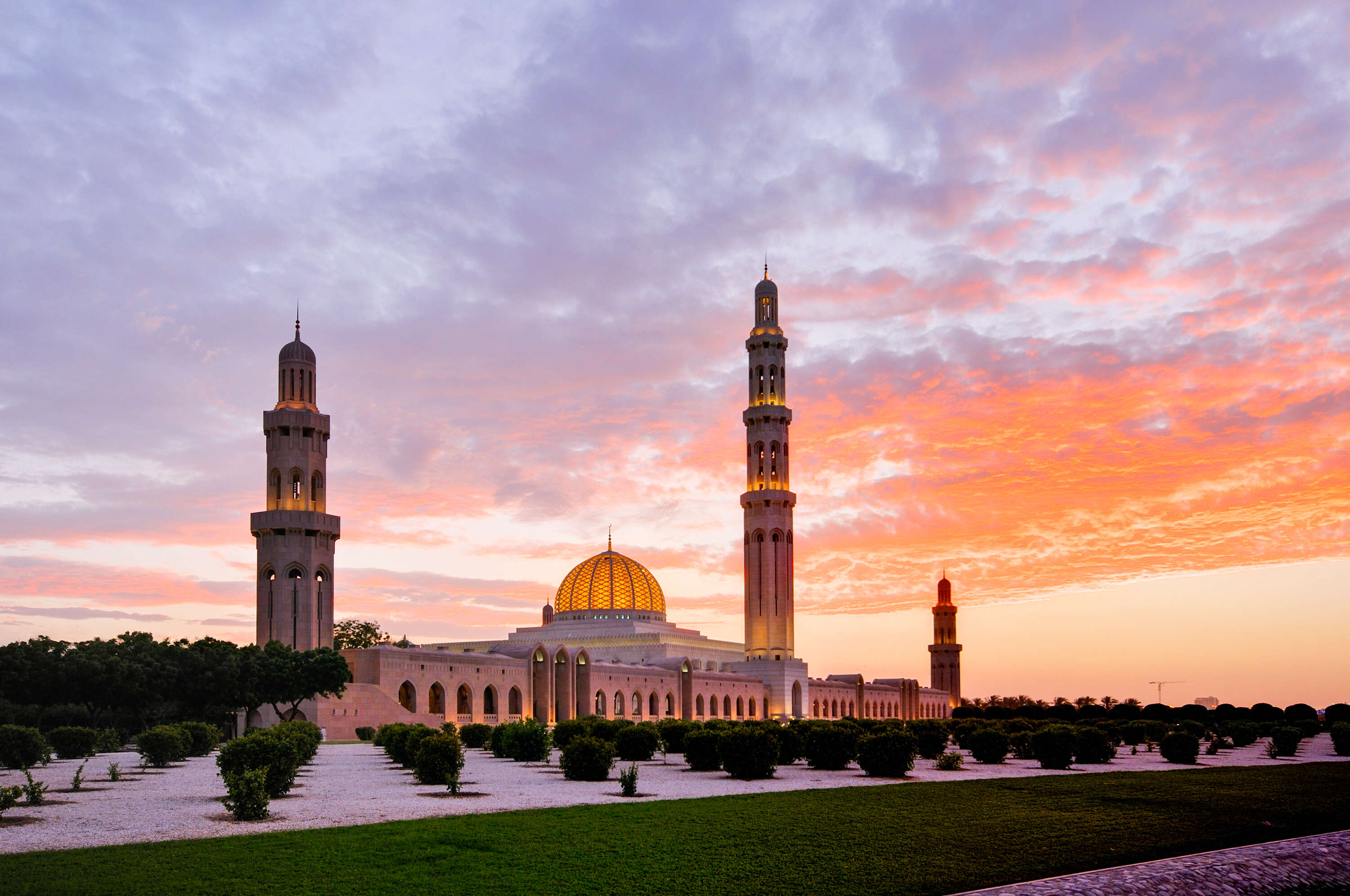 Sultan Qaboos Grand Mosque
Rising more than 160 feet above the ground, the central dome of the Sultan Qaboos Grand Mosque in Muscat is embossed in gold, and sits crown-like, above the Muscat skyline. Inside the mosque -- the largest and most ornate in Oman -- hangs a 8.5-ton chandelier made up of more than 600,000 Swarovski crystals and over 1,000 halogen bulbs. As impressive as the insides are (check out the Persian prayer rug, which took 600 women four years to weave) its grounds are just as beautiful, lined with a rainbow of flowers, and finely clipped, cone-shaped trees. Which we had ample time to walk through, after we couldn't find our driver.
Wahiba Sands
This is exactly what you imagine when you picture an Arabian desert. At Wahiba Sands, rippling golden-hued sand dunes sprawl seemingly to the edge of the world. Walking along the largest sand desert in the world, you feel the vastness of the universe. But it's way more fun to experience the sand waves in the back of a 4x4. Dune bashing, as desert driving is called, is like riding a giant natural roller coaster, for 40 minutes straight.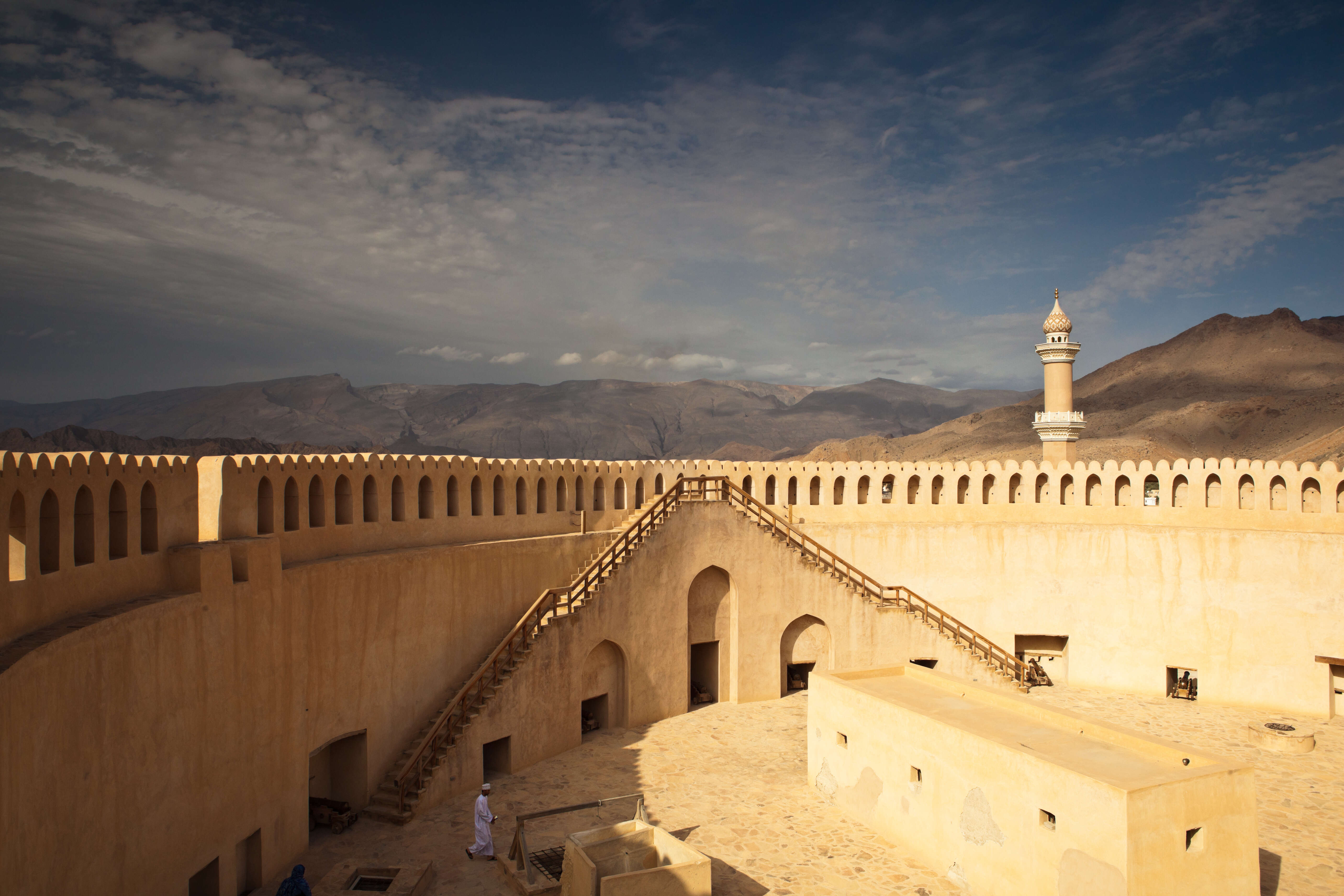 Nizwa Fort
To get to the top of the 17th-century Nizwa Fort, you have to climb up a set of narrow twisty staircases. Back in the day, invaders would've found a steep and arduous trek pocked with missing stairs and boiling date syrup poured down ceiling shafts. Your much simpler hike is well worth the effort. Greeting you at the top of the rounded tower is a dramatic, 360-degree view of the Hajar Mountains and ancient city. Selfie time.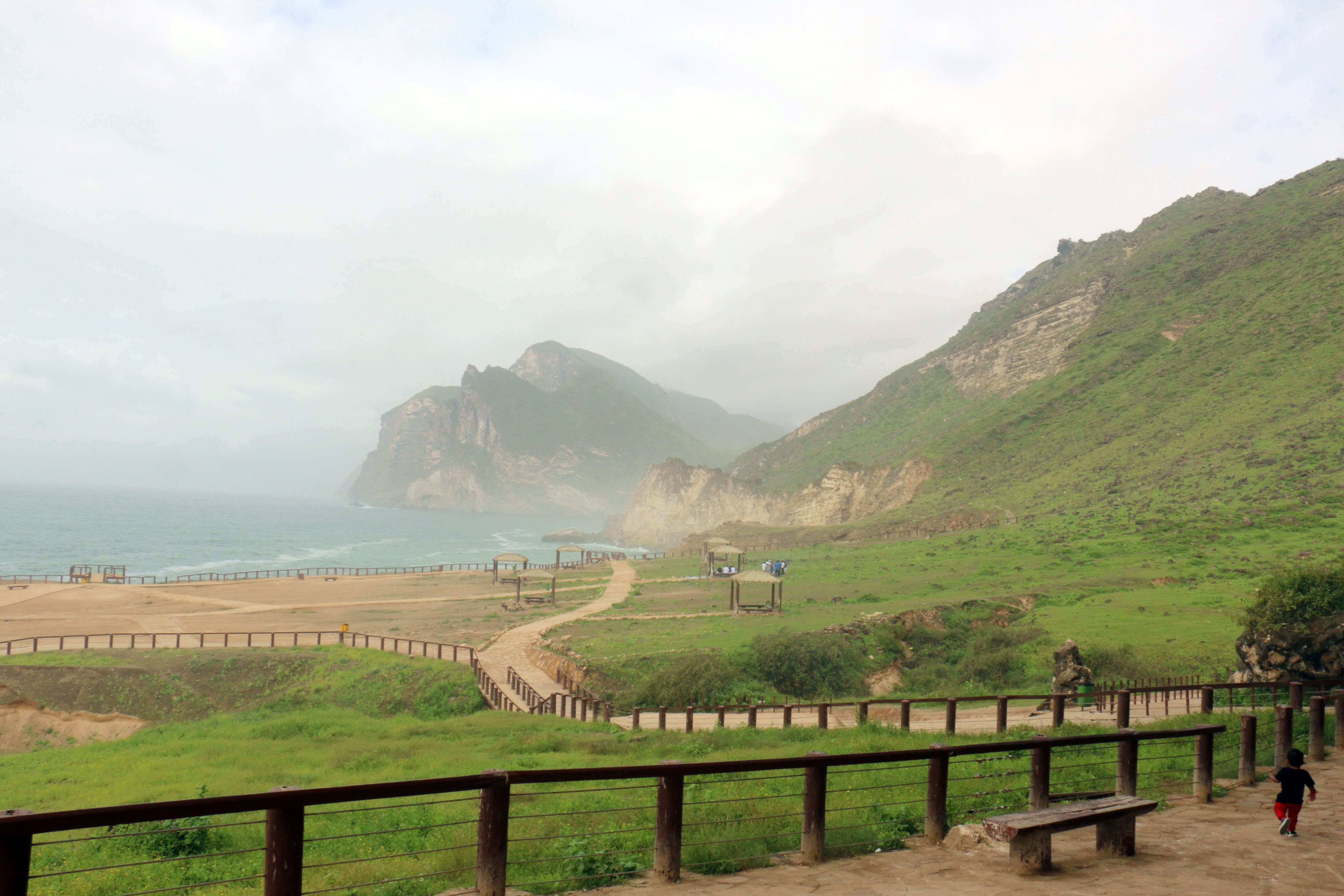 Al-Mughsail Beach
A half-hour drive from Salalah, in Oman's southern region, Al-Mughsail Beach is known for its aquamarine waters and endless white-sand beaches, dotted with frankincense trees. Unlike other jaw-dropping beaches of its stature, you don't have to fight for towel space: the 4 miles of the mountain-framed shoreline is often uninhabited, save for the occasional wandering camel.
Diana's Point
Located atop of the Jebel Akhdar mountains, this stunning glassed-in ledge is named in honor of Princess Diana, who visited the spot in 1986. From the perch, you can see the peaks of Oman's green-tinged mountains, and the white, chalky outlines of centuries-old terraced farming villages. Diana's Point sits on the grounds of Anantara Al Jabal Akhdar, the country's newest 5-star resort, so take in the view with a caprese martini.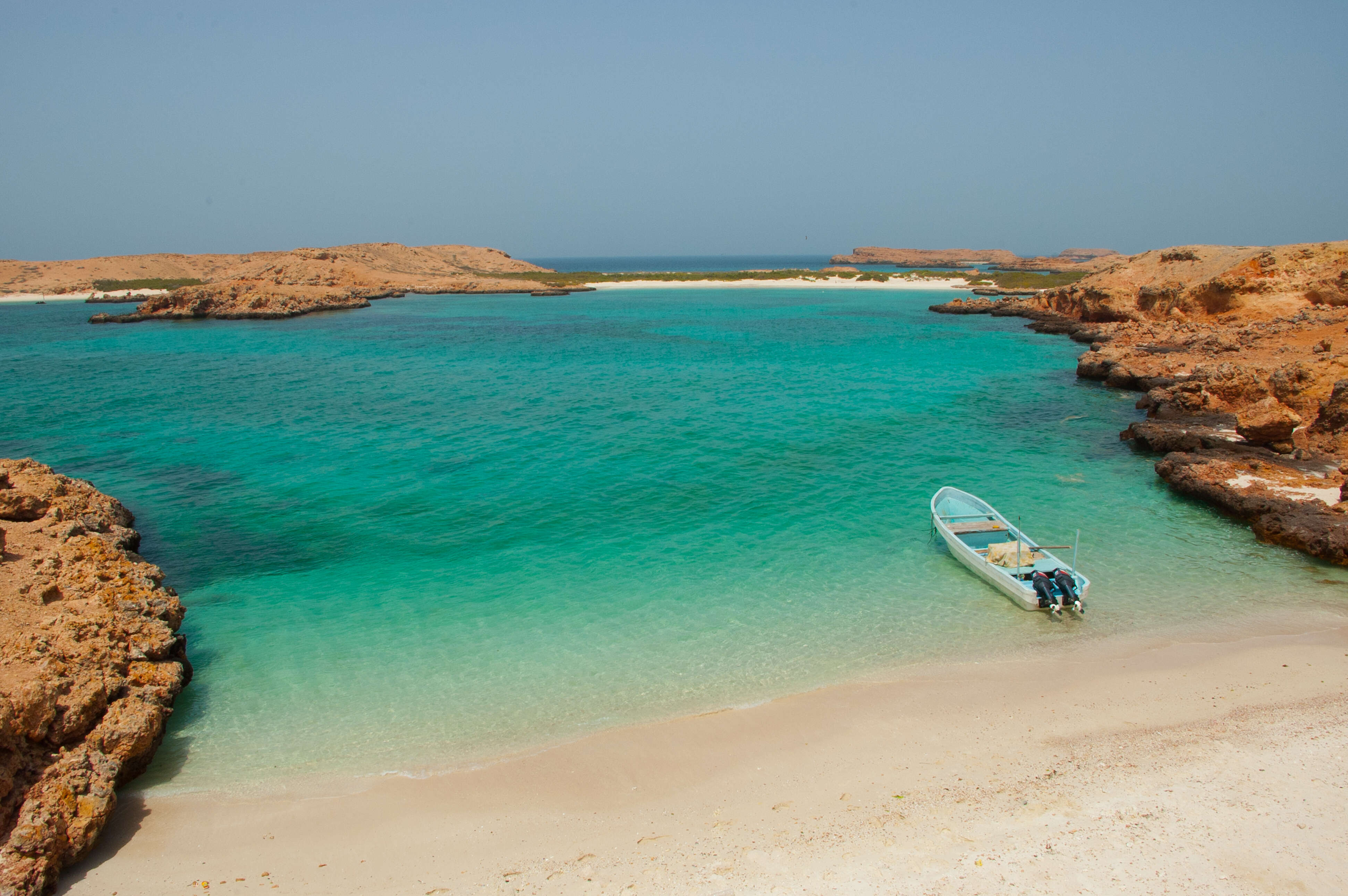 Daymaniyat Islands
Northwest of Muscat you'll find this nine-island cluster, a favorite of swimmers and divers. The protected nature reserve in the Gulf of Oman teems with tropical fish, and coral reefs, the colors just seem brighter here. And there's much to see above water too: When the preserve is open, Daymaniyat Island beaches are one of the best places in the world to watch turtle nesting.
Bandar Al Khayran
Thirty minutes from Muscat, this small scenic hamlet boats some of Oman's most postcard-worthy views. Wedged between copper-colored mountains is a network of crystal-clear tidal pools and bays -- a favorite spot for Muscat boaters. To visit, hike down one of the sandy, rocky paths to a small, deserted soft sand beach that overlooks the pools. Plop down with a cooler to bask and watch for spot giant sea turtles or the bright orange fins of a parrotfish.
Muttrah Souq
"Pashmina, pashmina, pashmina, who wants to buy a pashmina?" vendors, in long white dishdashas hawk as you wander down the narrow alleyways of the Muttrah Suq, one of the oldest marketplaces in Arabia. The air is heavy with the piney, lemony mystical scent of burning frankincense -- which has grown in Oman for thousands of years. Here you can buy both heavy, silver bangles and packages of plump, freshly picked Omani dates. The Gold Souq alone boasts more than 75 shops. But for a traditional Omani experience, natives know to shop at Ali Baba Gift Town, where owner, Akhtar -whose family has owned the shop for more than 90 years -- will serve you rose water tea and a large toothy smile, as you ogle hand-engraved silver jewelry boxes, bronzed camels, and 400-year-old Omani coffee pots.
Ayn Khor waterfall
June to September is Oman's monsoon season. Heavy rains during this time turn the southern region into a green verdant paradise and create some pretty spectacular waterfalls. Ayn Khor is one of the most beautiful of them. Water gushes over moss-covered rocks, gathering into blue-green pools perfect for swimming.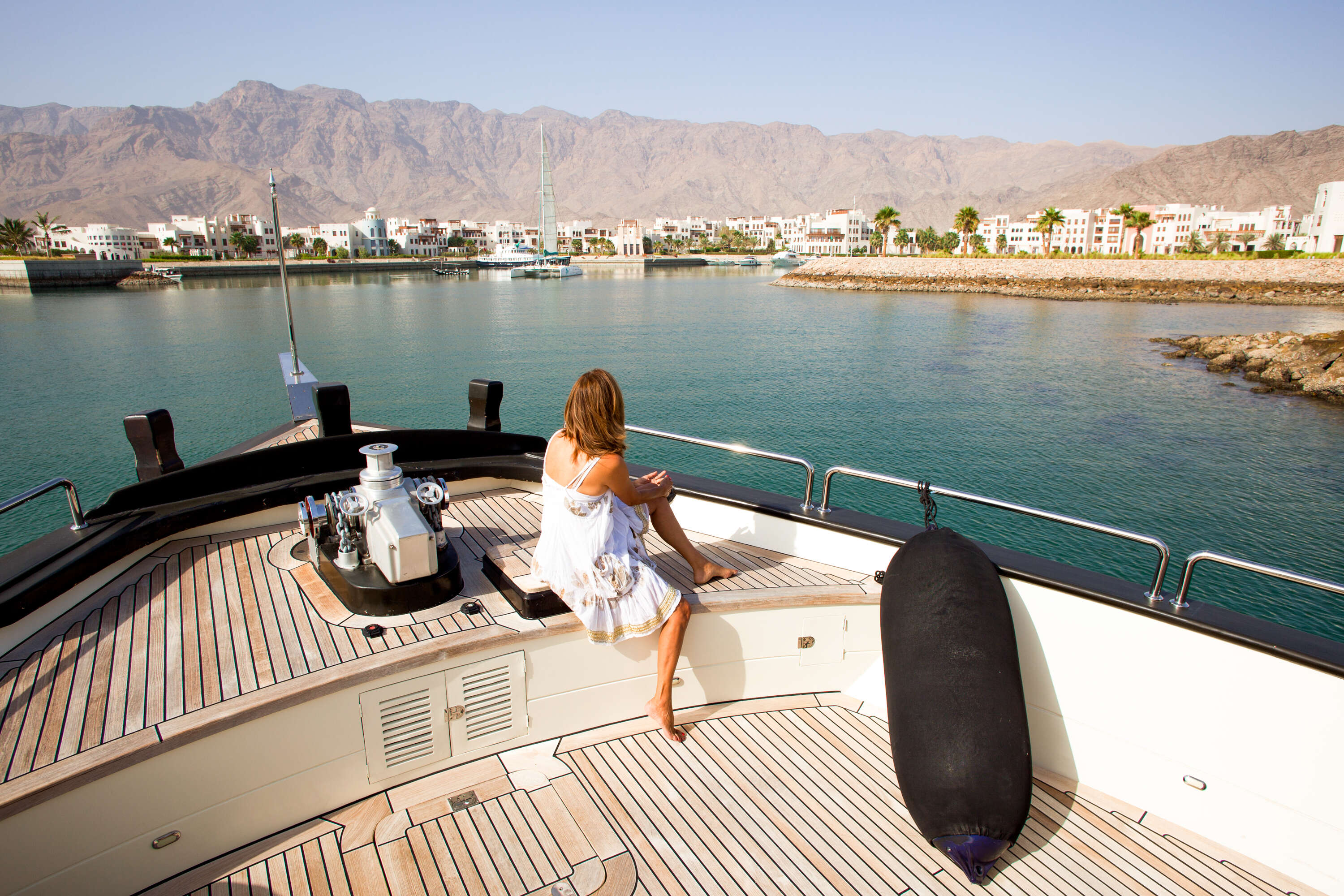 Jebel Sifah
This new seaside resort town is quickly becoming a favorite of well-heeled Muscat residents looking to escape the city for the weekend. Jebel Sifah is ripe with boats -- from yachts to sailboats. But there is also enough to do for those who prefer the land to the sea; including golfing and boutique shopping. Top the day with a cocktail by the infinity pool, overlooking the Omani Sea, at the Mediterranean-inspired Bank Beach Club.
Sign up here for our daily Thrillist email and subscribe here for our YouTube channel to get your fix of the best in food/drink/fun.
Rebecca Meiser is a Cleveland-based writer. Now that she has mastered that whole compromise thing, she's ready for that southern Italian vacation. And this time, she's totally claiming the aisle seat. On Twitter she's @rebecca_meiser.