The Truth About Traveling While Disabled
When it comes to accessibility, travel has a long way to go.
If you've spent any time on TikTok, you've probably seen videos of travelers calling out airlines for breaking their wheelchairs. It's a disappointingly pervasive issue, but it's just one of the ways that traveling while disabled is both difficult and complicated.
According to data from the Americans with Disabilities Act (ADA) National Network, 54 million Americans are living with a disability. These citizens are working, living, thriving—and vacationing—in the same spaces as nondisabled citizens. My own family is part of that statistic. We travel extensively to destinations that aren't designed for disabled travelers, and it can be exhausting. At the same time, we've also been encouraged by the number of destinations that are working hard to be more accommodating. While the ADA provides a set of federal guidelines for disability access, it's long been criticized for not going far enough. Beyond the required ramps, doorway widths, and bathroom stalls, disabled travelers want—and deserve—to experience the same things nondisabled travelers do.
We've found a crop of resources that help us navigate travel while disabled. We spoke with representatives at Southwest Airlines and the TSA prior to a recent flight and were able to obtain most of the accommodations our family needed—and our local airport, PIT, even has a sensory room with a mock cabin and therapy dogs so that neurodiverse or anxious travelers can rehearse the steps of boarding and deplaning. Before heading to Walt Disney World, a Facebook group coached us through obtaining a Disability Access Pass for our children. At Kennedy Space Center, a social story and other accommodations helped our whole family enjoy the day together. We've participated in adaptive skiing programs on several of our trips, as well.
There's also been official progress. In 2022, the Department of Transportation issued the first bill of rights for travelers with disabilities, providing clear guidance for both airlines and passengers around accommodations.
Despite all of these gains, the travel industry has a lot of work to do. I asked some travel experts who are disabled themselves to share about their advocacy in this area.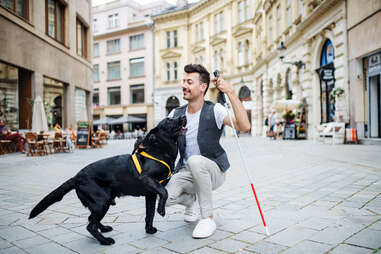 Where is improvement needed?
Jamie Santillo is a travel agent who owns Adventures by Jamie, as well as a consultant for destinations. She also uses a powerchair to get around.
"My disability hasn't limited where I can travel or the types of adventures—like ziplining, air boating, or indoor skydiving—but depending on where I am traveling to, there is a lot more time and research that needs to go into the planning," she says.
But, she says, "I can't get upset when those without a disability are unaware of these challenges, because if you or someone you know is not part of the disability community, these seemingly simple things would never seem like an issue." One example she often uses is about trash can placement. "Most hotels, cruise ships, and airports place a trash can or planter right under the elevator button," she explains. This prevents travelers who use wheelchairs from being able to activate the elevator buttons.
"I bet now that I bring this up, you'll notice it everywhere," she says—and she's not wrong.
When acting as a consultant, Santillo encourages destinations to get more comfortable with asking uncomfortable questions. "For instance, for a non-disabled traveler, I would have no need to ask how they use the restroom or how they get in and out of bed," she says. "For the traveler with a physical disability, questions like these are imperative."
"My daughter's disability does not limit her—The lack of appropriate accommodations does."
Rosemarie Rosetti, PhD is a Disability Inclusion Expert who consults on residential and commercial design as well as for destination marketing organizations and tourism bureaus. She explains that a lack of information about which accommodations destinations do provide can make it difficult to plan a trip. "Destinations need to do a better job of showing photos of people with disabilities at their locations that would signify that they are welcome," she says. "Websites need to include photos and descriptions of the accessible hotel rooms with the features that make them accessible." She wants inclusion to be central to a destination's marketing and practices, rather than being treated as an afterthought.
Travel journalist Jamie Davis Smith, whose teenage daughter uses a wheelchair, says even when accommodations exist, they are often frustrating to access. "From airlines that routinely damage wheelchairs and airplanes that lack accessible bathrooms, to the challenges of finding accessible attractions. Even when attractions are accessible, it often takes a lot of extra work to enjoy them, whether it's waiting in a long line for a pass or finding the one accessible entrance."
It's also more expensive, she explains. "There is a significant 'disability tax.' For example, public transit may not be accessible in a certain location so you are forced to take taxis. The budget hotel may not have an elevator so you have to go to the more expensive one. The only ADA-compliant room on a cruise ship may be a luxury room with a balcony, which puts the cruise out of reach."
The most frustrating part for Smith, as a mom, is what her kid misses out on. "My daughter's disability does not limit her—The lack of appropriate accommodations does."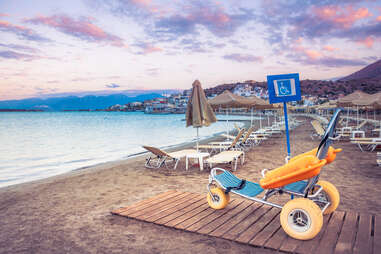 Disabled travelers are speaking up, and the industry is beginning to listen
While it's obvious that the tourism industry has a long way to go when it comes to serving disabled travelers, many destinations are seeking consultation from disabled travel experts to improve the guest experience. They're finding that it's not only necessary, but actually good for business.
According to the U.S. Travel Association, hotels see a sharp increase in bookings when they work towards certifications related to disabled travel. Visit Florida's President and CEO Dana Young says that after they launched an accessible travel hub and a video series about the activities people of different abilities can enjoy, the feedback was overwhelmingly positive. "Travelers with accessibility needs experienced the largest positive shift in perception about specific destination attributes out of any groups Visit Florida markets to. Examples include: They were 30% more likely to recommend Florida as a good value for their money, 27% were more likely to say thinking of Florida makes them happy, and 23% were more likely to say, 'Florida is a destination for someone like me.'"
Just outside of Washington DC, Visit Loudoun is invested in making historic Leesburg, Virginia, and the surrounding countryside more accessible. President and CEO Beth Erickson says her own personal travel considerations help her think critically about the needs of disabled guests. "As an avid traveler, I do extensive research to understand what my experience may be when I arrive at a destination: Will it be easy for me to navigate transportation? What will my accommodations be like? Will I feel welcomed and safe?'" she says. "Travelers with disabilities are looking for the exact same type of information, but through the lens of their needs. Understanding those needs and sharing that information with our hospitality industry is a key part of our jobs." Rosetti provides consultation services to the region to help Erikson and her team meet this goal.
In Ocean City, Maryland, the tourism bureau is trying to think critically about how to make sure all visitors can access their waterfront and boardwalk attractions, says Jessica Waters, its marketing and communications director. Sand can be tricky to navigate, particularly for those that use wheelchairs, so the city has purchased resources to help. "For those with disabilities, we hope to provide a place that is filled with joy, freedom, and endless possibilities. We offer beach mats and beach wheelchairs at your disposal, along with wide sidewalks in key locations." There are also 24 ADA compliant beach access points along the city's 10 miles of beachfront. It requires ongoing work and consultation to continue to improve the experience for disabled tourists.
These are just a handful of the destination marketing organizations that are rapidly making up ground in an area they neglected for far too long. Santillo says that destinations have seen the writing on the wall, and she's glad to be a part of a new wave of disability awareness in the travel industry.
"$58 billion is spent annually by adults with disabilities on travel," she tells me. "We are a community that wants to see the world."