It goes without saying that, even as an adult, there are few places to spend the night as cool as way up in a tree. How else do you explain the popularity of these 10 insane treehouse hotels?
But what if you're looking for something more exclusive than your standard arboreal accommodation? This trio of tree huts on the Lion Sands Game Reserve in South Africa offer privacy, luxury, and a 360-degree view of the beautiful, sometimes frightening natural world below.
Apart from the fact that they all have no Wi-Fi access (sigh) and limited cell reception (you'll have radio contact with a park ranger), each of Lion Sands' three treehouses are distinct. Chalkley was built in the same tree that the park's founder, Guy Aubrey Chalkley, once spent the night in to avoid hungry predators on the ground.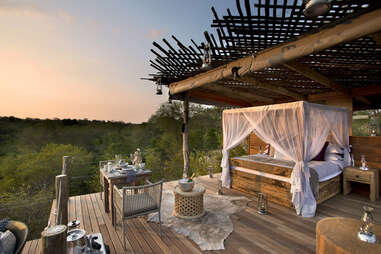 The 645sqft Kingston is the largest of the three and features an onsite shower, as well as a corrugated roof. A champagne dinner/massage is also available for guests eager to relax after a long day on safari.
Situated opposite the Sabie River, guests in the Tinyeleti will enjoy the soothing soundtrack of gently rushing water while spying the wildlife out for a sunset drink.

And don't forget the unspoiled view overhead once the sun goes down.
All three treehouses run at about $260 per person/per night but you'd be wise to visit before January -- the price jumps $100 next year. Hit the following links to book the Kingston, the Chalkley, or the Tinyeleti.
Gianni Jaccoma is an editorial assistant for Thrillist Travel. His childhood treehouse had none of the amenities shown here, but it did have a monkey butler. Follow him on Twitter @gjaccoma.