When it comes to hipsters, we've quite literally been all over the map. We know the most hipster neighborhoods in the world, what cities they're moving to next, and what they're eating. In other words, we've basically stalked them like Carmen Sandiego, studying their every bearded move (usually made on a fixed-gear single speed) along the way.
So it should really be no surprise that we know exactly what specific criteria needs to be met in order to be classified a quintessential hipster vacation spot. And these eight locales hit the kale on the head.
Phoenicia, New York
Why hipsters love it: It's known in some circles (the ones that usually involve a hacky sack) as the "Williamsburg of the Catskills," and it fully lives up to that name. This picturesque town is borderline a Summer camp for adults with a slew of outdoor activities, camping, concerts, and a ton of art galleries including SkinFlower Cosmic Arts that showcases the many creative expressions of -- wait for it -- tattoos.
Where to get your locally sourced breakfast burrito and craft beer: Phoenicia Diner. Even the exterior of the throwback (originally opened in '62 on Island, picked up and moved -- like the whole damn building -- to Phoenicia in the '80s, and then refurbished in 2012) joint looks like the cover of a hipster magazine, meaning it's so retro you can easily go #nofilter on the Instagram. The food takes it way beyond the typical diner fare, with locally smoked fish and house-cured corned beef hash, so slide up on a stool and stay a while for the killer Bloody Marys and breakfast served all day.
Where to rock your throwback tank: Town Tinker Tube Rental. Float -- or speed depending on the areas -- down the Esopus Creek rapids with a group of friends. It's not so much a lazy river as it is a more subdued white water rafting, but that doesn't mean a giant group can't attempt to link all the tubes together via arms and legs. Just watch out for rocks.
Hood River, Oregon
Why hipsters love it: It's only an hour drive from hipster's paradise (Portland!), and due to its rustic Columbia River Gorge locale, feels like it's about million miles from anything. You honestly can't swing a mustache around here without scoping another insane mountain top, valley, or waterfall view -- all of which you can hike, raft, or even snowboard (depending on the season) through.
Where to down all the craft beers: The beer literally flows like wine, because there are both breweries and wineries galore in this town. For local brews, start out at Big Horse Brew Pub and work your way through them all if you can (you probably can't). Or just visit during Hood River Hop Fest in September to sip more than 60 beers from 40 breweries.
Where to rock your skinny jeans (or pick up some new ones): Strolling Oak St, a thoroughfare that is packed full of arts & craft shops, bookstores, and contemporary galleries.  
New Glarus, Wisconsin
Why hipsters love it: It's actually referred to as "Little Switzerland" and is about as legit as it gets without a passport or 30 packets of Swiss Miss. To get the full history of the town, you sorta have to hit the Swiss Village, which becomes even cooler during its annual Harvest Fest. If cooler to you means talking to a Civil War re-enactor named "Bee Man" who makes his own sausages. (And it should.)  
Where to sip craft beer al fresco: After you take the self-guided (and free!) tour of New Glarus Brewing Co., spend the rest day kicking back with a Spotted Cow (and whatever else they're pouring that day) in the hilltop beer garden.
Where to stuff yourself silly with Artisan breads and cakes: New Glarus Bakery. Around since 1910, they are not messing around the carbs here -- most of them being Swiss-inspired. You can't really go wrong, unless you don't try the Morning Buns.
Half Moon Bay, California
Why hipsters love it: It's close enough to San Francisco that San Franciscans don't get the shakes, but far far away from any reality that doesn't involve surfing, fishing, and pretty much anything for outdoor adventurers. Plus, it boasts a historic Old Town District lined with galleries for those who prefer to get their adrenaline rush from splurging on a graffiti mural.
Where to add "surfing" to your hipster resume: Open Ocean Surfing. Newbies can take a two-hour lesson; everyone can at least look the part by picking up gear from the famed Mavericks Surf Shop -- also the host of famed Titans of Mavericks surf contest, when the pros hit the extreme swells from January to March.
Where to drink a beer named after your kind: Just a stone's throw from Mavericks, Half Moon Bay Brewing Co. is the home of the Scandinavian Hipster, a rare seasonal session IPA that you'll be lucky to find on rotation among the usual lineup of locally made brews.
Breckenridge, Colorado
Why hipsters love it: Despite the fact that bros love to say "Yo we're hittin' Breck, brah!", hipsters will love this quaint Colorado mining town for its activities and rich history just as much. Flooded with Victorian architecture, Main St itself almost looks like it's straight out of a novel you claim to have read but haven't.
Where to prove you're not a poser: Shred the gnar (you have to say that, or you're not a real hipster) at Peak 9, the catch-all slope for all levels of snowboarders. And the one that conveniently dumps you off right at Breckenridge Brewery for $2 Avalanche Ales.
Where to down PBR tallboys: How often do you get the chance to say something is "the oldest on this side of the Mississippi"? Well the Gold Pan Saloon, built in 1879 is, carrying the longest operating liquor license in all the West. Soak up its deep mining history -- along with whatever is on tap.
Wimberley, Texas
Why hipsters love it: Wedged between the hipster utopias of San Antonio and Austin, this Hill Country retreat packs in about as much Mother Nature and wildlife -- with a side of wineries and craft fairs -- as humanly possible for a small Texas town. For the fancier mustache set, its select "shabby chic" accommodations can take your camping to glamping real quick. Check out Abundance Retreat, the rustic (as in wood-burning stoves) but luxurious (as in whirlpools) set of cabins and lodges that are pet friendly but don't allow kids.
Where to rock your Ray-Bans: Jacob's Well Swimming Hole. Austin-ites should think of this as a far more adrenaline-heavy version Barton Springs. This spring comes with its own dangerous labyrinth of underwater caves (they have reportedly recovered actual skulls down there, just saying) and surrounding massive limestone cliffs from which you can jump. You can also just opt to float in the creek bed, that way you never have to take your Ray-Bans off.
Where to sample locally sourced fare in a forest: The Leaning Pear is where the glamping comes back into play. The menu takes it way beyond just s'mores and wieners -- think more fried green tomatoes and slow-braised pork shoulders -- while perching you on top of a bluff in the middle of Hill Country.
Portland, Maine
Why hipsters love it: It's got the breweries, coffee shops, foodie scene, and bohemian vibe that make it reminiscent to the other Portland, but on the opposite coast. And with way more lobster rolls.
Where to "hops" to it: Take your pick. Breweries including Allagash, Peak Organic, and Shipyard -- and the lesser-known Bissell Brothers and Rising Tide -- have all set up camp here, which should give you some idea as to why many hipsters are making this vacation spot their new hometown as well. Because what's more hipster than perpetual vacation.
Where to nab a hand-crafted cocktail with your lobster: Eventide Oyster Co. Everything in their extensive raw bar tastes better with one of their signature libations. And everything in the entire world will taste better if that cocktail is the Scorpion Bowl, a giant bowl-sized rum drink that you and a bunch of friends can all dip your straws straight into.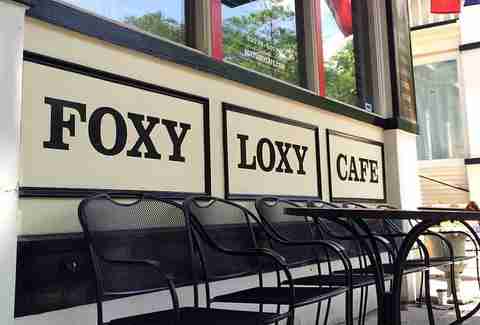 Savannah, Georgia
Why hipsters love it: A world-renowned art school/museum? Check! A Gothic cemetery made famous from the Midnight in the Garden of Good and Evil? Yep. Some the best food in the whole damn country? You bet Paula Deen's ass! There's so much for a hipster to love in this charming Southern town it's almost overwhelming.
Where to get your coffee with the foam heart on top: Foxy Loxy Cafe, a gallery-meets-coffee-shop-meets-taqueria-meets-bar where, as you can imagine given that lineup, the bearded-peeps flock. After you successfully caffeinate and fuel up on chorizo tacos (or vegan -- they know their clientele) grab a roadie to cruise Starland District for antiques and recycled duds.
Where to play frisbee before hitting up SCAD: Forsyth Park, one of the best city parks in America. If there was a Prospect Park of Savannah, this would be it. The 30-acre spread attracts frisbeers, readers, dog-walkers, or more likely, people just staring at the giant cast-iron fountain while trying to eat their Leopold's Ice Cream (side note: go there) before it melts.
Sign up here for our daily Thrillist email, and get your fix of the best in food/drink/fun.