TripAdvisor is Under Fire for Its Handling of Sexual Assault Claims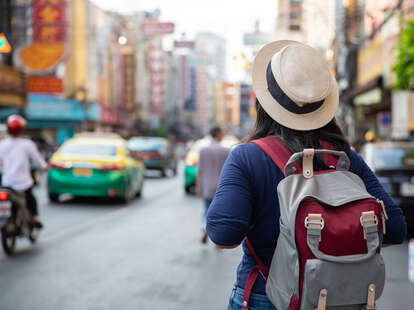 A change.org petition is calling on TripAdvisor to implement policies for handling reports of sexual assault.

| GP Studio/Shutterstock
A change.org petition is calling on TripAdvisor to implement policies for handling reports of sexual assault.

| GP Studio/Shutterstock
A woman alleging that she was raped by a tour guide who came highly rated on TripAdvisor has started a change.org petition calling on the global travel website to implement policies for handling reports of sexual assault. The petition has now been signed by more than 100,000 people.

The petition alleges the "company is not taking violence against women seriously." She wrote that she chose the tour guide based on "stellar reviews" on TripAdvisor, but the company's response to her initial report was to instruct her to post a detailed first-person account of her assault as a review.

Thrillist has reviewed the emails between K, a pseudonym the woman in question has chosen to help maintain her safety, and a TripAdvisor representative from the company's Content team. In a series of messages exchanged over several weeks, the company repeatedly states that the best way K can warn other travelers about the tour guide in question is to leave a first-hand account describing the assault online in the form of a negative TripAdvisor review.
In the emails, K asked why she was encouraged to publish the details of a traumatic experience in a public forum, which potentially opens her up to identification and possible contact by others, including the man she accused of raping her. TripAdvisor suggested K create a second account under a generic username and post the review from there, noting that others in her situation have done so in the past. In response to her request for examples, TripAdvisor provided linkstofivesuchreviews, written between late 2017 and late 2018. An investigation by The Guardian identified an additional 40 TripAdvisor reviews detailing accounts of sexual assault by staff members of travel businesses that are highly rated on the site.
TripAdvisor, which, at 456 million monthly users, is the world's largest travel website, maintained that taking down the tour company listing, as K had requested, would not help warn future travelers about the accused employee. The company also explained that it couldn't allow friends to post negative reviews of the tour company on her behalf because such reviews would violate their publishing guidelines, which hold that all reviews must come from travelers relaying a first-hand experience. TripAdvisor did not, however, respond directly to K's line of questioning about why the company lacks a system for processing and reviewing such reports, despite her asking repeatedly about why the process of getting in touch with a representative had been so arduous. Thrillist has reached out to TripAdvisor for comment and will update this post if we receive a response.
In 2017, TripAdvisor responded to outrage over its deletion of a review in which a user described her rape (citing its violation of the company's "family-friendly" language guidelines) by announcing it would roll out a new warning badge which could be attached to businesses flagged by such allegations for up to three months; the company has not explained the reasoning behind this length of time. The Guardian reported that none of the currently flagged listings on TripAdvisor contain any reference to allegations of sexual assault.
"It is terrible that some travellers endure serious issues such as assault or rape, and we hope our platform can be used by them to help warn and protect others," TripAdvisor stated to the Guardian. "It is important that reviewers follow our publishing guidelines to ensure the accuracy of our reviews, and when these reviews are not readily available and news reports exist that detail recent and pervasive health and safety matters, TripAdvisor's notification process helps alert travellers about potential issues at a location."
TripAdvisor reviews are displayed chronologically, meaning even reviews carrying 'warnings' can quickly become lost; however, the site does allow users to "upvote" helpful reviews, as well as search for 1-star reviews specifically. At the time of publication, the tour company in question has a 4.5-star rating on TripAdvisor out of 43 reviews. Its only 1-star review is unrelated to sexual assault or to K.