Everyone's stayed in a hellhole or two, but thanks to the glory that is the internet, we're now privy to online reviews -- this pretty much takes the guesswork out of choosing a hotel. Let's learn from the mistakes of others and blacklist these, the worst hotels in the history of TripAdvisor.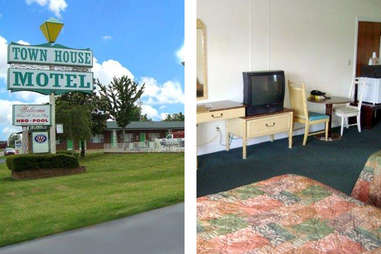 Why you might book it: It's "just minutes to Tombigbee State Park, close to downtown Tupelo, Elvis Presley's birthplace, (the) Tupelo Automobile Museum, Trace State Park, golfing, shopping, and more". Where the peanut butter, bacon, and banana sandwich was invented!
Why you probably shouldn't: "There was a puddle of blood in front of our door!" -- iqsmith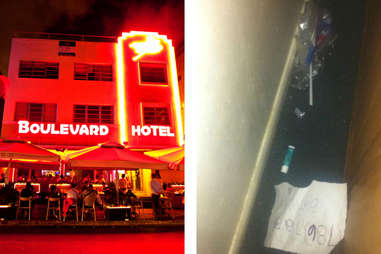 Why you might book it: "Red-and-pink neon ramps up the Art Deco feel at this 3-story South Beach hotel across the street from the beach at Lummus Park". Who doesn't love bright, glaring neon outside their window when they hit the hay?
Why you probably shouldn't: "DIRTY ROOMS, with GLASS in the actual bed under the sheet. I was STABBED in the butt!!! Yes the left cheek of my buttocks by a piece of GLASS that was in the bed. I could not stop BLEDDING (sic), the ambulance and police was called out". -- Thunlala

Why you might book it: This "is a superior tourist-class hotel located in central London... where some of the famous London restaurants and shopping centers (are) located". We can't get enough of the famous London restaurants.
Why you probably shouldn't: "My partner noticed red lumps on his skin on the following day -- like hives, really itchy and red. He felt something 'give' and moved over to the window for a better look. There was a small white maggot on his finger tip -- alive!" -- Marie07Ireland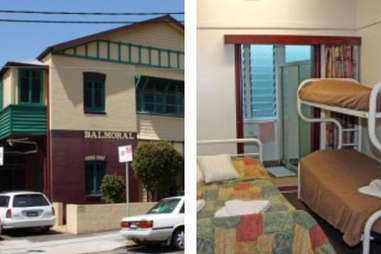 Why you might book it: "Only our great city location offers you Brisbane's largest hospital, just 750m away". Very convenient, considering everything in Australia's trying to kill you.
Why you probably shouldn't: "The sink was literally full of vomit. It remained that way for two days". -- Viajando53

Why you might book it: This "seafront hotel's in (a) prime location on the South Shore, (with) free car parking, entertaiment (sic.) and (a) games room for children, fax and wireless broadband facility and an 80 seat restaurant". Too few B&Bs promise fax facilities these days.
Why you probably shouldn't: "Someone has likened this hotel to a 70s rape house and I would say they are spot on!!!" -- Laura M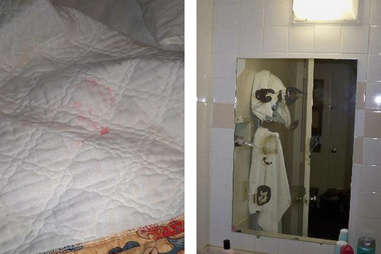 Why you might book it: This property's "less than (a) ten minute drive from Abraham Lincoln's home, Lincoln tomb, downtown, Springfield Prairie Capital Convention Center, and Abraham Lincoln Presidential Library, along with several other historical sites and places". Lincoln rules!
Why you probably shouldn't: "There were marijuana stems between the sheets and it appeared the sheets had been used by a hooker just before I arrived. I also found a used tampon in the dresser drawer". -- ChileStuff
Why you might book it: Their "rooms (are) well-built, simple but bright, clean, in a modern building. Most of the rooms are painted in happy pink", so there's that.
Why you probably shouldn't: "The journey through the alleyway to get to the hotel was an experience -- an open men's urinal complete with men urinating added a certain 'ambience' to the surroundings!" -- BBB79
Why you might book it: This joint's "close to many local attractions of Bodrum, such as the Halicarnassus Mausoleum, (and) is an affordable spot for couples and families". Proximity to a mausoleum? I'm in!
Why you probably shouldn't: "The head chef exposed himself and the caretaker was perving on my 13-year-old daughter". -- Queenie721
Sign up here for our daily Thrillist email, and get your fix of the best in food/drink/fun.