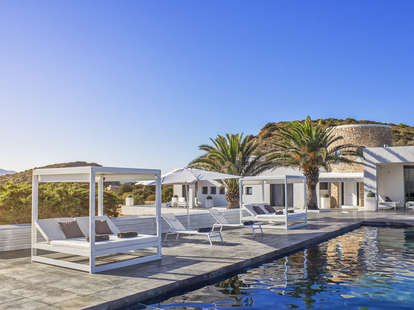 Courtesy of Kuhn & Partner
Courtesy of Kuhn & Partner
Literally every person, at some point in his or her life, wants to live on their own private, tropical island. It's a fact. And while you might not be able to spend eternity on an island all your own, you can certainly pretend for a short amount of time.
These are 10 very real, very private isles that are all currently available for rent. Some are entirely affordable, while others will make you want to cry softly as you realize your entire 401(k) wouldn't even buy a night. Still, the pictures are pretty.
Popa Island, Panama
Rate: $175/night
Four bright-pink cabanas pop out of the water in Panama's Bocas del Toro archipelago. The eco-friendly island has its own restaurant and dining room, bar, second-floor terrace, natural pool, and a whole list of nature-friendly activities. Be prepared to socialize with the locals, namely Toutie (the capuchin monkey that's been adopted by the owner) and Maki, the squirrel monkey who is there to keep Toutie company. If you aren't into animals, you'll want to also steer clear of Quiso the kinkajou, as well as the alligators that come out at night. Just a heads-up.
El Nido, Philippines
Rate: $448/night
This small island in the Philippines -- which sits in the Sulu Sea (Star Trek puns welcome) -- is rentable on Airbnb and is a complete island buyout. It's covered with white sand and coconut trees, and the two-story house accommodates up to 10 people in five bedrooms. That said, should you require some private time away from the group, the hilltop banyan house is a nice spot to stare contemplatively at Daracoton Bay.
Ilha Grande, Brazil
Rate: $912/night
It's all about doubling your pleasure when you go to this private Brazilian spot, and no, we aren't talking about a threesome post-Carnival. This private island is actually two islands connected by a bridge. Two houses, two decks, two times the fun. The property is on Ilha Grande, a 15-minute crossing by boat from Portogalo and two hours from Rio. The main house rocks four bedrooms, the smaller house two, and there are five canoes on site for all of your paddling needs.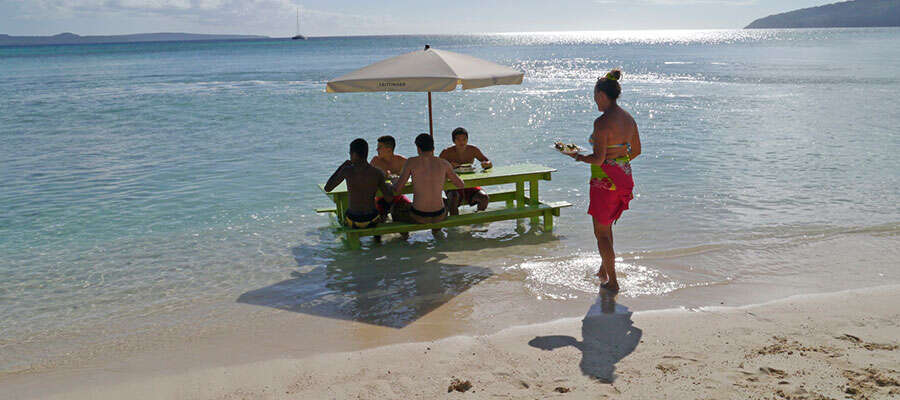 Vanuatu
Rate: $1,500/night
Besides the six-bedroom retreat on this sugar-colored South Pacific isle, the only other thing you'll find is a whole mess of water. So, naturally, water sports are the main draw (you know, other than the fact that it's a private island). Kakula offers a healthy supply of snorkels, kayaks, and paddleboards. Other island activities include massages, scuba diving, and deep-sea fishing. And speaking of fishing: if you can catch it, the personal chef will cook it.

Auckland, New Zealand
Rate: $20,000/day
If you're already making the trek to New Zealand, why not throw in a private island for good measure? This 5,000-acre working ship station/pine forest offers 13 private white sand beaches and a laundry list of fun stuff to do. Book it for up to 12 people and rates include helicopter transfers, all meals, on-island activities, and a hosting staff. Take note, though, that the owner lives there full time and each booking is subject to approval.
Fiji
Rate: $35,000/night
While this price might inspire you to blurt out a string of expletives, take note that it encompasses all 14 bures (Fijian for "hut") on the island -- so you're splitting that nightly rate with 27 other people. Now that is entirely reasonable. Also, it's all-inclusive. Everything. Food, booze (including Champagne by the bottle), activities, private seaplane transfers, the works. Treat yourself to pontoon dinners, sunset cruises on the Blue Lagoon (yep, from the movie), a private butler, fishing, hiking, kayaking, massage... you're paying 35 grand a NIGHT. Basically do whatever the hell you want.
Bahamas
Rate: $39,000/day
If you thought the Bahamas was all about oversized water parks, casinos, and swimming with feral pigs, think again. It's actually pretty luxurious if you've got the bucks to burn. Consider Musha Cay, a private island in the Exumas that boasts more than 700 acres of space for you and 24 of your besties. The property boasts a total of 12 bedrooms and 13.5 bathrooms spread throughout five homes, each with its own private beach, living, and dining areas. The daily rate covers up to 12 guests and all bookings have a five-night minimum. Included in the rates: ALL meals and beverages (including the fun beverages) and unlimited use of island equipment and activities. You will never be able to stay at Atlantis again.
Spain
Rate: From $110,000/week
The Med might not be your first thought when it comes to private islands. It might not even be your third or fourth. But it COULD be your sixth and might even be your fifth after you learn about Tagomago Island, a private island with one five-bedroom mansion about 10 minutes from Ibiza. The entire estate has terraces, views of the Med, a swimming pool, and Jacuzzi. There's also, for those who worry about where to dock the yacht, a private jetty and mooring. Whew.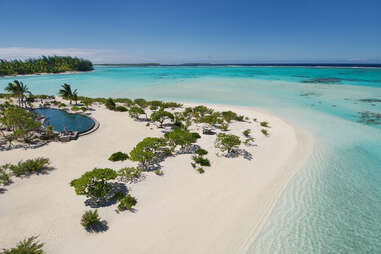 French Polynesia
Rate: $135,000/night
Yes, as in that Brando. The Brando is, in fact, a resort built on an island that was owned by Marlon Brando. So, if you weren't entirely sold on it before, you should be now. ($135,000 per night be damned!) Should you intend to book this joint, what you will get is 35 villas for a maximum of 82 guests. The rate is all-inclusive, meaning accommodations, meals, beverages, one spa treatment per guest, and select activities. Not included are transfers to the airport, premium wine/liquors, select off-island activities, additional spa treatments, and Godfather impressions on request.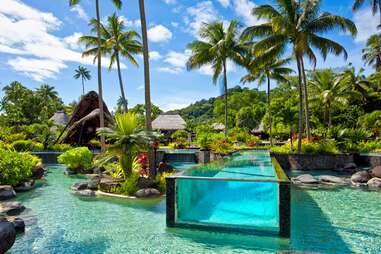 Fiji
Rate: $170,000/night
Hahahaha. Why even bother going into detail? Neither you nor anyone you know is actually renting this. Oh... you are? Can I come?
Full buyout of this uber-luxe, beyond-chic private isle includes all 24 villas for a maximum of 72 guests -- perfect for that simple little destination wedding you've been planning with your fiancé, Richard Branson. (Then again, you'd probably just get married on HIS private island, Necker Island, in the BVI.) The good news is that this rate is all-inclusive of accommodations, meals, beverages, a welcome spa treatment for each guest, most activities (including a submarine excursion!), golf, etc. The only thing it does not include are transfers from the Nadi airport, select off-island activities, additional spa treatments, and your soul.
Sign up here for our daily Thrillist email, and get your fix of the best in food/drink/fun.
Meagan Drillinger is a contributing writer for Thrillist. Follow her on Twitter, Instagram, and Facebook at @drillinjourneys.