Presented By

We Got Paid $10,000 to Move to a Flyover State for a Year
Spoiler alert: We love it.
Presented By

Photo courtesy of Carel Lee-Bernard, Design by Grace Han for Thrillist
Photo courtesy of Carel Lee-Bernard, Design by Grace Han for Thrillist
Carel-Lee Bernard, 25, and Kennedy Reynolds, 27, never saw themselves settling in Oklahoma. But then Tulsa—population 402,324, birthplace of Hanson—made them an offer they couldn't refuse. As part of the Tulsa Remote program to invigorate the city, remote workers with full-time jobs are eligible to receive $10,000 to relocate and work in the city for a year, with perks including a desk in a coworking space. Since it was launched in 2018, the program has welcomed almost 500 participants.

Carel, who works in human resources, was accepted in October 2020. (As Kennedy was furloughed at the time she was not eligible for the program, but in some cases both partners are accepted.) Now the couple resides in the heart of the city with their 4-year-old standard poodle named Onyx, starting an Insta to document the journey. Below, Carel discusses the decision to relocate for cash. As told to Vanita Salisbury.
I think my parents instilled wanderlust in me.

I'm originally from Jamaica and moved to the US when I was nine, with a stop in England. We lived all over SoCal: San Pedro, Harbor City, Lawndale… my parents don't know how to sit still. Kennedy, my partner, is from Oklahoma City. She's American through and through. We met in 2014 on tumblr, which is like the gayest thing ever, so god bless us I guess.
We ended up settling up in Dallas after I finished college. Dallas was just a little bit too big. We lived near Plano, but all of the people our age were hanging out downtown, half an hour away. Then we moved closer to downtown, but I was half an hour away from my job. No matter where we moved we were still far from something.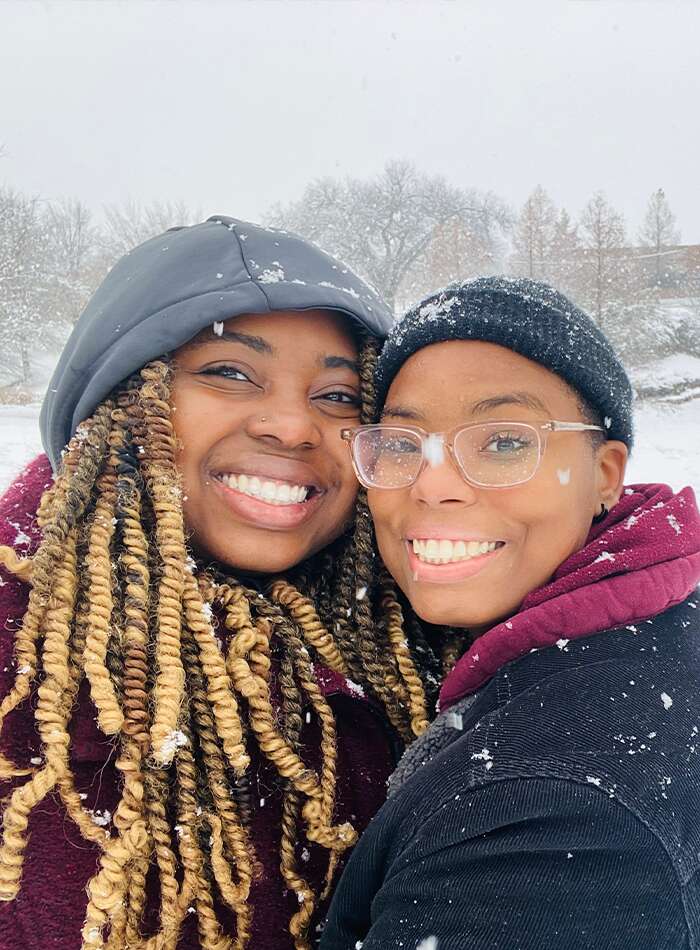 I was working in human resources, and because of the virus my company started to downsize. So I was already applying for jobs, and got my current job with a software company, right before I got the notice that I was accepted into the Tulsa Remote program.
I knew even before I applied that I didn't want to stay in Dallas. Making the decision to apply to Tulsa Remote was not so much, 'Oh we should go to Tulsa,' but more 'We're both young, we don't have any kids." I work from home and at the time Kennedy was furloughed, so we were in a good spot to go somewhere else and try something new. And as a Black, queer immigrant, going somewhere where people are inclusive is a really high priority for me.
We let go of a lot of norms in 2020: like shaking hands, wearing pants, and (most importantly) working in an office. You're no longer tied to a commute — so why should you be tied to one place? Enter: Landing, the startup that's reinventing apartment living. Thanks to its network of fully furnished (and unfurnished) apartments across the country, you can have the freedom to live (and work) practically anywhere. With perks like a 24/7 online member support, fast and easy lease transfers, and waived security deposits, you'll have more flexibility than ever before, too.
Funnily enough, I started looking into remote work programs like this because of Bermuda. Bermuda has a program where if you're a work from home employee or a completely remote student they'll allow you to live on the island. But my partner does not have a passport! So I looked into other places. Tulsa Remote is just for a year, you get $10,000 in total, and even if I hated Tulsa there's no way the amount of hatred could outdo the fact that they are paying me to live here.
You get $2,500—and a six month window—to move. Then they give $500 a month for 12 months, and then at the end of the year we get $1,500. You can't live in a neighboring city or suburb; they send the money directly to your address, so if you don't live in the place where you say you live, you won't be getting that check.
The low cost of living is wild. You can get a three bedroom duplex here for between $700 and $900 a month. It's absolutely crazy. For a one-bedroom in Dallas we were paying almost $1,400. You could get a whole house here for that.
Our rent is higher, but that's because we live in between two very desirable locations: downtown Tulsa and an area called Brookside. Brookside is close to the river, with a lot of things that someone from California would like: Trader Joe's, Whole Foods, Urban Outfitters, Lululemon. But Tulsa is very, very small, so wherever you live you will be close to something.
I didn't actually know a lot about Tulsa before applying. One of the reasons we felt drawn to it was because we watched Lovecraft Country and Watchmen, both of which are Black-led, with Black casts, and they both touched on the Tulsa race massacre in 1921.
We live across the street from a cemetery. Under any other circumstances we'd be like "Oooh, a cemetery, that's really creepy!" But this cemetery was recently exhumed for bodies of Black and brown people who they think died during the massacre. We call it our cemetery, because we think of it like: We live three minutes from historical Greenwood District [where the massacre took place], and the people buried in that cemetery were people who look like us. And we can only hope that those people who were thriving here in Tulsa would feel honored that two black kids came here and are successful and happy, living in a space where people who look like us were initially in charge and in control, and we're continuing that legacy.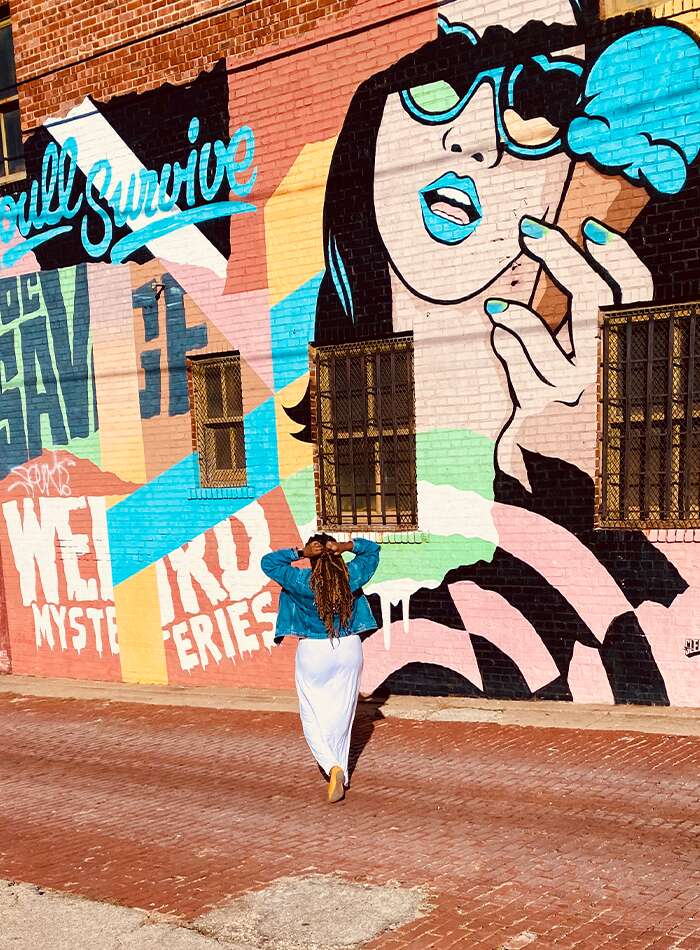 If there's one thing we love—like really, really love—about Tulsa, it's that there's a park absolutely everywhere. There are trees everywhere. You cannot turn around and there's not a green space, including this new massive one right on the waterfront, called Gathering Place. There's a skate park, and we are wheel people: I rollerskate and Kennedy has a longboard.
The queer scene is hard just because it's Covid and we haven't really had the flexibility to go out. But we do live in the gayborhood, and when we moved here a few of our neighbors started up a Slack channel for all of us to get to know each other. And when I got accepted, I was added to the Tulsa Remote Slack page, and we have lots and lots of different groups. I've been added to the Essence chanel, which is for Black women; the LGBTQIA+ channel for queer people; and even the specifically Black and LGBTQIA+ channel.
Tulsa Remote also hosts events; on the 22nd they're having an event at the drive-in theater and they sent us all cute little invitations in the mail. Even if your spouse is not in the program officially, they're able to come too and be involved.
One of our favorite things to do in Tulsa is just drive around. I'd say it is the exact definition of a fifteen-minute city: There's absolutely nothing that I would want to do, or that I would need, that I'd have to drive more than fifteen minutes for. There's specialty bookstores, record stores, art stores. If you're an art fanatic Tulsa's really good on murals. Also they're doing a lot of beautification downtown. We live right off of Historic Route 66, and Tulsa is especially known for Art Deco architecture. It's amazing.
I did not come to Tulsa with the expectation that I was gonna be like 'oh, Tulsa is amazing, I love it here!' I really just came with 'I'm down for a new adventure.' And within like two weeks, we were sold. We've already decided that by the end of the year we're gonna buy a house here, and we'll probably end up staying.