This Caribbean Paradise Is Ditching its Time Zone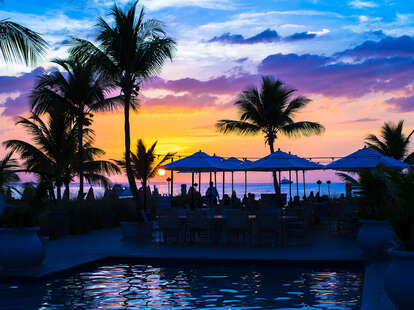 Shutterstock
Shutterstock
Fall back, spring forward... who remembers what day that stuff happens. The only thing that's a given: Daylight Savings never feels worth it when you lose an hour of sleep. Except this year for the good people on the islands of Turks and Caicos, who are capitalizing on the change to ALWAYS have more sunlight.
When the clocks skip ahead this Sunday morning, the cluster of tropical atolls is moving from Eastern Standard Time, which British Overseas Territories have traditionally adopted, to join the ranks of Atlantic Standard Time. So it's kinda like they're abandoning the British... but not really. Now the islands will enjoy even more time in the sun (as if it's in short supply there!) and later sunsets.
As Yahoo! reports, Employment Minister Ricardo Donahue Gardiner said Wednesday the time change should lure more tourists to the tropical paradise. It's not as if Turks and Caicos really needed any new friends, though. Even Rick Ross talks about vacationing there. Regardless, now residents can "enjoy a little more sunshine," according to Gardiner. Way to rub it in, dude.
And while folks in the TCI will join most of us in losing an hour of sleep, they will still be in Turks and Caicos. They win.

Chloe Pantazi is an editorial assistant on Thrillist's travel team. She would gladly lose three hours of sleep if it meant spring would finally arrive in NYC. Follow her on Twitter at @ChloePantazi.