Hollywood has always imbued a sense of wanderlust into its audiences, and fostering this sense of aspirational travel has been a key feature of films since the earliest days of the silver screen. Combine that with the crush of social media stardom that occurs today, though, and a destination can buckle under the weight. When a town or region is spotlighted, from Taormina, Sicily to Dubrovnik, Croatia, is the surge in tourism a net positive, or are the disadvantages too great to overcome? How can an area respond to—and recover from—such an enormous overnight uptick in interest?
Season two of The White Lotus (which aired in 2022) chose the San Domenico Palace, a Four Seasons Hotel in Taormina, Sicily, as its setting and home base. The hotel itself had only opened the year prior, in time for the pandemic-affected 2021 summer season, but the show created an insatiable appetite in travelers to stay, dine, or otherwise visit the exclusive luxury enclave. "I have seen people crying because we don't let them in," says Juri Romano, bar manager at the San Domenico Palace. "Like a wife shouting at her husband, 'I told you to book in November!' She was really crying."
The situation forced the property to adapt its policies to ensure in-house guests received the level of service and available amenities they were expecting. "We started to have our house guests wonder what was going on, and so we closed to external visitors," explains Alessandro Malfitana, sommelier at Principe Cerami, the hotel's Michelin-starred restaurant.
But there's still hope for would-be visitors who can't secure one of the hotel's coveted guest rooms but still want to visit for a meal or drink. Malfitana's advice is simply to plan as far ahead as possible. "We manage if we have space, but we have no other choice," he says. "We knew this storm—this very good storm—was coming, so the message now has been, 'Please, book in advance to secure a place. You have to, that's the situation.'"
Managing expectations and space has proven difficult, but it's the fear of the opposite, the rush falling off, that has the team worried. "My concern is what about next year, because they are going to move on; that is the biggest thought I have," Romano says.
The hotel he works at is the epicenter of Taormina's tourism boom, but he believes the positive impact is being felt across the region and the whole of the island. "I think Sicily is one of the most trending destinations this year, and so this is good for all of Sicily, not only for our property or not only for Taormina," Romano says. "They did a good job with filming, and it inspired a lot of people."
Then, of course, there's Dubrovnik, which served as King's Landing in HBO's Game of Thrones. But even before the Stark and Lannister-mad crowds came calling, its walled-in old town was a constrictive area. "Dubrovnik has a problem with limited space, as everyone wants to see the walled city, and the tiny gates are like bottlenecks," says Ivan Vukovic, a well known tour guide and fixer who began hosting GOT-centric tours of the region upon the show's debut. "We cannot accommodate too many people at the same time."
A former mayor estimated that half of Dubrovnik's tourism growth in the mid-2010s was fueled by the show, and this descent en masse forced the government's hand to enact policies curbing the rush. "The Dubrovnik government did a great thing by limiting cruise ships to two per day," Vukovic says. The number of in-and-out in-and-out passengers who contribute little or nothing to the local economy has decreased by thousands, and visitors are encouraged instead to spend nights in the region, buoying businesses with direct spending rather than merely clogging the streets. The government also limited the number of tourists allowed up onto the Dubrovnik City Walls.
"It is a blessing and a curse when cities like Dubrovnik reach such popularity," Vukovic says. "But I should say it is never too much, as tourism is our main industry. It's hard to make it sustainable, but we are heading there. Dubrovnik is in a better place for tourism than it was before."
Vukovic's recommendation is to consider visiting Dubrovnik during other seasons beyond the summertime crush, and to get beyond the most famed sites for a superior experience. "Do not forget to explore more outside of its mighty walls," he says. "Use Dubrovnik as a hub to stay longer and experience more things, and visit in the winter months, when we enjoy a mild Mediterranean climate."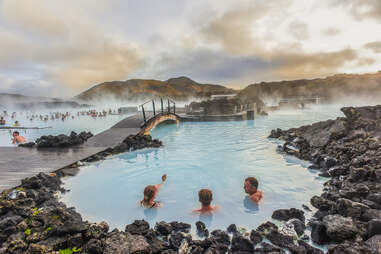 While Dubrovnik took action by limiting tourism and filtering out the types of tourists who contributed the least in terms of economic impact, other areas have responded in different ways. Consider the case of Iceland, which received its own surge in popularity due also to Game of Thrones—along with Vikings, a star turn in Will Ferrell's Eurovision Song Contest, and scores of other pop culture appearances—but was able to increase infrastructure and tourism capabilities to keep up with this surge. This includes an uptick in the number of flights and hotels, as well as the quality and capacity of roads, rental companies, and transportation providers.
Tourism to Iceland increased from 500,000 visitors in 2010 to 2.2 million in 2018, roughly coinciding with the full Game of Thrones run, a 340% jump in less than a decade. However, instead of discouraging visitors, Icelandair's free stopover program encouraged travelers to get in on the fun for themselves, and a string of new hotels opened in and around Reykjavik and in other locales across the country. Five hundred new hotel rooms within a few years may not sound like much in a major metropolitan city, but for a country with fewer than 400,000 residents, such projects were able to make a substantial dent into pent up demand. Iceland saw an opportunity to emerge as a tourism destination on the world stage, and it welcomed it with open arms, making direct investments to not only deal with the surge, but to sustain it over the long haul.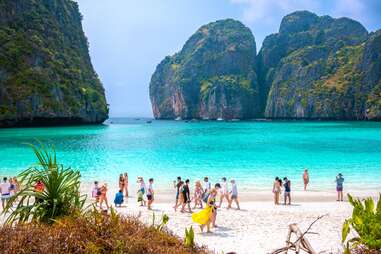 One of the first places to feel the full effects of a modern Hollywood-powered deluge of tourism was Ko Phi Phi, Thailand. The almost fully enclosed Maya Bay on Ko Phi Phi Leh, hidden from the world thanks to the steep, jagged rock sentries forming a ring around it, was immortalized in the minds of backpackers the world over as the perfect tropical escape in The Beach, the Leonardo DiCaprio film which debuted in 2000. The iconic locale also played a starring role in films such as Tomorrow Never Dies, released several years prior.
"Thirty years ago, there were just a few people here, my family and I visited for the first time in a fisherman's boat and we could see whales blowing water on the way," says Watrapol Jantharo, a hotel and resort operator and former president of the Phi Phi Tourist Business Association. He describes how Maya Bay didn't even have any palm trees, so they were moved there from Krabi as props for The Beach. "After they finished making the film, they left some palm trees where they moved them."
What was once a hard-to-reach hideaway became a sensation. Many thousands of people would flock there for an afternoon, overwhelming and degrading the area with catastrophic results, cruel irony for a small stretch of the world beloved for its overwhelming natural beauty.
While efforts to restore Maya Bay began prior to the pandemic, Covid tourism closures enabled more complete action. "Tourists still came to visit Phi Phi even when Maya Bay was still closed until Covid-19 happened, and then Phi Phi was closed for almost three years," Jantharo says.
Hat Noppharat Thara-Mu Ko Phi Phi National Park got to work restoring the coral reefs, restricting tourism movement, and charging admission fees for entrance to the park. Ironically, a large walkway built by The Beach's production team now serves as the official entrance to the area. "They'd built the big wood terrace that could connect to the other bay, Losama Bay, which is now the main entrance," Jantharo says. "I remember to think positively: If the Hollywood team didn't build the terrace, we wouldn't know that it could be connected to the entrance from the back of Maya Bay. From that, the national park could limit the numbers of the boats."
Jantharo sees a bright future for Maya Bay thanks to the changes and improvements that have been made. "Last high season in November 2022, I could see that tourists came back in full, and Phi Phi is crowded again, but not in the same bad way," he says. "There's a new system to manage people to visit not over one or two hours, and they can manage and limit the boats entering from everywhere." All it took was bringing Maya Bay to the brink of ecological collapse, and the intervention of a three-year pandemic tourism closure, for the positive changes to take hold.
Gigantic hordes of Hollywood-driven tourists can be a great thing for a local economy and small business owners, it can also wreak havoc on the environment as well as the quality of life for locals, and detract from the very factors which made a particular area, whether the walled city of Dubrovnik or the pristine beach of Maya Bay, so very captivating and in demand. It's never entirely black versus white, or good versus bad, despite what the script says.
"Every single year we observe and learn as trends in tourism change fast," Vukovic says. For a tour operator such as Vukovic, or for the employees of a thriving luxury resort such as San Domenico Palace, the more the merrier. "We hope it will never end."