I Spent 48 Glorious Hours at Sands Bethlehem Casino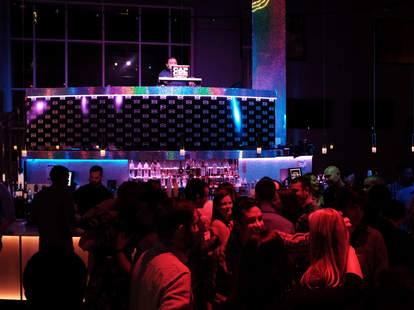 Christian Torres/Thrillist
New York might be the City That Never Sleeps, but it's also the City That Doesn't Have A Casino. This isn't just a legal thing. A proper hotel/resort/casino should be an enormous structure, big enough to get lost in for days, with endless opportunities for games, food, drink, entertainment, relaxation, and pampering. You can find a card game here, but it will probably be in some dude's apartment, and that apartment probably won't have its own spa. Or stage big enough for a completely awesome New Kids on the Block reunion show.
 
When one of my editors decided I needed to spend 48 hours at Sands Bethlehem, I jumped at the chance. Literally. Partly because my editor is like 6'4" and I wanted to look him in the eye when I said "sounds great!" but also because, well, it sounded great. Since moving to New York, I've lived in apartments that actually had squatters in them. A little emperor-class indulgence wasn't an unwelcome proposition.
Christian Torres/Thrillist
THURSDAY APRIL 16th
2:41 PM Arrival
Bethlehem is only 90 minutes from Manhattan (about the same amount of time it takes to get from Manhattan to Brooklyn when the L train is down). When my photographer -- Chris -- and I pull into town in our rented four-door Nissan, we realize pretty quickly that the casino is impossible to miss. A redbrick behemoth, located smack in the center of the city, it occupies the grounds of the old Bethlehem Steel Factory. In honor of its former inhabitant, giant steel girders of an ore bridge are embossed with the word "Sands" in bright red.
 
The parking garage is open 24 hours, and always free. I can't even breathe for free in New York, so even this perk is enough to leave me giddy. We stroll in, and the first thing we notice is… more steel. The stuff is everywhere, adding a beaux-arts metal bombast that conjures the industrial past while slickly inviting you to dream about the future. In my case, the immediate future, which would hopefully involve generous, opulent dinners.
Christian Torres/Thrillist
5:41pm A room with a view 
We check in and I pull out a neon green clipboard to go over the itinerary with Chris. Did we make the reservations? Yes. For the concert and dinner and the spa? Check. Speaking of check, what about that $400 we had cut to gamble with -- not a fortune, but maybe enough to shake some magic loose? Did it clear? Yep. Do we have emergency contact info? Nope. Okay. Let's get this party started.
 
Well, not quite. I go over the itinerary again in the elevator. When you plan to gamble, it's best not to leave anything to chance, except of course the gambling.
Christian Torres/Thrillist
7:41pm Pop punk then BAM!
Our first scheduled event was the All Time Low concert at Sands Event Center. When I first heard this was happening, I said, "Dear Maria, count me in." Nobody else was in the room, but I thought it was pretty funny.
 
The Event Center is huge. Any band that's used to playing for thousands and not hundreds will not be disappointed taking this stage. The acoustics are on point, too -- if I were a famously demanding musician playing here, I'd be grateful for the opportunity to not yell obscenities at the sound guy for once.
 
The crowd is young, and not afraid to mosh, which you'd expect at a pop-punk concert. At the same time, I had this expectation that, because the show was happening at a casino, the fans would be an odd mix of out-of-place-looking randoms who'd only stumbled into an All Time Low gig because they weren't yet ready to pray for high cards at the blackjack table. But the crowd was filled with genuine fans, the band was killing it, and I was having a great time finding out that my expectations were unfounded.
Christian Torres/Thrillist
8:11pm Dinner after a show
After the show, we bounce over to Emeril's Chop House, one of three Emeril restaurants on the grounds -- if Vegas had a monopoly on celebrity-chef restaurants in casinos, Sands Bethlehem just pulled a Teddy Roosevelt on 'em. When 3/10 of your restaurants are by Emeril, you've got a pretty unbeatable ratio. They also host one of only two Carnegie Delis in existence beyond the original in New York. If, somehow, I win a pile of cash as tall as the pile of corned beef and pastrami in their famous Woody Allen sandwich, well, I might retire.  
Inside Chop House, the brown-and-cream checkered carpet makes the tablecloths appear near-blinding white. The furniture is near mid-century modern and classic; the bar has those iconic saucer-shaped chairs strewn around just waiting for recently retired Mad Men to come kick back in.
Around the restaurant, darkly stained wooden beams, mirroring the steel that runs everywhere else, accent the walls. I order the Filet Mignon from the impressively (almost imposingly) professional server. Like, this lady graduated Summa Cum Laude at "How to Make Your Dining Experience Fantastic" University. She doesn't even make fun of me for ordering the dainty Filet Mignon; Chris does.
I've just gotten into my second gin and tonic when our food arrives, brought by servers donning the tuxedos everybody used to wear in casinos. Whatever macho-meat expectations I fail to live up to, I don't care, because my filet is succulent and tender and the kind of delicious where you start getting more and more nostalgic with each bite because damn, now there's less of it.
Chris has gotten a big strip steak, which he inhales almost instantly.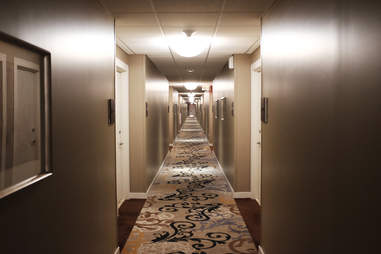 Christian Torres/Thrillist
10:31pm First night wrapped, in preparation for THE BIG ONE
I might have made a slight miscalculation. I am full of the sort of succulent beef and decadent cocktails designed to be enjoyed while watching the sun set on your empire.
It's kind of amazing that at a place like this, going to a concert and then grabbing drinks and a big steak dinner could be considered "taking it easy." It's not insanely late yet -- not casino late -- but we decide to call it a night, knowing that Day Two is going to make Day One look like… well, pretty great compared to a normal night, but we know we can do better.
Christian Torres/Thrillist
FRIDAY APRIL 17th
8:39am Rise & shine & whatnot 
I wake up before anyone else, and go for a swim in the indoor pool. The water is precisely the right kind of warm. You know, like you're floating in an incubator made out of dreams. If that sounds dramatic, you seriously need to try floating in an incubator made out of dreams.
Finished soaking, I step out on the deck, dry off, and chill hard on one of the dozen poolside lounge chairs, ones ripped straight from a music video set in lovely Miami.
I doze off, but a buzzing text rouses me. It's from Chris: whur u at son? Hey, nobody said photographers have to know how to spell.
Christian Torres/Thrillist
10:30am Coffee, croissants, and $50 on red
We both need some coffee and something to chew, but first we stop by the roulette table and put $50 on red, because this early in the morning, that's the color of our eyes.
The grogginess doesn't last though. The electric red, yellow & orange colors, flashes of light, and the jingle of 3,000+ slot machines, make the whole floor feel alive, and then so do we.
And it's just 10:30am. This is way better than coffee, but still, a quick trip for some espresso and nosh from Joli bakery doesn't sound like a terrible idea, and we do just that.
Christian Torres/Thrillist
1:07pm The photographer gets a massage & I get my stomach waxed 
It's not every day that you'll find me in an establishment called Steel Magnolia Spa & Salon. In fact, I've never been to a spa before. I'm eager for this new experience though. I'm a closet anglophile (or I guess closeted until just now), and spa pampering is the closest thing we Americans get to the royal treatment.
The photographer has been to a spa, so as soon as the word "massage" leaves the receptionist's lips, Chris' hand shoots up like a 5th grader Do-Goody with the right answer. The receptionist asks me what I'd like. I ask for her advice. She says I should get a facial. I ask if there's anything else. She says waxing. Can she see through my shirt?! This woman is incredible. Or maybe she saw me at the pool. Either way, I pull the trigger on both.
Apparently, there's something called a facial questionnaire, which must be filled out before a facial can happen. One of the questions asks: Do I have any long-term goals? Obviously I do: to live in a casino and have everyone who works there call me "Mr. Marshall." But in the short term, "becoming ravishingly handsome thanks to a wonderfully high-end spa treatment," will work.
But first, the waxing.
They lead me into a small, very private room. Obviously this isn't going to feel particularly wonderful, but the treatment is as tender as humanly possible. Still, Chris has to hand me my sunglasses to preserve my fragile (but now extremely smooth) dignity. I assure everyone that I just have allergies, and think to myself: I am going to kill it at the beach and/or grassy city park this summer once I stop crying.
Now, the facial, which proves far more pleasant. Ah! The oils. The unguents. The fairy dust. They lather it on, until I start to feel like one of those handsome men capable of simultaneously working the craps table, the ladies, and possibly a nefarious villain -- all without breaking a sweat.
I should do this once a week.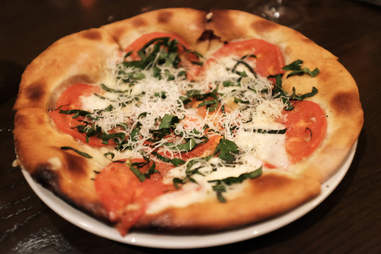 Christian Torres/Thrillist
7pm Emeril's Italian Table & the poker tables
We hit Chef Lagasse's second restaurant (the third is Burgers And More by Emeril) for dinner. I absolutely crush the bruschetta before taking down a margherita pizza. Chris gets pappardelle bolognese, which he pronounces with surprising accuracy, or at least what sounds to me like surprising accuracy. This restaurant is far more casual than Chop House -- which absolutely fits Sands' "whatever you're in the mood for, you don't have to leave the resort" philosophy -- but we still sip Brut Rosé like distinguished fancy-men of sophistication and leisure.
Now that we've feasted on half of Italy's noshin' offerings, and we're sleepy again, what better time to start playing the highly cerebral game of poker? No, really, this is a good idea. We start with Texas Hold 'Em in a room sprawling with 30 likeminded tables, and 200 table games to choose from. I eye the rest of my table and exchange gruff nods with my fellow players. Clearly, I know what I am doing.

I have no idea what I am doing. I bluff and raise with a pair of sixes on my first hand. It backfires. I have a bad tell, it turns out. Maybe it was the heavy sighing? Hard to say for sure. Chris, on the other hand, goes up a considerable amount of money. Not whale amounts, but the beautiful thing about Hold 'Em is that you don't have to win swimming pools of cash to feel like you've accomplished something special. You just have to stick around long enough with best players who are far more experienced than you on at least a couple of hands, and for a few moments here and there you'll feel like Rocky beating Apollo Creed, or any one of the fighters who should have knocked Rocky out.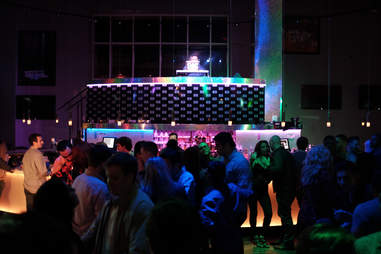 Christian Torres/Thrillist
10pm Vision Bar Nightclub
We take Chris' winnings to the nightclub. On Cirque Saturdays they actually hire circus performers here, and the place turns into what literary types often describe as a "fever dream," though why you'd need to be running a 102 temperature to fantasize about being in a nightclub with an aerialist contorting over your head is anybody's guess.
This is Friday, but even without the performers there's plenty of entertainment to be had. Circular is the name of the game here: circular bar, circular banquettes, and, most impressively, circular steel lights that look like alien technology preparing to suck you into some other, dazzlingly violet spacetime dimension.
Drinks are just four bucks, and that alone makes the room feel like another dimension, far away from New York -- you could come here to go out, get a room for the night, and still save money over a big night in the Big Apple. We feel like kings, or at least foreigners with a favorable exchange rate.
The crowd is all dress shirts and tight skirts (a good thing, as a nightclub is no place for plaid or joggers or culottes). While I wait for my gin and tonic (everybody needs a signature drink, right?), a girl named Meagan starts chatting me up. She's a nurse, and has lived in Bethlehem all her life. It's a pretty cool contrast, being in a fabulous resort-casino and a locals' hangout simultaneously. When I tell her I'm here to write an article, she asks for whom and I tell her. Her face scrunches up with disbelief, and she says something like "Yeah right" before walking off. I'm not sure if she thinks Thrillist is so important that I couldn't possibly write for them, or that I'm just not a writer at all.
In any event, it's not the worst thing in the world when someone doesn't believe you're a writer -- like, maybe I don't look nerdy? For once? So…thanks, Meagan!
Since it was our last hurrah, we stay up 'til an indeterminate hour, getting as much as we can out of this wild, affordable nightlife. In that spirit, we may have even thrown our sunglasses back on.
We're not telling!