Big Ben, St. Paul's Cathedral, Kate Middleton; London's home to many beautiful sights.
But there are other places in the UK that aren't as overcrowded, or overrun with pigeons and tourists, and still worth the visit. Which is why we've handpicked some of Great Britain's scenic small towns and villages across England, Scotland, Wales, and Northern Ireland that are worth ditching the Big Smoke for (or at least, making a day-trip).
Here are eight beautiful spots that prove there's more to the UK than London alone.
Blanchland, Northumberland, England
Nestled amid the rolling hilltops of the North Pennines, the riverside village of Blanchland was formed from the ruins of a 12th century abbey. The result: Rustic stone houses near idyllic woodlands and moors, and now a tea shop where locals enjoy cream tea and scones, a pub, a post office, and a convenience store.
Fun fact: With a population of about 140, Blanchland's community is so close that one resident quipped: "You can't sneeze at one end of the village without someone saying 'Bless you' at the other!"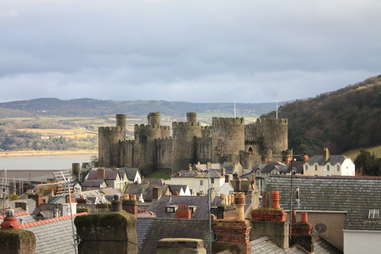 Conwy, Wales
A few of these towns and villages may look like they're out of fairytales, but this one actually has its own freakin' castle! This medieval Welsh town's known for Conwy Castle, which draws visitors from all over the world. And yep, it's a walled town, so you kinda get to live out your GoT fantasies here, too.
Fun fact: According to the Guinness Book of World Records, Conwy's home to the smallest house in the UK -- a 13th-century abode that belonged to Llewellyn the Great.
Cushendun, Northern Ireland
Situated on a raised beach on Northern Ireland's northeast coast, this sleepy fishing town's known for its harbor, and was once a popular respite for travelers thanks to its close proximity to Scotland (about 15mi). The rest of the village's centered about a square fringed by whitewashed cottages, tea rooms, and shops.
Fun fact: A ferry service operated in Cushendun's harbor beginning in the 1600s, but service halted after the Great Famine in the 1840s.
Castle Combe, Wiltshire, England
Tucked away in the tumbling Cotswold hills, Castle Combe was first conquered by the Romans, then later by the Normans, who built a castle that's now crumbled to ruins; the village's charming cobbled streets, stone houses, and thatched cottages now sit beneath the castle's former site. And with a pub, hotel, and scenic surroundings by the Bybrook River, Castle Combe attracts many visitors as the quintessential English village.
Fun fact: Castle Combe's manor house, typically occupied by the village doctor, was featured in the original Dr. Doolittle in 1966. Since then, movies like War Horse, Stardust, and The Wolfman have been filmed there.
Grantchester, Cambridgeshire, England
Just outside the city of Cambridge, this tiny village spreads over meadows by the River Cam, along which you'll spot groups of Cambridge students punting. That's British for being in a boat, and has nothing to do with kicking of 4th and long.
Grantchester's also home to one of the country's most delightful tea gardens, where literary types like Virginia Woolf and poet Rupert Brooke threw back tea and crumpets.
Fun fact: The village hosts an annual beer-barrel-rolling contest on Boxing Day (December 26th). The curious tradition began in the 1960s and, after a long break, has been revived in recent years.
Portree, Isle of Skye, Scotland
Built around 1850, this scenic fishing village is the largest (population: 3,000) on the Isle of Skye, off Scotland's west coast. Renowned for its picturesque harbor, the shoreline's flanked by an assortment of colorful pubs overlooking nearby mountains, cliffs, and the Atlantic Ocean. You might even spot the occasional dolphin or whale.
Fun fact: There's a kind of Talisker whiskey distilled nearby, named after the village, as well as a fantasy Quidditch team, the Pride of Portree. So there's something for the adults and the kids. And the adults who just act like kids, too.
Bibury, Gloucestershire, England
The second Cotswolds village to make our round-up, Bibury looks more like a place in Middle-earth than England. Surrounded by green meadows and woodlands, Bibury makes for an impossibly beautiful life; there's a trout farm, a mill, and its famed Arlington Row, lined with cottages built in 1380 for wool weavers. No, seriously -- we're not trying to pull the wool over your eyes at all.
Fun fact: Part of Bridget Jones' Diary (which you totally watched only because your girlfriend made you) was filmed here.
Mousehole, Cornwall, England
This strangely-named, Cornish coastal village has lured tourists with its small-town charm and beauty. It's so gorgeous that the Welsh poet Dylan Thomas once declared it "quite the prettiest village in England". With quaint streets, boutique cottages, and a picturesque beach, it's easy to see why Mousehole is so beloved.
Not so fun fact: In 1595, the Spanish destroyed the village, burning down all but one of its houses, which somehow still stands there today.
Chloe Pantazi is an editorial assistant on Thrillist's travel team. She's feeling homesick now, and wants nothing more than to go punting in Grantchester. Follow her on Twitter at @ChloePantazi.