Shutterstock
Shutterstock
Because showing up naked to Wednesday night volleyball is almost never as well received as you'd hope (even if the hot setter is wearing a 'Co-ed Naked Volleyball' tee), here's a guide to the best -- and most welcoming -- places in the world to let it all hang out.
Best Thermal Bath
Kaiser-Friedrich-Therme
Wiesbaden, Germany
This incredible Belle-Epoque structure was built on the site of an ancient Roman steam bath in 1913, and features multiple saunas, steam rooms, pools, and thermal baths, as well as an almost overwhelming menu of massages and spa treatments. Swimsuits are prohibited in the saunas for "hygienic reasons," and while they are allowed in the baths, wearing one will make you stand out in a sea of happily nude Germans.
Best Nude Resort
Hidden Beach Resort
Riviera Maya, Mexico
We've said it before and we'll say it again: the Hidden Beach Resort, a five-star, all-inclusive nudist resort on Mexico's Yucatan Peninsula is one of the most luxurious places in the world to be butt-naked. There's a private beach, a lazy river leading from guest rooms straight to a swim-up bar, and private Jacuzzis.
Best Nude Beach
Plage de Tahiti
St. Tropez, France
If you've read any of our many stories about nude beaches around the world, then you know this was a tough call. Plage de Tahiti on the French Riviera, however, has landed on all of our lists of best beaches thanks to its warm Mediterranean waters, white sand, and topless French babes. Plus, it's a known celeb hotspot, so you might peep the likes of Miranda Kerr, Eva Green, and Naomi Campbell, who've all been spotted there before.
Best Nude Cruise
Bare Necessities Tour & Travel
Italy, Greece, Montenegro, Albania, Slovenia, and Croatia
Instead of vacationing on a gigantic floating mall and having to, ugh, put on pants, check out Bare Necessities' glamorous Grand Tour, which takes place on a majestic, five-masted luxury sailing yacht. The swanky trip, which includes around 3,000 new favorite naked friends, will take you from Rome to Venice, with nudist-friendly stops in six countries.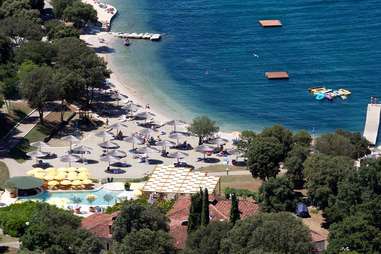 Best Nude Campsite
Valalta
Rovinj, Croatia
This award-winning campsite scooped up the 2014 Naturist Campsite of the Year award from ANWB and the 2015 Best Campsite in Europe from ADAC -- even though it's only January. Weird. But whatever, both are European equivalents of the AAA and its Diamond Ratings. Established in the 1960s, Valalta features a beautiful private beach, two whirlpools, and a pool with a water slide. And the cherry on top -- other than naked people, of course? There's an on-site brewery!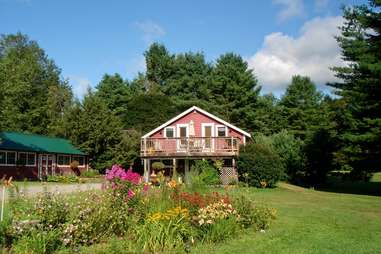 Best Nude Inn
Abbotts Glen
Jacksonville, VT
This adorable little BnB with some TnA in Southern Vermont won TripAdvisor's 2013 Certificate of Excellence. Surrounded by a pond, rolling meadows, and an orchard, the inn features a sauna, hot tub, and 1,500ft of prime riverfront beach on which to soak up the sun. And adding to the old-timey ambiance are (presumably) naked activities like apple picking, horseshoes, and nature walks, plus (we're guessing) clothed wintertime fun like ice skating, sledding, and snowshoeing.
Best Nude Park
Englischer Garten
Munich, Germany
Munich's equivalent of Central Park, the beautiful English Garden is packed with topless chicks. And while nudity is already common in Germany, the city made it official by designating six nude zones around town, so you'll be good in the eyes of the law. Just maybe not in the eyes of everybody staring at you. Either way, check out the Eisbach, a river flanked by one of many scenic meadows and a prime spot for nudists to get their tan on. And if it gets too hot, feel free to take a dip. Just know, if you've dropped your trunks, that Eisbach translates to "ice stream."
Best Nude Event
Pilwarren Maslin Beach Nude Games
Maslin Beach, Australia
Formerly known as the Nude Olympics -- at least until the real Olympics said "uh-uh, no way" -- the Pilwarren Maslin Beach Nude Games started in 1983 and now attracts around 500 competitors to Australia's first legal nude beach every January. Events include a three-legged race (hmmm?), a donut eating competition, and contests for the title of Best Bum and Miss Maslin Beach.
Best Nude Hot Spring
Strawberry Park
Steamboat Springs, CO
High in the Rocky Mountains at the end of a steep, unpaved road, you'll find four beautiful, natural hot springs nestled among the trees and wildflowers. Nudist by night and open year round, this rustic escape's an excellent spot to stargaze, not to mention warm up after a day of skiing or snowboarding.

Best Nude Lake
Prior Lake
View Royal, BC, Canada
Hidden at the end of a walking trail among the willow and fir trees of Thetis Lake Regional Park, this small lake tucked behind the better-known Thetis has been a nudie fave since the 1960s.

Sophie-Claire Hoeller is Thrillist's über-efficient German associate travel editor, and has had frequent flyer status since she was born in a Lufthansa terminal. Follow her @Sohostyle