It's both a drink and a magical setting.

| Jesus Cervantes/Shutterstock
It's both a drink and a magical setting.

| Jesus Cervantes/Shutterstock
Traditionally Mexican, agave-based spirits like tequila and mezcal are enjoying a global boom in popularity, with the latter shedding its former image as the frat boy's booze of choice to now boasting some of the most high-end luxury brands around. As one dives into the mundo of tequila, Jalisco is the place to go to see turquoise-colored agave fields surrounded by mountains, ride a tequila train with guided sippings, see how the spirit is made (and smell the sweet process), explore the cultural heritage behind it, and taste many smoked or crisp liquors that will make your night.
Abutting the Pacific Ocean, this scenic state is rife with traditions, spicy tacos, and most importantly, loads and loads of tequila. Again, we're not talking about the swill choked down during fateful college ragers. Many of the makers calling the Tequila Trail home are putting hundreds of years of experience and tradition to work, cranking out a variety of top-shelf, 100-percent agave bottles from crisp, clean blancos to sultry, complex extra añejos. They're also letting the public in on the fun, giving curious visitors a behind-the-scenes look at the time-honored production process. Add that to nearby Guadalajara's multifaceted urban appeal and you're looking at one stellar getaway.
The best part? The area is still relatively under the radar, making it the ideal time to get in on the ground floor of this boozy adventure. Here's everything you need to know to plan the vacaciones de tu vida.
Start Your Trip in Guadalajara
The best (and pretty much only) way to start your adventure is via Guadalajara, Jalisco's capital city and home to the state's major international airport. But that's not to say this lively, industrious town is merely a means to an end. Guadalajara is a destination in its own right, and those who've been love to sing its praises.
"Guadalajara is the best city in Mexico," says Antonio Rodriguez, director of production at Patrón, who recommends making a beeline for the cafes, bars, street vendors, and near-constant live entertainment along artsy Chapultepec Avenue. Spending an hour or two roaming this broad historic corridor is a great way to get your feet wet before making the Tequila Trail plunge. "You can find the perfect balance between traditions like mariachi, Charros, tequila and Mexican food, and vibrant people."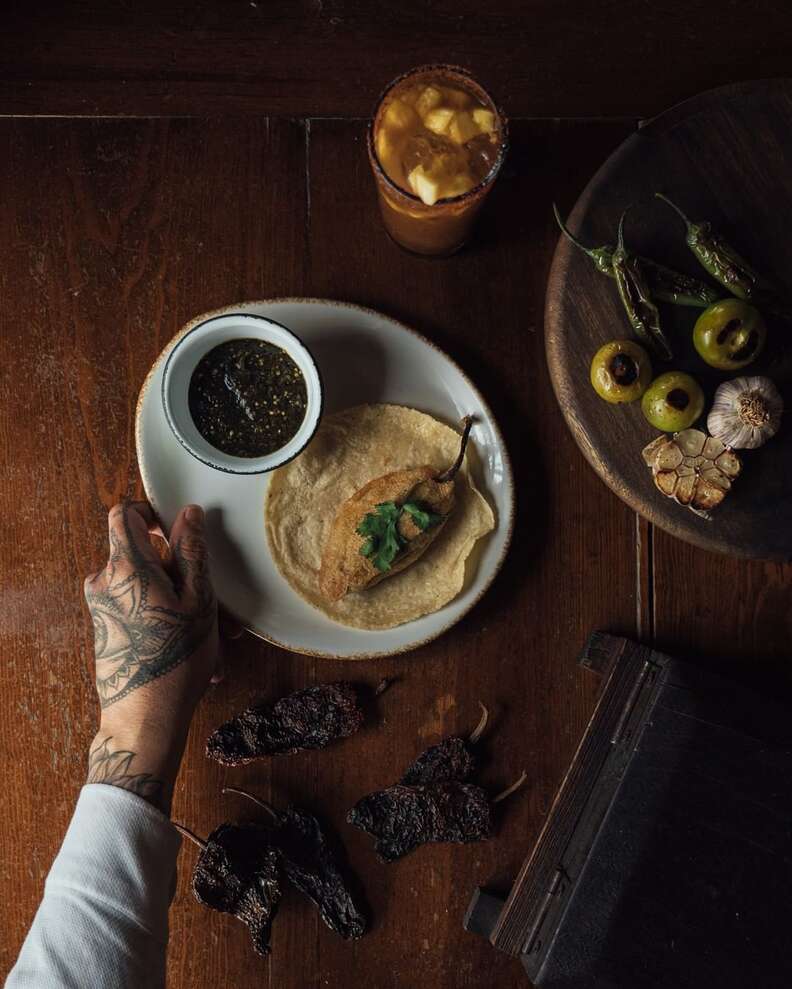 Eat at the best restaurants in Guadalajara
Speaking of food, it's everywhere and it's mouthwatering good. Gastronomy is a huge point of pride throughout all of Jalisco and that goes double when it comes to the Guadalajara area.
"For simple but truly delicious Mexican cuisine, head to Karne Garibaldi and order their beef stew, carne en su jugo," instructs Barry Augus, founder and CEO of Tres Agaves Tequila. The stew in question is a rich, delicious broth teeming with shaved beef and bacon, and served with housemade corn tortillas slathered in pig fat—it's basically a frosty Pacífico's best friend. A meal at Karne Garibaldi isn't just about the grub, though. "But be ready to eat as soon as you take your seat, because they've held the Guinness World Record for fastest food service since 1996."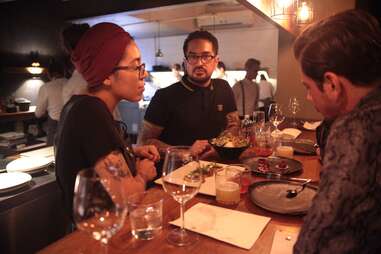 Get your tequila tour started early at La Tequila Cocina Mexicana where they flaunt a collection of over 200 different tequilas, plus dozens of other agave spirits, ranging from mezcal to raicilla. Their vegetarian Chile en Nogada is an enormous and rich take on the country's national dish. And after a shot or two, you might even muster up the courage to try some of their fried cricket tacos.
For a classy option, the sleekly-designed Alcalde Restaurant features floor-to-ceiling windows, as well as a view into the open kitchen where you can see Executive Chef Paco Ruano blending local with global. You'll be amazed at how well mole and bok choy go together.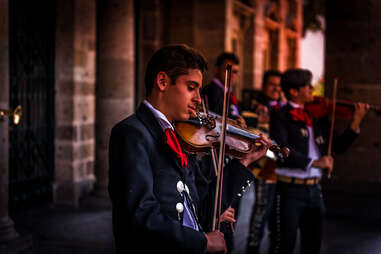 See mariachi and masked luchadores
Before you run for the gorgeous hills, you'll want to check out two important aspects of Guadalajara's nightlife, both of which are greatly improved with a drink in hand: mariachi and lucha libre.
Jalisco is credited as the birthplace of mariachi, and by the 19th century, was well-known across the country for being the center of this style of music that involves up to eight violinists, two trumpets, and at least one guitar. For an open-air show, head to Plaza de los Mariachis, where mariachi groups play as locals and tourists mill about the center. Or check out Casa Bariachi, a magical, technicolor wonderland where rainbow-hued paper lanterns crowd the ceiling, the Margaritas are as big as sombreros, and guitar-strumming cantantes dressed to the nines croon from the wooden stage.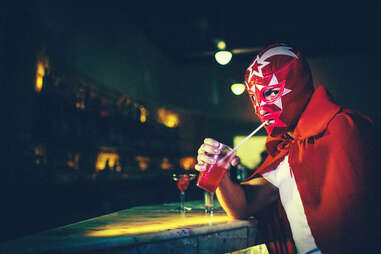 Then it's time to move on to the masked superhero show. "Lucha libre can only be done right in Mexico," says Augus. "In Jalisco, the Arena Coliseo's Tuesday and Sunday night shows are jam-packed with not only fierce and high-flying luchadores, but an equally entertaining audience." Sure, the venue is dark and dingy, but the experience is definitely one for the books. Best to "when in Rome" this one; slug back some Coronas and join the hordes of costumed fans chanting for their favorite over-the-top wrestlers.
If you're looking for more standard nightlife, the regular bars in the city are swanky cool. One option is Bruna, a mixology bar inspired by local gastronomy, Mexican herbs, and experimentation, where each finely crafted cocktail is prepared tableside in a captivating display. There's also the disco-ball-lit dance floor at Nadim Rooftop, or head to Fat Charlie, an unassuming speakeasy with date night vibes.
Ride the tequila train
Once you've had your fill of city life, it's time to grab your trusty steed—or rental car, whatever—and head off into the sunset, bound for windswept rolling hills, moonlit volcanic fields and the sweet, sweet smell of juicy piñas roasting away in giant distillery ovens. The town of Tequila sits about an hour and fifteen minutes drive from downtown Guadalajara. Car is the best and cheapest route, and the concierge at most Guadalajara hotels are usually happy to help you book a ride.
If you're interested in throwing down some cash, there are two luxury trains offering booze-fueled day trips. The Tequila Express hauls revelers from the capital to the Herradura distillery in Amatitán for a tour, tasting, and lunch every weekend. Meanwhile the Jose Cuervo Express ups the ante with a few different high-roller experiences, all including a visit to the brand's palatial production facility, La Rojeña.
Get familiar with the Magical Town of Tequila
"Tequila is where everything starts," says Sonia Espinola de la Llave, Director of the Beckmann Foundation, a sustainability-focused branch of Mundo Cuervo. "It's the birthplace of tequila spirits, with more than 22 distilleries plus a gorgeous agave landscape that was deemed a World Heritage property by UNESCO in 2006. Tequila is also one of the 40 towns that the Mexican government has recognized as a 'Pueblo Magico,' or Magical Town, and was one of the first to earn that nomination because of its rich history, heritage, and traditions."
There are a few different hotel options in Tequila, including Mundo Cuervo's Hotel Solar de las Animas Ramón, an airy, amenity-filled oasis complete with a central pool, rooftop bar, gym, and quality restaurant, just a few steps from the historic downtown area. The town itself is postcard-level beautiful, with all the gorgeous churches, winding narrow roads, and tucked-away taco stands you'd expect from small town Mexico. There are also two tequila museums, the brand-specific Sauza Family Museum and more general National Museum of Tequila, both perfect for soaking up a little pregame knowledge before setting out for the distilleries.
While Tequila is less-trafficked than hotspots like Cabo or Mexico City, local investment from brands like Jose Cuervo has led to an influx of new businesses in recent years—especially when it comes to local restaurants. There are plenty of casual spots and streetside stands, but for a memorable sit-down experience, visit rustic La Posta de Cerrillos, which has a margarita-filled outdoor patio. Fans of Cholula hot sauce will want to head to Cholula La Fonda, where you can tuck into classic Mexican dishes scored by mariachi singers.
One important note before we get to the juice: If you do anything—I mean anything—in Tequila, you absolutely have to hit up La Capilla. The king of all dive bars, this barebones cantina is a true industry darling. Aside from the requisite poster of dogs playing poker, chain smoking teens, mismatched chairs, and soccer blaring from a corner tv, the real draw is beloved 95-year-old owner Don Javier's signature cocktail, the Batanga. The simple blend of lime juice, blanco tequila, and Coca-Cola with a salt rim is said to get its unreproducible zing from the long knife the barkeep uses to stir each concoction. It's the stuff of legend.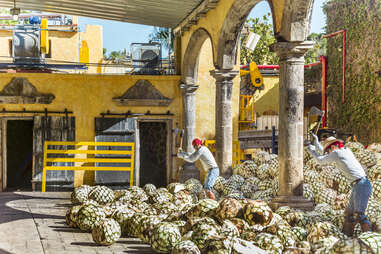 Sip your way through Tequila's distilleries
Next up: the distilleries! There are two ways to master the land, here, either on a guided group tour or on your own, armed with a GPS and whatever sedan Hertz provided this time. Tour-wise, there are a few different companies to choose from, each offering stops at a handful of boutique and major distilleries around the area's two major production regions, Los Altos (aka the Highlands) and the Tequila Valley. If you're going that route, Experience Tequila is a trusted go-to, with its variety of multi-day excursions, packed itineraries, and smart-as-a-whip guides. The biggest benefit to booking a set package is that it allows you entrance into distilleries that might not be open to the public, as well as trips into the fields and special demonstrations you might not get otherwise.
Solo adventurers shouldn't despair, though, as there's plenty to see and do off the beaten path. Tequila's Hacienda La Cofradia, known for making Casa Noble among some 40 other labels, offers daily tours through its a massive complex, which not only houses a distillery but also a restaurant, succulent garden, duck pond, museum, its own ceramic factory and even a boutique hotel with four art-strewn casitas. Other easily-accessible facilities include Casa Sauza, where guests have the option of meeting a real agave farmer, called a jimador, and helping with the harvest; Jose Cuervo, which offers daily tours, lots of hands-on demos, and an in-house restaurant and bar in its Mundo Cuervo complex; and Amatitán's 256-acre Tequila Herradura, with its crash course in wild fermentation, towering clay ovens, and green efforts like water treatment and composting plants. If you're in it for the tastings, you really can't go wrong with any of these heavy hitters.
For a taste of something on the (comparatively) smaller end of things, call ahead and book an appointment at La Alteña distillery or Hacienda de Oro. Stationed in the Highlands town of Arandas, La Alteña has been around since 1937, and is currently the force behind Tequila Tapatio, Villa Lobos, and the award-winning El Tesoro, which makes a mean añejo. It's old-school all the way—they cook in masonry ovens, extract sugars with a tahona wheel instead of a roller mill, and distill in copper rather than stainless steel. As for Hacienda de Oro, father-daughter team David and Iliana Partida helm the Amatitán operation and are responsible for a slew of respected brands in addition to the distillery's eponymous flagship. You won't find any fancy gift shops or white tablecloth dining here. Instead, the rustic 40-year-old stalwart keeps things technical, leading guests through each step of the process: steaming agave in massive steel autoclaves, milling the pulp, naturally fermenting the juice and finally collecting the finished product as it pours out of the modest still. Science geeks, this one's for you.
Production methods vary from site to site, from the ways in which they harvest the agave, to how they roast it, how they extract the sugars, what kind of still they use, and how long the aged stuff sits in a barrel, so packing a few different outposts into a day's work will give you a more comprehensive view of how the magic happens. The whole shebang is fascinating and worlds apart from the whiskey, gin, and vodka distilleries you might come across stateside. Even the most modern facility oozes with history, and watching a jimador prune a massive agave plant down into a bulbous piña with seemingly effortless precision—slicing into each hulking leaf as if it's made of butter—is a sight you won't soon forget.
At the end of the day, it's the landscape that really makes the Trail. Looking out upon neat rows of blue Weber, with volcano peaks in the distance and a fresh Paloma in hand, evokes a sense of serenity and wonder you'll never find at some generic Cancun resort.