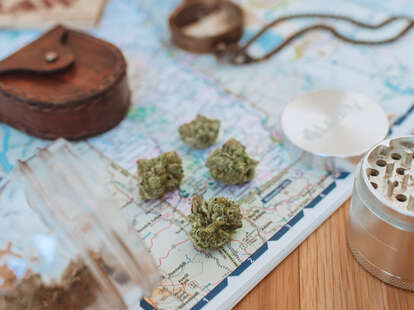 Photo by Beck Stavely
Photo by Beck Stavely
Both road trips and cannabis have a way of breaking us out of our day to day—interrupting our usual routines and opening our minds with fresh views and perceptions. And just like campfires and s'mores, road trips and cannabis complement each other well, opening up more doors to spontaneity and discovery along the way.
This guide is for explorers fueled by curiosity and cannabis, for those who seek wonder when they pull out of their driveway, and for those as excited about crafting rewarding itineraries as they are about unexpected stops. It's also for cannabis-enthusiasts, so we covered all your bases—where to go, how to find cannabis-friendly lodging, packing essentials—so you can kick back and focus on identifying copilots and interesting destinations along your route.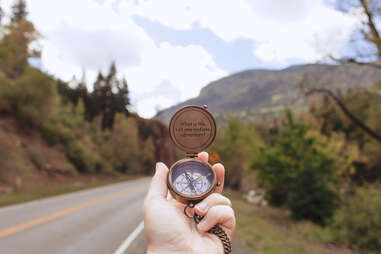 Where to go
First things first, design your itinerary. Best advice: get stoned and look at a map, easy peasy. If you need help deciding where to go, explore the best U.S. cities for next-level cannabis experiences. Destinations might include Hippie Hill in San Francisco, the Canyon Road of Santa Fe, or the great outdoors of Burlington, Vermont.
How to travel
It's time to pick your vehicle of choice. If vanlife has intrigued you but you aren't ready to leave your home full-time, try testing it out with a van rental or an RV. These provide the luxury of having a flexible basecamp for adventures, while giving you easy access to open air for your cannabis activities. Another option is to get creative with car camping, turning the trunk of your car into a cozy bedroom.
Where to stay
If you aren't sleeping in your vehicle, you'll need another place to lay your head. When seeking lodging for a cannabis-friendly road trip, it can feel elusive to find a place that's just private enough and just laid back enough to allow you to do your thing. But not to fear, there are databases of cannabis-friendly lodging, including Inndica, Greentripz, and Bud and Breakfast.
You can also find some through Airbnb. Unfortunately, it is not easy to search for cannabis-friendly spots, but you can check the "Smoking Allowed" filter under "Amenities" and then "Features." You can also try searching "420 friendly" + your location in your favorite search engine to find the Airbnbs that include that verbiage in their title or description. It can take a little extra effort to find the right spot, but it's worth knowing you are at a location that is cool with how you roll.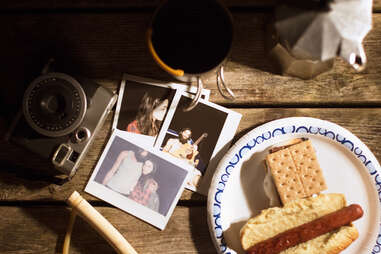 What to pack
Cannabis: Obviously this is a critical piece of the adventure. The most discreet options can provide more aromatic flexibility, like edibles or vape pens. If you are packing flower, be sure to get yourself a smell proof stash pouch or bag.
Sploof: The device can help you to hide the smoke smell when exhaling, while you can make your own, this makes it even easier to be incognito.
Odor Eliminator: To help remedy the remaining lingering smell, get yourself a nice spray or candle to distract others' nostrils. You can also water two plants with one hose by loading up on bug spray. Bonus: you'll be ready to enjoy all that nature offers without the bug bites.
Munchies: A road trip without snacks would be disappointing. A cannabis-inspired road trip without snacks would be a seriously sad state of affairs. Reminder: Don't. Forget. The. Snacks.
Journal: Cannabis and travel have a way of bringing new ideas to the mind, helping one to appreciate the moment, or working through something you were stuck on before. Be sure to bring a way to write down these thoughts to revisit in the future.
Film Camera: If you want to go off the grid, but still crave a visual way to document your trip, lock your phone up in your glove compartment and break out a film camera.
Blanket: Sometimes you'll want to get out of your car, but not walk around. Easy solution: Bring a picnic blanket and go have a lay in a field.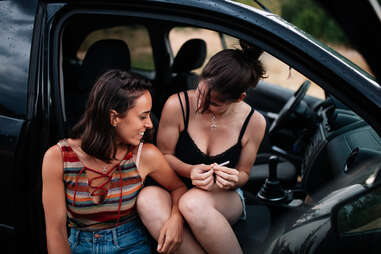 What to remember
Nothing ruins a high like someone getting hurt or having a run in with the authorities. While it may go without saying, we want to say it: Do not drive while under the influence. Be the first one to call shotgun and you'll be golden. And while laws across the country are becoming less strict, there are still many areas you risk penalties. Be sure to research the laws in each state you are visiting to assess your risk. While looking up the laws, you can look up the accessibility to see if it's recreational, or even medical.
Editor's Note: Any cannabis products referenced above are not intended to diagnose, treat, cure, or prevent any disease. The writer is not a medical doctor, and their experience is based on personal use, the results of which may not be typical or intended. The legality of cannabis products varies by state, and readers are encouraged to check their local laws before purchasing and using cannabis products. Possessing, using, distributing, and/or selling marijuana or marijuana-based products is illegal under federal law as of the writing of this article, regardless of any conflicting state laws. Compliance with the laws of a particular state in no way ensures compliance with federal law, and there is a risk that conflicting federal and/or other state laws may be enforced in the future. Nothing in this article should be construed as advice regarding the legal status of cannabis products.
Beck Stavely is the founder of
Our Endless Adventure
, where she combines her marketing expertise with a coaching approach to assist freelance creatives and entrepreneurs. Follow her for more adventures on
Instagram
.