Where Does Lost Airline Luggage Go? To America's Greatest Thrift Store.
Courtesy of Unclaimed Baggage Center
Courtesy of Unclaimed Baggage Center
Is that guy next to you on the subway REALLY wearing your one-of-a kind "Topher's Bachelor Blowout 2014" T-shirt? He can't be! It's impossible! You lost that shirt on the return flight from Vegas two years ago. And now it's with THIS dude?
Well, if you never got your suitcase back there's a decent chance your new nemesis made a trip to the Unclaimed Baggage Center in Scottsboro, Alabama. Part lost-and-found, part thrift store, this 40,000sqft superstore takes literally every lost suitcase in America, sifts through it, and puts the best stuff on its shelves. This is the story of how wayward luggage finds its way to the afterlife.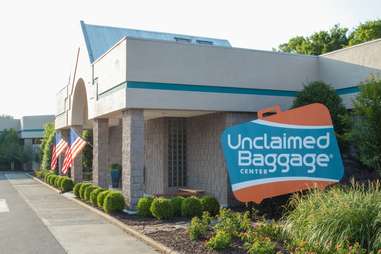 The store 45 minutes east of Huntsville has been around since 1970, when part-time insurance man Doyle Owens got the idea to purchase unclaimed bags from a local bus station, then sell the contents from tables a couple days a week. Eventually he expanded this practice to airlines, and 46 years later the store is stocking millions of items that Americans have lost on flights.
How does THIS store get MY bags?
First off, the airlines aren't stealing your shit and selling it wholesale in Alabama. Lost luggage, at least in the United States, is incredibly uncommon. Only one-half of 1% of checked bags fail to make it to the baggage claim, and of those roughly 80-90% are returned within 48 hours. Within a week, that number jumps to 98%. Then, for the next 90 days, the airlines go to painstaking lengths to match bags with owners. Math says you're looking at only 1-in-10,000 odds of truly losing your bag on a US flight. And yet -- there is that slim chance.
After 90 days, the baggage legally belongs to the airlines. Sometimes people get fair compensation for their luggage and give up the search. Other times what they described didn't match to what was in the bag. Sometimes people overstate what's in the bag to get a bigger insurance payout and don't push it when they get a call from the baggage team's fraud department. Whatever the reason, the unclaimed bags all end up in warehouses around the country.
What happens next? The Unclaimed Baggage Center, which has an exclusive agreement with the airlines, picks up all those bags on tractor trailers, sight unseen. It also picks up unclaimed cargo, since that merchandise is often unused and better for resale, and literal crates of electronics left onboard by forgetful passengers. Since the airlines take no responsibility for carry-on items, those bags are the UBC's largest source of electric gadgets.
The airlines aren't exactly getting rich off these orphaned bags. The money UBC pays for the bags (which a spokesperson would not disclose) offsets the cost of their lost baggage operations.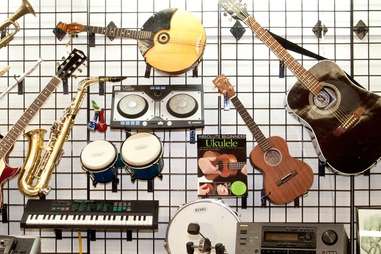 What ends up in the store?
Once the Unclaimed Baggage Center has its haul of suitcases, pallets, and electronics, workers sift it to see what's worth selling. About a third gets recycled (to rag factories, for example), a third is donated to charity, and a third goes on shelves. The store stocks about 7,000 items a day: nail clippers, art, Sully masks from Monsters, Inc.
The store differs from a thrift store in that the shelves here are full of things people wanted, not junk they threw away. Items here are things people thought enough of to take with them on vacation, and for one reason or another never made it home. "You might find a wedding dress at a thrift store," spokeswoman Branda Cantrell said, "but you wouldn't find a Vera Wang wedding dress. And we've had several of those."
Employees also go through Department of Defense protocol to scrub the memories from all the electronics they receive. So you don't need to worry about some stranger in Alabama buying your MacBook for $300 and getting all your One Direction downloads as an added bonus. Or, ya know, your bank records.
Discount jewelry and hidden treasures abound
What you can find at the Unclaimed Baggage Center is only limited by what people put in their suitcases, all of it at 20-80% off retail. Jewelry sells at half its appraised value; the most valuable item in the store currently is a $42,000 bracelet priced to move at $21,000. So if you're thinking of popping the question this fall, Alabama is your new ring-shopping destination.
But not everything is appraised, especially the artwork. So one might also end up like the lucky soul from Mexico City who bought a $60 painting that turned out to be worth $20,000.
In addition to valuables, employees (who can't buy anything until it's been on the shelf a week) have found some insane items. The store has a dedicated museum to the wacky things they've discovered, from a 19th-century Victorian fan to a 6ft papier-mâché Tinker Bell, to a Jim Henson Hoggle puppet used in the David Bowie classic Labyrinth. On more than one occasion, they've turned up live rattlesnakes.
The Unclaimed Baggage Center has become a tourist attraction over the years. It sits only about 30 minutes from the Georgia and Tennessee state lines, and shoppers have been known to spend the night in town so they can fit in two days of shopping. Not to say you need to spend your vacation going through other people's lost luggage. But if you're still kicking yourself for losing that irreplaceable bachelor weekend memorabilia, don't give up until you've made a trip to Scottsboro. Or, at least, until Topher has another one for wedding number two.
Sign up here for our daily Thrillist email, and get your fix of the best in food/drink/fun.
Matt Meltzer is a staff writer with Thrillist who would very much appreciate anyone who finds a set of keys on a Pompano Beach keyring at the Unclaimed Baggage Center to contact him on Instagram @meltrez1.