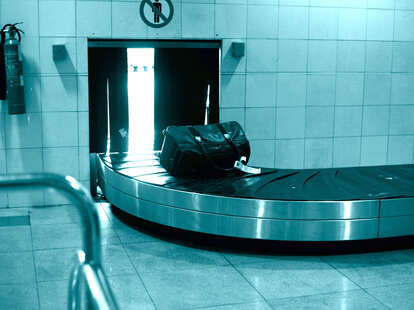 Shutterstock
Shutterstock
Hard to believe, but the airlines have just about perfected the art of sending you to Cleveland and your bags to, well, also Cleveland.
Yea, only about 1% of checked bags these days get lost in the vortex of conveyor belts and collection forms. In fact, even five days after a bag goes missing, you still have a 95% chance of having it returned to you. Insane, right?
But what about the unfortunate souls who somehow beat the odds and -- after three bag-less months -- are still without their favorite #YOLO poplin tank top? Well, they're sent checks by the airlines to cover the cost of said belongings, and then their luggage (eventually) makes its way to small town Alabama.
This is what happens when it arrives.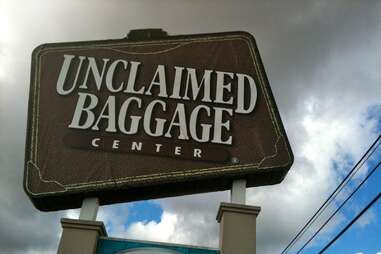 The store
Unclaimed Baggage Center (UBC) is located at 509 West Willow Street in the rural, working-class city of Scottsboro, Alabama. That's where your duffle bag (which is carrying 64% of your wardrobe but now missing the flimsy ID tag you affixed at check-in) will end up once the baggage handler flings it onto the trolley marked JFK, instead of the one labeled Dayton International Airport.
UBC is under contract with airlines and other transportation companies to purchase the luggage that can't be traced to owners. Truckloads of lost bags are transported to their store in Scottsboro.
The process
The staff unpacks each bag (while wearing protective gloves, naturally) and sorts the items. Clothes head to the in-store dry cleaner -- which is the length of a city block and the largest commercial dry cleaner in all of Alabama -- while the jewelry is cleaned and appraised. Technicians test all the electronics and wipe them clean of personal data.
Once the sorting is finished, "pricing experts" inspect each item and price it accordingly. From there it goes on to the sales floor where lucky Alabamans can apparently have an uproarious time shopping for used coats.
And the one item the store never runs out of... suitcases! Interestingly, the inventory also comes from bus/train lines and unclaimed articles left on planes, in airports, and in rental cars, as well as air cargo.
Of course, some of the weird sh*t that people pack, like live rattle snakes and bags of onions, never makes it to the the sales floor. About half is repurposed by local charity organizations; some of the more unique, unsellable items may end up in the store museum. Awesome samurai cows, however, always get sold.
To get a feel for what else -- both normal and weird -- the most high-end thrift store in the country peddles, check out the directory here.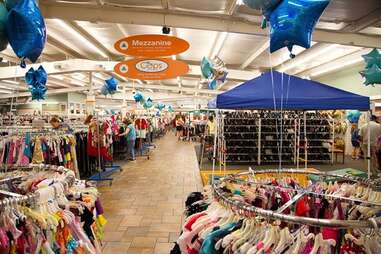 The (very abbreviated) history
1970: Doyle Owens borrows a pickup truck, takes out a $300 loan, and heads to Washington, D.C., where he purchases his first load of unclaimed baggage from Trailways bus lines. He sells the contents on card tables in a rented house.
1974: Doyle's operation is open for business, but only on Wednesdays and Saturdays. On his off days he, his wife Sue, and their two sons sort through the purchased luggage. In the same year, Doyle lands his first airline contract with Eastern Airlines.
1980: Employees unpacking a Gucci suitcase discover Egyptian artifacts dating back to 1500 B.C. Most items, which include burial masks, scarabs, a mummified hawk, a stool leg, and a headrest, are sold through Christie's auction house in New York.
2010: They celebrate 40 years of existence by remembering the good ol' times of opening suitcases containing African masks, shrunken heads, and a full suit of armor, etc.

Christopher DiScipio is a staff writer for Thrillist Media Group and would anyone like to go on a road trip to Alabama with him? Let him know on Twitter @ChrisDiScipio.