Visit These Under-the-Radar Cruise Destinations Before Everyone Else
There are different schools of thought when it comes to cruising: some go for the ships themselves, where you can do crazy stuff like ride water slides and dangle over the water in a giant glass orb. For others, cruising is a way to experience the local culture of four or five different countries without having to worry much about logistics.
But what happens if you're in the second group and cruise A LOT? Simple, you run out of places to visit. And since you can only go back to Señor Frog's in Cozumel so many times, we rounded up a group of ports-of-call that aren't all straw markets and three-for-$10 T-shirt emporiums. Smaller coastal towns that offer cruisers the same local culture and charm but without the crowds. All worth visiting before they become too popular.
Progreso, Mexico
Go with: Carnival,Princess
This weekend beach getaway for people in the Yucatan capital of Merida is a flat port city with the largest wharf (at 4.3 miles) in Mexico. Beyond being the region's busiest port, though, Progreso also offers visitors access to some of Mexico's most pristine and undisturbed nature. Not only do white sand beaches stretch up and down the coast, but the ecological preserve of El Corchito -- with all of its mangroves, freshwater pools, and tropical foliage -- is just over a mile away.
Kotor, Montenegro
Go with: Princess, Celebrity, Norwegian
The journey to this tiny town on the Adriatic Sea is as mesmerizing as the city itself. Because Kotor sits on the inland Bay of Kotor, you'll cruise through green mountains and some of the world's most stunning fjords to get there. And once you arrive, you can explore cobblestone streets and stone walls that date back to the Venetian period, all in relative peace. It's made a slew of "best travel cities" lists mostly because it holds all the historic fascination and charm of larger destinations but remains manageable and crowd-free.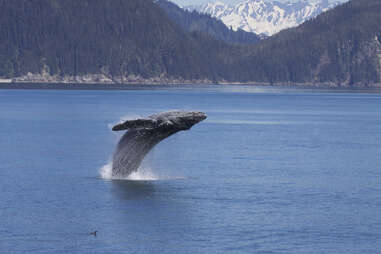 Icy Strait Point, Alaska
Go with:Princess, Royal Caribbean, Norwegian, Celebrity
While there's no shortage of cruise ports along the Inside Passage in Alaska, few offer travelers the local experience like Icy Strait Point in Hoonah. Built around a restored salmon cannery-turned-museum, the area also boasts the world's largest and highest zip line (a 5,300ft course highlighted by a 1,300ft vertical drop) and unparalleled whale watching.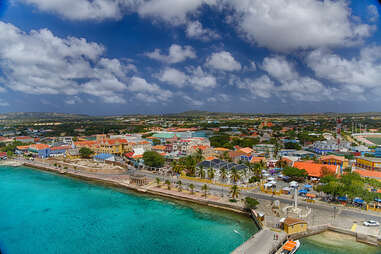 Kralendijk, Bonaire
Go with:Carnival, Royal Caribbean, Norwegian
Aruba and Curacao get most of the hype for the ABC islands in the Dutch Antilles, but that's part of what makes a trip to Bonaire all the more relaxing -- fewer people. And this tiny 114-square-mile island is so small that you can do A LOT on a short port call. Look for the yellow stones by the side of the road for the best snorkel sites on the island, or dive down to One Thousand Steps, the most popular dive in Bonaire. There's also a network of over 400 caves ripe for exploration on a guided tour. And if you happen to be there overnight, the Hilma Hooker is one of the top night dives on the planet.
Santos Tomas de Castilla, Guatemala
Go with:Oceania
When it comes to Santos Tomas de Castilla, you've got three options: 1) take a short bus ride from this former cargo port on the coast of Guatemala to the Mayan ruins and intricate sculptures of Quiriguá, a UNESCO World Heritage Site; 2) cruise up the Rio Dulce (from the nearby town of Livingston) into the jungle and explore 300ft cliffs while being serenaded by howler monkeys; or 3) spend your port call drinking and looking at strippers in the nearby town of San Felipe -- the town is known for its bar and adult entertainment scene.
Ephesus (Kusadasi), Turkey
Go with:Carnival, Norwegian, Princess, Cunard, Royal Caribbean
Don't get too hung up on geography when you visit the ancient ruins in this city on the western coast of Turkey. Yes, they are called Greek ruins. No, you're not in Greece. But some of the most historic sites from the Greek empire are within a short tour bus ride from the port, most notably the Temple of Artemis (one of the seven wonders of the ancient world), the tomb of John the Apostle and the Basilica of St. John, and the ruins of an ancient Roman library.
Haines, Alaska
Go with:Princess
Art is the big draw in this small cruise town. The windows of the main street act as tableaus for local artists -- who display everything from modern to Native American works -- and it turns the town into sort of an outdoor museum. Although that's not all: the Historic Fort Seward Sculpture project comprises 12 pieces of outdoor art and is eventually intended to be a walking sculpture tour. Finally, since art goes best with a fine glass of something, the Port Chilkoot Distillery has won three national awards for its spruce-tip gin.
Hammerfest, Norway
Go with:Norwegian, P&O
There will be at least two dozen basic tourists on the boat who will only be excited because they can tag selfies with #northernmostcityintheworld. Because that's pretty much what Hammerfest is, in addition, of course, to being the first European city to fire up electric street lamps. And... a phenomenal place to catch the northern lights. The town's architecture is straight out of a creepy Scandinavian fairy tale and its square bustles with local shops and seafood restaurants.
Saint John, New Brunswick, Canada
Go with:Carnival,Royal Caribbean, Princess
Think of Saint John kind of like Canada's St. Augustine, Florida. Just colder. Both sit on rivers named the St. John and are considered the oldest cities in their respective countries. But THIS Saint John, on the Bay of Fundy, offers a totally different experience than its US counterpart. In addition to watching currents from the river battle those from the bay at Reversing Falls, you can take a short trip to the highest tides in the world at Hopewell Rocks or appreciate the entire bay while biking along the Fundy Trail Parkway. And the city itself is one of Canada's best-kept secrets, showcasing colonial architecture and stone churches and castles reminiscent of those in the United Kingdom.

Sign up here for our daily Thrillist email, and get your fix of the best in food/drink/fun.
Matt Meltzer is a staff writer at Thrillist and really just needs a steel-drum band playing "Yellow Bird" to enjoy a cruise. Follow him on Instagram: @meltrez1.