Wander Dim Tunnels and Dark Pasts by Going Underground in Berlin
Explore new depths on these immersive tours beneath the surface.
It's not unusual to be underground in Berlin. Sure, there's the local subway, the U-Bahn, which makes up a network of nearly 93 miles (150 kilometers), and you'll probably hop aboard one of its bright yellow trains at least once during your time here. But it's one thing to head down the stairs of an U-Bahn station to patiently wait on the platform for your ride, and it's another thing to separate from the commuting masses, enter an inconspicuous door somewhere in the station, and find yourself in a preserved World War II air raid shelter or Cold War bunker.
Breaking and entering isn't necessary (and definitely not advised) to access these underground time capsules. All you need to do is book one of Berliner Unterwelten's tours to be led through subterranean concrete labyrinths that easily make one think, "Yup, I could see a scary movie being filmed here."
Depending on your tour, you might pass through a room of spartan bunk beds, where it was "first come, first serve" for Berlin citizens hiding from Allied bombings. Another tour might bring you to a kitchen with a couple heavy steel pots that were supposed to serve the thousands seeking refuge there after a possible nuclear attack amid Cold War hysteria. Or you could see what it was like to try to sneak under the Berlin Wall. No matter which you choose, here are all the murky histories lying beneath the surface in Berlin.
Trace the roots of the tunnels
"There seems to be an unbridled curiosity, fascination, and demand for the 'underground,'" says Eva Westphal, who works in public relations for Berliner Unterwelten e.V. With their tours, you can satisfy that curiosity without adding trespasser to your resume.
Most of the tours start near the Gesundbrunnen shopping center and train station in the north of the city. Modern, loud, and busy, this area provides a stark contrast to the quiet spaces from times gone by that you'll experience once you head down below with Berliner Unterwelten.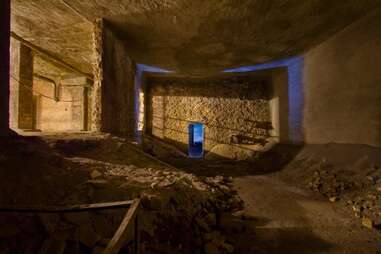 Berliner Unterwelten e.V. (or Berlin Underworlds Association) was founded in 1997 by eleven people enthusiastic about the "underworld." The non-profit is dedicated to researching, documenting, and preserving historic sites in the Berlin underground—as well as making them accessible to the public.
"Our facilities—such as air raid shelters, civil defense facilities, and former industrial buildings—and the tours guided there demonstrate vividly an important part of German and European history as well as Berlin's urban history, which we should not and must not forget," Westphal says.
Having grown to around 100 employees and more than 500 members, Berliner Unterwelten currently offers 11 tours across 10 facilities. The tours last around 1.5 – 2 hours long and are offered in six different languages. Here's what you'll experience on two of those tours.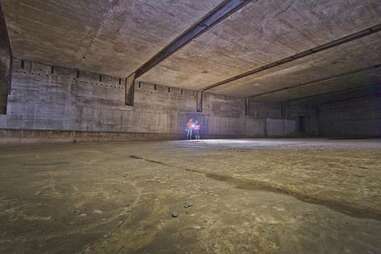 Explore Dark Worlds
Tour 1: Dark Worlds focuses on bombing raids during World War II. To get started, the group gathers around the U8 Gesundbrunnen station entrance next to the Berliner Unterwelten ticket shop. Once checked in, everyone heads down the subway stairs, but before reaching the platform, each person files through an unmarked door that's painted a light sage green. It's the kind of unassuming door you'd overlook completely if not for the guide ushering people through.
Stepping over the threshold, you're immediately thrust into the past. A gray hallway emerges with the original paint on the walls that includes the words "air raid shelter" in German and old directions to men and women's toilets. Another sign eerily warns that you should close the doors after you hear the bomb explode and put your gas masks on before opening the doors again.
As our group moves along and hears the periodic, low rumblings of trains, we encounter rooms that showcase how things really were here during World War II. In one, we get to see how the glow-in-the dark paint on the walls—meant to help direct people if the lights go out—still works. In another, we see how the space was ventilated using air from the subway. One of the rooms features triple bunk beds where you can imagine civilians crowding as the war raged on above them.
Other spaces we pass through are outfitted with curated exhibits that give additional context but weren't necessarily from the shelter itself. We see a room with bombing prep supplies, including a grim board game that was meant to teach children what to do in an air raid. Another displays old firebombs and other munitions. Towards the end of the tour we see exhibits of soldiers' belongings, including an 80-year-old condom, as well as a massive card catalog case with records of forced laborers.
Whether or not you consider yourself a history buff, the underground tour makes for a fascinating, immersive way to understand the realities of the war.
Dive into Bunkers, Subways, and the Cold War
The Berliner Unterwelten's Tour 3: Bunkers, Subways, and the Cold War takes you to different parts of the city. Focusing on air-raid shelters repurposed during the threat of nuclear war, this excursion is a two-fer, offering tours of two very different shelters.
The tour starts in a small, white building across the street from a bank. This atomic fallout shelter is small and austere, designed to hold 1,318 people for up to 48 hours. Inside is a still-functioning air pump and a neighboring room filled with volcanic sand meant to filter out radioactivity from the air.
The second part of the tour is down the street, about a 10-minute walk above ground to the Pankstrasse U-Bahn station. Descending once more, another seemingly insignificant door awaits below. You'll likely encounter more than a few stares from people in the subway station passing by as you walk through. Hey, who wouldn't be suspicious seeing a big group heading into an otherwise locked door underground?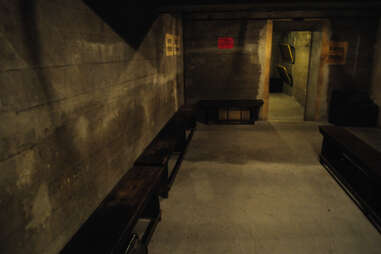 After walking through a heavy, vault-like door not unlike the hatch in Lost, you can see that this "multi-purpose facility" is far larger than the first shelter, and it's said to hold 3,339 people for at least two weeks. There's an infirmary (which is pretty much as creepy looking as you'd think), a sick bay with some baby beds, and an emergency generator. The distinct shade of light green painted on some of the walls and ceilings was intentional, specifically chosen because the color is supposed to make people feel relaxed—you be the judge.
In another part of the shelter, you can see toilets, a kitchen (albeit seemingly small for its intended number of residents), and many four-level bunk beds. There's also a good amount of shock-proof machinery, ventilation systems, and reserve water tanks. All in all, it seems like state-of-the-art luxury compared to the fallout shelter we came from.
There are a few other tours you can choose from, mostly focusing on WWII, the Cold War, and sneaking under the Berlin Wall. Whichever you choose, as you meander this history-rich underworld, one thing is for sure: You'll never look at those random doors in the Berlin subway the same way again.