These Badass Underground Cities Kinda Make Us Want to Live in a Cave
This is landscape architecture we can actually use.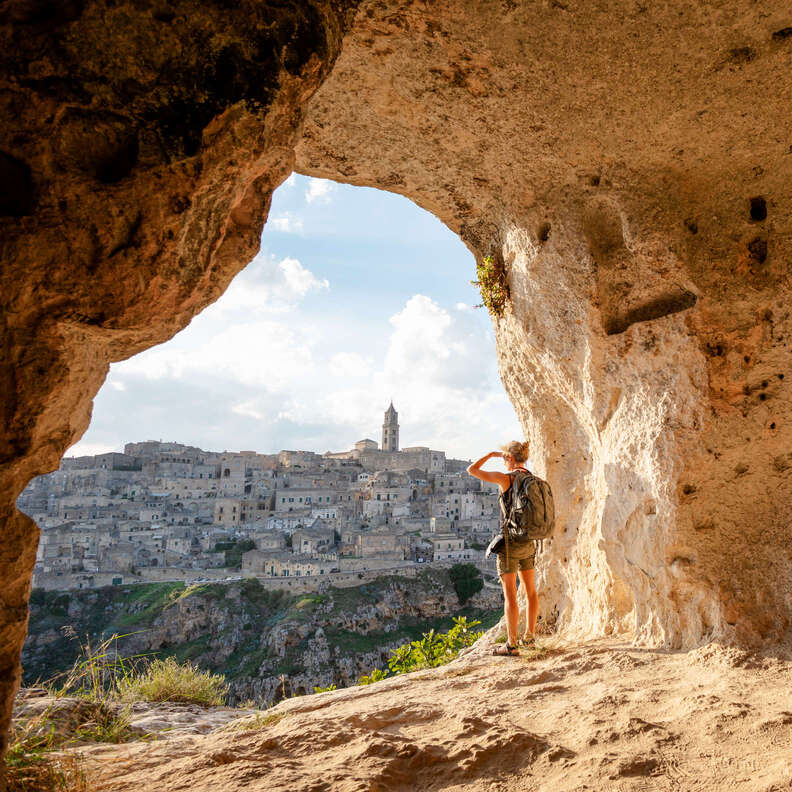 Earthscrapers > skyscrapers

| DEIMAGINE/E+/GETTY IMAGES
Earthscrapers > skyscrapers

| DEIMAGINE/E+/GETTY IMAGES
Burrowing into the earth to find home: it ain't just for critters. Humans have been seeking refuge beneath the surface for centuries, digging sprawling villages into mountainsides, exploring labyrinthian cave systems, and even establishing full-on subterranean cities. Some were strategically built to defend against the elements. Others repurposed old tunnels into affordable housing. And some, it turns out, are paving the way to a more sustainable future. Here are the world's coolest—sometimes literally—underground civilizations that have turned the landscape into actual architecture.
Coober Pedy, Australia
Probably the most well-known destination on this list, Coober Pedy has served as the backdrop for a handful of major motion pictures throughout the years: Mad Max: Beyond Thunderdome; The Adventures of Priscilla, Queen of the Desert; Red Planet; and, um, Kangaroo Jack all filmed scenes in this remote stretch of South Australia.
Many of the town's 2,500 residents find employment in the opal-mining industry. When they're not working, they prefer to stay underground just the same. The scorching desert sun drives high temperatures here well into the triple-digits for nine months of the year. Most locals find relief in the earth through multiple-room domiciles aptly named dugouts. Even if you don't call the place home, you still can live underneath Down Under by booking a subterranean suite at the Comfort Inn.
Matmata, Tunisia
You might recognize the Berber village of Matmata as the childhood home of one Luke Skywalker. Back in 1976, it doubled as Tatooine in the original Star Wars. But it remains the real-life abode of nomadic cave-dwellers who have roamed the region for hundreds of years. Their houses, known as troglodytes, were carved into the earth by hand. Construction began with a large circular opening that eventually served as the courtyard for the rooms that burrow off of it. Largely unknown to the outside world until a prolonged period of flooding in the 1960s, it has evolved into a popular tourist destination among Tunisia's 9 million annual visitors, many of whom are total nerds.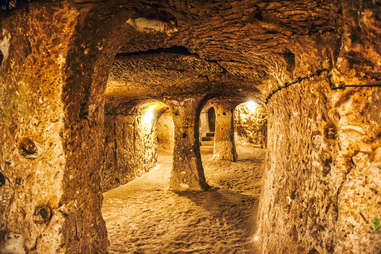 Derinkuyu, Turkey
The Nevsehir province of central Turkey was once home to dozens of underground villages, some of which date back to the 8th Century BC. Largest among them was this multi-level city that held more than 20,000 residents. It featured all the trappings of civilized life—stores, schools, chapels for prayer, and shafts to pipe in water from the surface. Up until the 20th Century, Cappadocian Greeks would find shelter here during times of war. Since 1969, however, the complex has served more as a tourist destination than any permanent residence. Although with hundreds of thousands of square feet of tunnel, up to 250 feet below the earth, you never know who (or what) you might run into.
Secrets are great, when you're in on them. Luckily, it doesn't take an inside connection to get a great rate on insurance. State Farm® helps you keep more of your hard-earned dollars with surprisingly great rates. Getting the right coverage for your budget — with no secrets required — means more to spend on your preferred adventure. Like a good neighbor, State Farm is there.®
Setenil de las Bodegas, Spain
Near the southern tip of the Iberian Peninsula, Setenil is a singularly bizarre sight to behold. Much of the town and its streets are built into the surrounding cliffs. Massive rock overhangs loom 20-30 feet above as you stroll down the commercial corridor. Many of the houses and storefronts you pass along the way are mere façades; held within are caves which constitute the lion's share of enclosed space. What began as a Moorish fortress 900 years ago is today a vibrant and enchanting community home to just under 3,000 residents.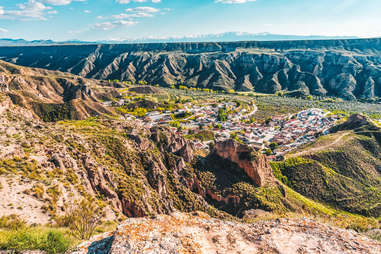 Guadix, Spain
And while you're in this part of the world, you might as well travel 2.5 hours east to explore the troglodyte village of Guadix. About 2,000 underground houses are scattered across the landscape, dug into the compacted tuff. Locals are known for their welcoming ways and often invite passersby to venture inside as guests to their unlikely domiciles. If you're more down with an upscale experience, book a room at Casas Cuevas Almagruz y Centro de Interpretación Hábitat Troglodita Almagruz: The five-star hacienda is burrowed into a sandstone outcropping on the edge of town.
Wieliczka Salt Mine, Poland
Though not an active city per se, this 2,400-acre UNESCO World Heritage Site just outside Kraków is still worthy of a mention. Up until about 2007, the nearly 800-year-old Wieliczka Mine wasn't doing much other than producing table salt. But following a period of flooding and a sharp decline in salt prices, commercial mining operations were shut down and the caverns were transformed into something much more exciting: an underground complex filled with dozens of tourist attractions, including ornate chapels, art and sculpture galleries, an enormous underground lake, a health resort, an underground ferry and train, concerts and performances, and more.
Matera, Italy
This ancient city on the arch of the boot—once a slum considered "the shame of Italy" by people who have clearly not seen Roberto Benigni's Pinocchio—is among the oldest still-inhabited places on Earth, dating back millennia. Today, the city is vibrant with art, culture, and wine, but its cliffside architecture remains virtually unchanged. Carved into gray limestone and rock, the city isn't so much underground as it is burrowed into the side of the earth. The caves, called sassi, are connected via stairways, tunnels, arches, and courtyards. It's a marvel of ancient architecture made modern, a city that seems at once subterranean and stratospheric.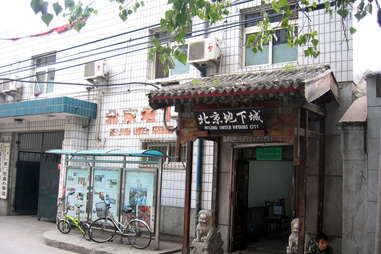 Beijing Underground, China
As one of the largest and most densely populated cities on the planet, Beijing places quite the premium on space. Which is why approximately 1 million residents opt to live under the earth at bargain-basement prices. They are known locally as shuzu: literally, the rat tribe. During the Cold War, Mao Zedong ordered the excavation of some 20,000 bomb shelters to protect citizens from potential Soviet strikes. The tiny, windowless network of boxes—ranging in square footage from 30 to 300 each—were converted into hostel rooms in the 1980s. Today they rent out for about $60 a month, often to newcomers trying to work their way up—both physically and financially.
Singapore
There are plenty of places on the planet where you can explore humanity's lengthy history with underground habitation. But in Singapore, you get a sense of how the practice is shaping society's future. Having constructed malls and museums below grade for well over a decade, the densely populated city-state is now moving earth to place people down there as well. The country's forward-thinking Urban Redevelopment Authority has already invested more than $150 million into such proposals. In the years ahead, they plan to develop the world's first "earthscraper." It's about more than just saving space—it also will conserve energy. Rock absorbs heat during the summer months and radiates it outward during cooler periods.
Similar projects are underway in cities such as Helsinki, Finland, where state officials recently unveiled an "Underground Master Plan." And along Manhattan's Lower East Side, the now-defunct "Lowline" was conceived as a first-of-its-kind subterranean park, with skylights letting sunshine in so that trees and plants could thrive beneath the street—a project that might be worth revisiting in the future. With global warming threatening sustainability above the surface, building out below is starting to look like an exceedingly worthwhile investment.
Brad Japhe is a freelance journalist with a wicked case of the get-up-and-gos. He enjoys his whisky neat and his IPA hazy. Although currently under quarantine on the Big Island of Hawaii, he's usually found at the junction of food, booze, and travel. Follow him @Journeys_with_Japhe.