The Best Under-the-Radar Music Festivals You Need to Hit This Summer
Going to a music festival seems like the greatest weekend of your life... in theory. Until you realize it very often means not showering, barely sleeping, and fighting 200,000 people who ALSO haven't showered for the right to see the Flaming Lips from less than a mile away. All for the low, low price of double your car payment, with some sweaty $9 beers thrown in. That's not to say big music festivals can't be a good time, it's just to say the size and expense can ruin the experience for you.
But there are festivals out there that are still a good time, won't break your bank, and won't have you pressed up against more strangers than a rush-hour 6 train. Here are 10 festivals most people around the country aren't hip to, and that you should definitely go to before they get ruined.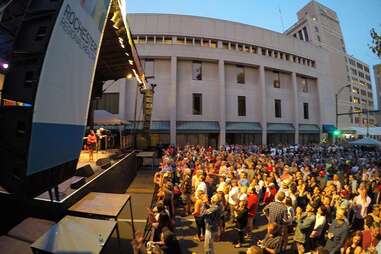 Rochester International Jazz Festival
Rochester, New York
June 24th-July 2nd
Western New York has never been thought of as much of a jazz-fest hotbed, the way one might think of New Orleans, or Moscow, Idaho (seriously). But this festival in Rochester draws 1,500 artists playing 325 shows at 19 venues around town, with about 200,000 attendees. This year it's headlined by Chick Corea, Gregg Allman, and Bruce Hornsby & the Noisemakers. No word on what happened to The Range.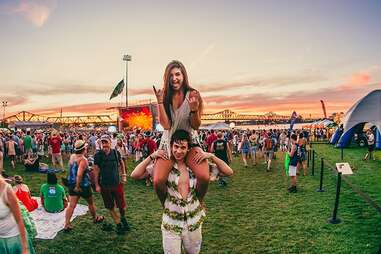 Forecastle Festival
Louisville, Kentucky
July 15th-17th
Situated on Louisville's sprawling Waterfront Park along the Ohio River, this festival started out as a microscopic collection of local artists and has grown to one of the largest festivals in the Southeast. Tens of thousands of people pack the park to listen to acts like Jack White, Outkast, and My Morning Jacket, the best band to ever come out of Kentucky. But the music is really half the attraction here; the other big draw is the Bourbon Lodge, where over 20 local distilleries dole out samples all weekend long.
Big Dub Festival
Artemas, Pennsylvania
July 26th-31st
If you want to go to a burner festival that's smaller, cheaper, and better than Burning Man, we already told you about 10. But here's another one that's just as trippy and exciting as that one in the desert: the Big Dub Festival on the Four Quarters Farm near the Pennsylvania/Maryland border. The festival is a lot more than just 40 of the region's best EDM artists, it's also four days of music workshops and seminars, yoga, and aerial arts. Plus a sprawling campground that keeps the party going well after the acts are finished.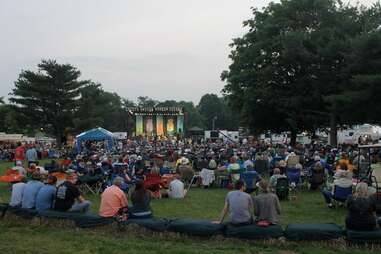 Festival of the Bluegrass
Lexington, KY
June 8th-11th, 2017
The bluest grass in the Bluegrass State is in Lexington, so it only reasons that the largest family-owned bluegrass festival in America would be here. The festival's held at a horse park campground, where you can not only listen to some of the best bluegrass bands in the world, but also learn to play the banjo, watch live animal shows, and visit a horse museum.
Crown Summer Series
Kalispell, MT
July 9th, August 27th
Montana in the summer is mountain paradise, and there's no better place to take in its natural beauty than… well, probably Glacier National Park. But right outside that park you'll find Montana Raceway Park, situated in a valley between the Whitefish and Swan Mountains. In July and August, one-day festivals take over the track with different lineups both times. The July party is headlined by Amtrac and The Pharcyde and has a nightlong afterparty at the adjacent campground. August headliners include Ghostland Observatory and MSTRKRFT.
Electric Forest
Rothbury, MI
June 23rd-26th
This place is so wooded it makes TomorrowWorld look like a parking lot. The trees here are all draped in bright lights and dayglow paint, turning the entire forest into a neon psychedelic dream tracked by some of the biggest names in electronic music. This year's big headliners include Adventure Club, Bassnectar, and Flosstradamus, and if you're into immersive festival experiences, this one will put you in another world for an entire weekend.
Sloss Music & Arts Festival
Birmingham, AL
July 16th-17th
SXSW is cool, but can you learn how to pour molten iron at ANY point during that festival? No, no you cannot. But at the Sloss Festival, held in an old iron factory in one of America's most misunderstood cities, you can. You can also catch over 30 live acts over two days like The Struts, Ben Harper & the Innocent Criminals, and the Flaming Lips. Then follow it up with Sloss Tech, a convention for the latest and greatest in creative thinking and emerging technologies. Just like SXSW, with fewer people and more smelting.
Rockin' the River
Ft. Worth, TX
Weekly, throughout summer
Music festivals are great. Floating down a river? One of the best things you can do in summer. But…TOGETHER??? Well, that's just the greatest social advent since bacon-wrapped pizza. The Panther Island Pavilion -- Texas' only waterfront stage -- sits on the shores of the Trinity River, where people spend the afternoon floating, drinking beers, and listening to the headlining band. Once they're done, the "after party" band plays right up until the closing fireworks show, and the whole thing is COMPLETELY FREE. It's Texas, so the music skews country, and if you're into that it's one of the best summer experiences in America.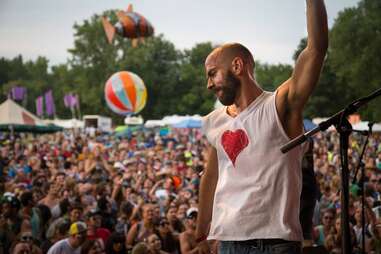 Finger Lakes GrassRoots Festival
Trumansburg, NY
July 21st-24th
Maybe the changing leaves in the fall and wine country aren't enough to entice you to the most underrated place in New York. So let's try this: a four-day, four-stage music festival with over 80 bands, all to raise money for charity. What started as a one-time benefit concert has grown into an annual event that draws people from all over the Northeast and Midwest. And while the festival prides itself on bringing unknown bands into the spotlight (hence the "grassroots" moniker) this year it's also drawing names like Indigo Girls, Ricky Skaggs, and Silversun Pickups.
Hinterland Music Festival
St. Charles, IA
August 5th-6th
Not to go all hipster here and say we found out about something before it was cool, but when you can go to a two-day festival for $95, it officially hasn't blown up. Yet. So if you're in the Midwest, definitely go and catch some big-name acts on the cheap in the Iowa wilderness outside Des Moines. Then complain later about how great it used to be. Hinterland has a folk/rock/country vibe to it, combining legendary names like Willie Nelson with well-known modern acts like Cold War Kids and throwing in some local acts like Field Division.
Sign up here for our daily Thrillist email, and get your fix of the best in food/drink/fun.