Underrated Midwestern Towns You Need to Be Spending a Lot More Time In
<strong>Duluth, MN |&nbsp;</strong>welcomania/Shutterstock
<strong>Duluth, MN |&nbsp;</strong>welcomania/Shutterstock
When you think of the Midwest, you think of Great Lakes, nice people, and big cities like Chicago, Detroit, or St. Louis (assuming, of course, you actually know which cities and states are IN the Midwest). What may not come to mind, however, are all the charming little lakeside towns or fun smaller cities overflowing with local booze. But they should. Because they exist. You just gotta know where to look.
Charlevoix, MI
Why it's so great: The western Michigan coastline is littered with pretty lakeside towns from St. Joseph to Traverse City, but head a little further north and you're rewarded with "Charlevoix the Beautiful." Sandwiched between Lake Michigan and Lake Charlevoix, it's where Hemingway reportedly spent his boyhood summers. You can take boat tours and air tours or, if you're feeling lazy, whittle the hours away at Fisherman's Island or Michigan Beach State Park.
Side trip: Take a ferry ride to the remote Beaver Island or, if you're here in winter, head over to one the best ski resorts in the Midwest at Boyne Mountain.
Sawyer, MI
Why it's so great: While Grand Rapids gets all the attention (and deservedly so) as a beer lover's paradise, the area around the town of Sawyer in the state's southwest corner is an untapped oasis for the liquid holy trinity of beer, wine, and liquor. Start out at Greenbush Brewing Co. then mosey on down the road six miles to Journeyman Distillery before finishing it off with a trip to the nearby Round Barn Winery. Better enlist a designated driver.
Side trip: After all that booze, soak up some sun at the hangover-curing Warren Dunes State Park, where you can either climb a 240ft sand dune or stroll amidst the tranquil trails.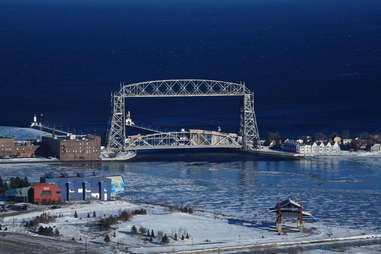 Duluth, MN
Why it's so great: This peaceful northern Minnesota town situated on the banks of Lake Superior is the kind of city you can get out and breathe in, provided it's not 50 below. In addition to cold snowy winters, Duluth is famous for its Downtown lake walk where you can watch ships pass beneath the port city's iconic Aerial Lift Bridge, or hit the open road as you traverse unspoiled wilderness at the start of the North Shore Scenic Drive. Listen to Duluth band Low; they pretty much sum up this town.
Side trip: Pull off the North Shore Scenic Drive about two hours north of Duluth at the stunning lakeside town of Grand Marais, the gateway to the Boundary Waters and a regional arts hub where you can kayak its harbor, check out the Dragon Boat Festival every July, and hike the 296-mile Superior Hiking Trail.
Dayton, OH
Why it's so great: This classic Midwestern manufacturing town gets a bad rap for its crime rate and recent population decline, but the city is experiencing a resurgence of sorts with an up-and-coming beer scene, criminally underrated arts community, and beautiful Downtown in a city packed with historic neighborhoods. Also: Guided by Voices is from here.
Side trip: Dayton is famous for its Dayton Flyers college hoops team and for hosting more NCAA tournament games than any other city, but catching a game with its popular Dayton Dragons minor league baseball squad is not a bad way to spend a day either.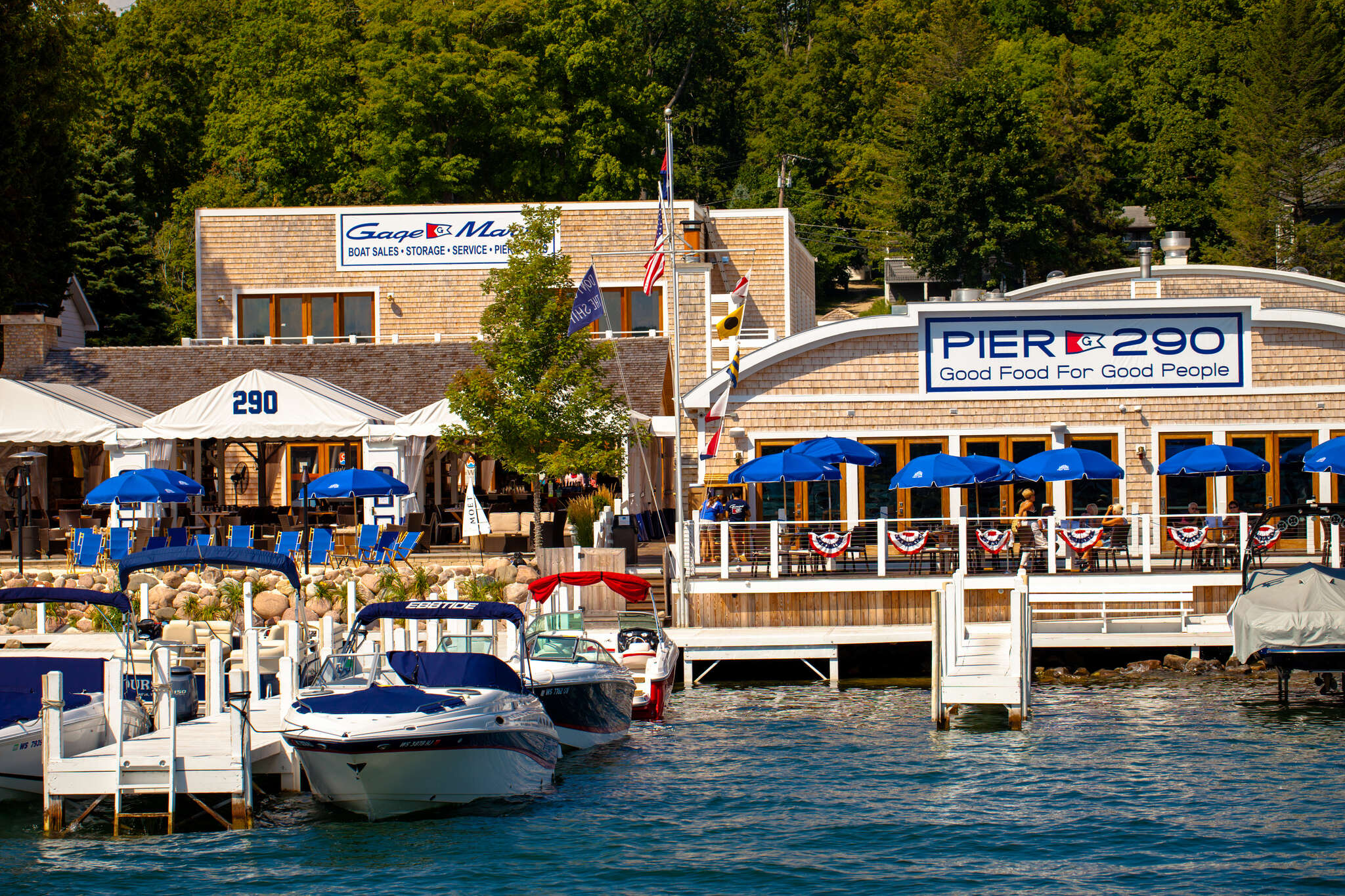 Williams Bay, WI
Why it's so great: Lake Geneva may be one of the most popular tourist destinations in the Midwest, but the vast majority of Chicagoans who flock there every summer have no idea Williams Bay is just 10 minutes west and in a whole different world. Unlike the tourist hordes who pack Lake Geneva's Main St, Williams Bay is a chilled-out little town and peaceful oasis for drinking by the water at Pier 290, grabbing standout Italian food at Cafe Calamari, or hiking the lakeside trail and passing mansions and beaches along the way.
Side trip: No trip to this region is complete without a journey to the legendary Inn Between, a locals-heavy bar in nearby Delavan Lake you can access by boat. There's also the excellent Paul Lange Arboretum in town.
Gills Rock, WI
Why it's so great: The far tip of the eastern Wisconsin peninsula that is Door County is a popular tourist stop for travelers checking out the "Cape Cod of the Midwest," but most don't make it past the main hub towns of Egg Harbor or Fish Creek. Yet situated on the quieter end of the peninsula, the charming little town of Gills Rock is the perfect place to hang with locals at the beloved Shoreline Restaurant or take a side trip to the serene Newport State Park.
Side trip: Pack your car onto the ferry for a trip to nearby Washington Island, camp in Rock Island State Park, or hang with the best bartenders in town at the classic dive Blue Ox in Bailey's Harbor.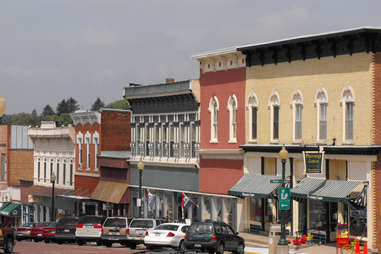 Mt. Carroll, IL
Why it's so great: Known as "The New England of the Midwest," Mt. Carroll is a beautiful little town packed with historic sites like the Carroll County Courthouse (in continuous use since 1858) and the Nathaniel Halderman House, built in 1854 as the home of the town's first mayor. But you're not leaving here without checking out the charming weirdness that is Raven's Grin Inn, which some have called (that means us) the most bizarre building in the state.
Side trip: Eagle watching around nearby Savanna while exploring the limestone caves and ancient cliffs of Mississippi Palisades State Park is a must, as is a trip to laid back-biker bar Poopy's to take down the massive Big Poop burger, which is way better than it sounds.
Carbondale, IL
Why it's so great: The Midwest is overrun with famous college towns from Madison to Ann Arbor, yet the home of Southern Illinois University sneaks under the radar as one of the best university towns in the region thanks to a solid yet laid-back bar scene (Halloween riots from the '80s/'90s notwithstanding), friendly locals, and a ridiculous 14 parks. If you require additional parks, you'll be happy to learn that the town's also surrounded by Giant City State Park and the Shawnee National Forest.
Side trip: Head 15 minutes west to Murphysboro and hit up 17th Street BBQ, one of the finest BBQ joints in the nation. There's also a weirdly awesome Superman museum in the town of Metropolis about an hour south.
Sign up here for our daily Thrillist email, and get your fix of the best in food/drink/fun.
Jay Gentile is a Thrillist contributor and he has plenty of room in his 1997 Nissan for you on his next road trip. Follow @innerviewmag.