We at Thrillist are big fans of Yellowstone. We always pay our respects to Yosemite. Whether we're trekking to the bottom of the Grand Canyon or sitting in traffic in the Smokies, we love each and every one of America's most popular national parks. But it's time to leave the crowds behind and get remote in one of the parks where you're more likely to have your life threatened by a majestic animal than be accidentally pushed off a cliff by a child with a fanny pack. Of the 61 national parks, these 10 should move to the top of your list if you're looking to maximize the "wild" in your next wilderness experience.
Recommended Video
Please Don't Hang Up: The Best Things to See, Eat, and Do in Nashville
Yellowstone's just down the road, and gets all the love (and hundreds of thousands more tourists every year.) Fine. Let 'em have their smelly geysers. Because trekking the dramatic peaks of the Tetons -- which tower 7,000 feet above the valley floor -- is where it's really at. Take on a difficult but non-technical climb like Static Peak (11,303') or dive in and conquer one of America's most iconic summits, the Grand Teton (13,770'), a tough, technical, and unforgettable two-day climb.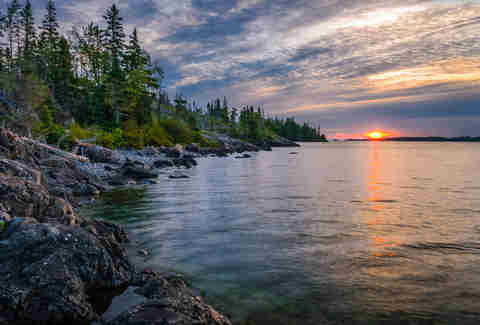 Because it's a 45-mile long island in the middle of Lake Superior, is accessible only by boat, and is closed all winter, Isle Royale tallies an ultra-low visitor count; more folks visit Yellowstone in a single day than Isle Royale might see in a year. That alone makes it awesome, but there are many more reasons why you should go on a backpacking trip here: camping, kayaking, boat rides, scuba diving, and also, um, wolves. Over the past decade, the island's celebrated pack of wild wolves had dwindled to just two, but in 2018 the National Park Service decided to restore the population -- as of spring 2019, the pack was up to 15. 
Remote, remote, remote. In far West Texas, Big Bend National Park hugs the Rio Grande River, and Mexico is just on the other bank. Despite the fact that it offers some of the most awe-inspiring backpacking in the US, fewer folks come to Big Bend every year than see the Longhorns play in Texas Memorial Stadium over two or three Saturdays in the Fall. If you're going, backpack the high country of the Chisos Mountains -- the only mountain range that's completely contained within the borders of a National Park. Spend the day kayaking to your heart's content. Once night falls, you'll witness one of the greatest celestial panoramas you'll likely ever see -- Big Bend's far-flung location gives it some of the darkest skies in the States.
A gigantic, picturesque caldera ringed by towering cliffs, Crater Lake's crazy-deep water (1,900 feet) sets a scene stunning enough that it was one of the earliest National Parks picked (1902.) That blue -- dark, but clear -- is like nothing else you'll ever see… or jump into. Due to its remote location, Crater Lake has historically never pulled in too many visitors, but lately word seems to be spreading; visitor numbers have risen nearly 25% in the past five years. So get out there before it becomes too popular -- avoid weekends in July and August and you're sure to find solitude, whether you do so while exploring the amazingly named Wizard Island cinder cone in the middle of the lake or snowshoeing the perimeter of the stunning body of water.
Don't let 127 Hours scare you. Yeah, this is the park where Aron Ralston amputated his own arm while trapped under a fall, immortalized in the James Franco film. But there are plenty of epic scenes you can take in without having to go solo or remove appendages. We suggest taking a buddy or two and your 4x4 (or you can rent one in Moab) and driving down White Rim Road, a 100-mile trip around and below the mesa top. You'll take in tremendous Mars-like desert panoramas while the crowds over at nearby Arches National Park are stuck in traffic.
Thirty square miles of towering sand dunes -- the tallest in North America, peaking around 700 feet -- wind through the San Luis Valley Floor, providing a sweet spot to shred, snow-free. Sandboards (like a snowboard with footstraps) and sandsleds (sleds with a padded bottom) are available for rental at a few nearby shops. One disclaimer: there are no lifts, of course, so you'll have to earn your turns by trekking to the top. Insider tip: when you're done, go soothe your bare feet in the (literally) glacial water of nearby Zapata Falls.
Despite the fact that you can peep them from mainland California just north of LA, the Channel Islands seem a world away: there are no phone lines, or cars, and the variety of wildlife is insane (almost 150 species of plants and animals are found here, and nowhere else on earth.) After a one-hour ferry ride to get there, take in the wildest Channel Islands scenes via a series of shallow-water, sea lion-filled scuba dives, or paddle the coastline, including some of the world's largest sea caves, in a sea kayak.
How fortunate that this is already an excellent time to visit the US Virgin Islands. Forget your preconceived notions of cruise ship-clogged, resort-y ports of call. St. John represents something wilder, more marvelous: 60% of the island is a protected national park, covered with trails that wind through lush forests and near abandoned sugarcane plantations (watch for feral donkeys.) Of course the best stuff's in the crystal-clear water: there's breathtaking snorkeling to be done all over the place, though you could still love Trunk Bay for the views alone.
Next time you're in Vegas, pack a tent, add a few days to your trip, and head four hours up the highway to Great Basin. You'll be trading the neon lights of Sin City for the hyper-real glow of the Milky Way. To see the stars, stay at the Wheeler Peak campground (at nearly 10,000 feet, you'll feel the elevation), and in the morning take the summit (13,065 ft.) a completely do-able trek even if you partied hard back in LV. Take things underground with a ranger-guided tour of the Lehman Caves (the only way you're allowed inside). After dark, take advantage of those light pollution-free skies with one of the ranger-led astronomy programs.
There's big, and then there's Wrangell. This mammoth park, the nation's largest, is six times the size of Yellowstone and boasts not one but four major mountain ranges -- including nine of the 16 tallest peaks in the US. You can trek on horseback through the wilds to glacial river sources, or raft down through glacial-melted whitewater. You'll see more caribou, moose, grizzlies, and wolves than you will people. And don't leave without a visit to the massive glaciers of Bagley Icefield, the largest such field in North America.