Underrated Southern Towns You Need to Be Spending a Lot More Time In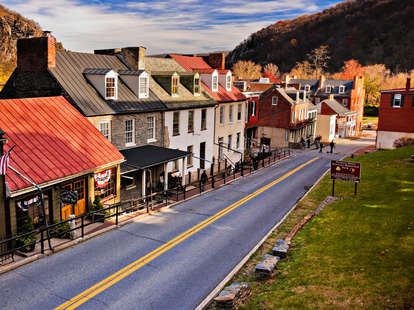 Atlanta? Miami? New Orleans? You went, you saw, you conquered. All fantastic cities, but you're looking for a more exploratory challenge. Luckily, the Southeast is awash in lesser-known hamlets that still ooze homey charm. Here are eight of our favorite incognito enclaves that warrant a multi-hour road trip or puddle-jumping connection.
NOTE: Just as with our Southern state ranking, we used the 16 states the US government defines as the South. Although, obviously, we recognize that many Southerners disagree.
Harpers Ferry, West Virginia
Why it's so great: The tiny, historic town, situated where the Shenandoah and Potomac Rivers meet pretty much demands that you unplug. Instead of losing yourself in Kendall and Kylie's new app, you can whitewater raft, bike the canal trails, hike in Harpers Ferry National Historical Park, and IG the panoramic view from Maryland Heights. Your tourist dollars also mean a lot these days, as the historic district suffered a serious fire last summer. Just beware that DC types rumble into town on the weekends to let off all that capital-city steam.
Must-eat food: A healthy lunch at Canal House Cafe, $1 beers and pub fare at The Anvil, and ice cream from Swiss Miss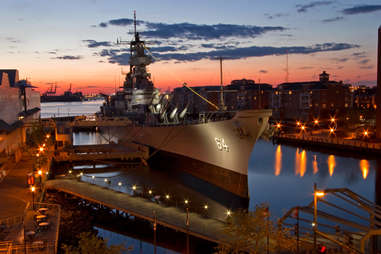 Norfolk, Virginia
Why it's so great: Art and food -- why else do you travel? The NEON (New Energy of Norfolk) district is an Instagram Shangri-La thanks to myriad rainbow-hued wall murals. Try your (steady) hand at glass-blowing at the Chrysler Museum of Art & Glass Studio, then mosey by an alfresco installation at the Norfolk Botanical Garden. To get your requisite historical fix, explore the Ghent and Freemason Districts (great indie boutique shopping, too), then walk some or all of the Cannonball Trail for a 400-year deep dive into the city's past.
Must-eat food: Where not to eat? Doumar's Barbecue entices with minced pork sandwiches and milkshakes made with homemade ice cream, while Freemason Abbey is a local favorite and the place to try she crab soup, one of Norfolk's specialties. Imbibing types should check out both in-town breweries (Coelacanth and Smartmouth) and Mermaid Winery, the state's first urban winery.
St. Michaels, Maryland
Why it's so great: St. Michaels has everything you want from a Chesapeake Bay sojourn: waterside brick walkways, Victorian homes, seasonal crab shacks, and a bizarre history. The British unsuccessfully attacked it during the War of 1812 when locals hung lanterns in the trees to make it appear the town sat on a hill; as a result, it became known as the town that fooled the British." Five Gables Inn, a 20-room inn comprising three separate 19th-century homes, gives you the full throwback experience -- and also has a strict no-child policy.
Must-eat food: The Crab Claw in Navy Point is a family-owned shack and Southern institution that demands you slowwwww dowwwwn (ahh), then gorge on steamed bay oysters and Old Bay-crusted blue crabs.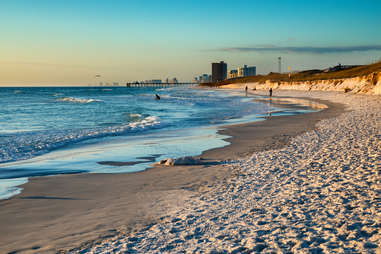 Panama City, Florida
Why it's so great: Because when it's not spring break, this is an absolutely lovely beach town. (Repeat: do NOT go during spring break.) White sand beaches and the calm waters of the Gulf will lure you into a Caribbean state of mind, while the hiking and biking encourages daytime clean living. It's also a music fest haven, with jazz, country, and Mardi Gras celebrations going down throughout the year.
Must-eat food: Fried strawberries at the new Sisters of the Sea Grille & Grog, and chargrilled grouper and Apalachicola oysters pretty much everywhere you go
Natchez, Mississippi
Why it's so great: The tiny city is in the midst of celebrating its 300th birthday, which means historical home tours and reenactments, music fests, a balloon race, and a July food-and-wine fest that'll attract all manner of Southern chef and distiller. In between, you can stroll alongside Old Man River, suss out Mississippi Blues Trail markers, and visit the indigenous village of the Natchez Indians. Oh, and marvel over just how friendly the residents are and what a colossal a-hole you feel like by comparison.
Must-eat food: Um, it's the Biscuit Capital of the World -- what do you think you're eating? Wash said biscuit down with a rosé from Old South Winery.
Gulf Shores, Alabama
Why it's so great: The outdoor charms of the Panhandle are multitudinous. In fact, we've already made our case for how special the Redneck Riviera is. Here you have squeaky fine-sand beaches, aquamarine Gulf waters, backcountry hiking trails, marine life habitats, deep-sea fishing, golfing, and even scuba diving. You also have an increasing number of families on holiday, so try to avoid school vacation weeks.
Must-eat food: Gumbo, fried 'gator, barbecue butter-baked oysters, and chocolate chip peanut butter pie at the Original Oyster House, which overhangs a lagoon
Paducah, Kentucky
Why it's so great: Just two hours from Nashville, Paducah gives you the same cross-section of culture, food, music, and history. Founded in 1827 by William Clark (yep, of eighth-grade American history Lewis & Clark fame), today the city is a UNESCO Creative City, owing to its substantial artist community (workshops abound for visiting neophytes). The city is also in the midst of a foodie mini-revolution, including the debut of two new breweries.
Must-eat food: The newly opened Freight House is the town's only farm-to-table restaurant (everything is sourced from within a day's drive of town). Craving a little craft moonshine? The Moonshine Company can set you up.
Franklin, Tennessee
Why it's so great: Because it's Nashville but smaller. The Downtown area is awash in vintage shops, barbecue joints, historic homes (some still bearing scars from the epic Battle of Franklin), and music venues galore.
Must-eat food: Cork & Cow is a) the place for oak wood-grilled steak and cocktails, and b) the greatest restaurant name ever. Puckett's Boat House gives you oysters, shrimp and grits, and nightly live music.
Sign up here for our daily Thrillist email, and get your fix of the best in food/drink/fun.
Meaghan Agnew is a freelance writer who pets strange dogs with impunity. Follow her on Twitter: @meaghandeth.