4 Vastly Underrated Towns to Hit on Your Next Trip to Germany
Mention the country of Germany and you will likely conjure up tired, cliché images of Oktoberfest: large mugs of Märzen lager, lederhosen, and plenty of dirndl. Yet these images reflect such a limited part of Germany -- a country that is about the size (in square kilometers) of Montana or New Mexico, two of America's largest states.
Many first-time travelers to Germany start in well known cities like Munich, where the beer flows freely every September for Oktoberfest, or Berlin, the chilled-out culture capital. Once you've got the greatest hits under your belt, hop a train due west to the state of North Rhine Westphalia (NRW). Germany's most populous state, it's home to some of the country's largest cities, all vastly underrated.
In NRW you'll wander through art museums, taste beer brewed in ancient styles, pour one out for Beethoven, and take advantage of some of the best hiking Germany has to offer. Here are the best spots to hit on your itinerary.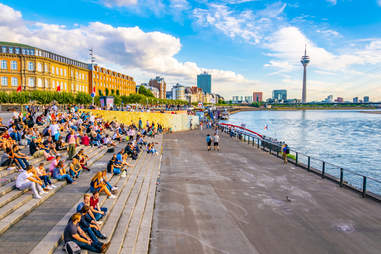 Enjoy the views at the riverside promenade in Dusseldorf, Germany.

| Shutterstock/trabantos
Düsseldorf 
Slurp ramen in Little Tokyo and drink rare beer in Old Town 
Start in Düsseldorf, and not solely because there's a very large airport. Art, fashion, architecture, and industry all converge in Düsseldorf, which dates back to about the 8th Century. Düsseldorf's history is celebrated in Altstadt, which translates to "Old Town." The district was largely devastated during World War II, but rebuilt to reflect its historic past. 
Altstadt is also jokingly referred to as "the longest bar in the world" -- it packs approximately 300 bars in a one-square-kilometer district. It's not lager you'll order at the bar, but rather Altbier, a rare top-fermented style of beer that's quite hoppy and unique to Düsseldorf. An Altbier-Safari walking tour goes to each of the main altbier breweries in Altstadt. Pair this with a food tour of Carlsplatz Market, where you'll nosh on local meats and cheeses and currywurst.
Düsseldorf is also home to one of the largest Japanese communities in Europe thanks to the industrial boom that took place in the city following World War II.  Dubbed "Little Tokyo on the Rhine," the neighborhood is a 10 minute walk from the Altstadt. It's a small area along the Immermannstrasse, and Japanese grocers, sushi bars, and shops line adjacent streets. Slurp down a bowl of ramen at Takumi, or a satisfying onigiri snack at Waraku.
This massive cathedral is the highlight of Cologne.

| Westend61/getty images
Cologne
One of Germany's oldest cities and home of Kölsch beer
From Düsseldorf, it's just a 25-minute train ride to Cologne, NRW's largest city and one of Germany's oldest, located right on the Rhine. The city's most prominent feature is the gothic spirals of Cologne Cathedral, one of the world's tallest twin-spired churches. Exiting Cologne Hauptbahnhof's railway station, try not to pull your neck as you peer up at the spires that rise more than 500 feet into the air. 
Like Düsseldorf, Cologne is also proud of its beer traditions; and what altbier is to Düsseldorf, Kölsch is to Cologne. While Kölsch -- a refreshing and light style of beer -- has gained popularity outside of Germany, it has largely been associated with Cologne, since the European Union made Kölsch a product with a protected geographical indication (PGI) in 1997. Notable Kölsch breweries to visit while in town include Früh, located near the cathedral, Gaffel am Dom, and Peters Brauhaus.
Make time to swing through one of Cologne's many museums, such as the Museum Ludwig, a modern art museum that's kept works by Picasso, Warhol, and Lichtenstein. Unsurprisingly, Cologne's most frequented museum is the Cologne Chocolate Museum, which chronicles the history of chocolate worldwide. 
The old Zollverein Coal Mine is now a UNESCO World Heritage Site.

| picture alliance/Getty Images
Ruhrgebiet
A former industrial area is now brimming with vibrant towns and art museums
Forty-five miles east of Düsseldorf, you'll find a former coal-mining region that's been reinvigorated into a hotbed for art and culture, with 20 art museums spread across the metropolitan area. The most notable is Museum Folkwang in Essen, housing works by legendary European artists like Gauguin, Van Gogh, and Rodin. 
While coal is no longer mined in Ruhrgebiet, old furnaces, mines, and winding towers still dot the landscape, many of which have been converted into art spaces and music venues. A must-visit is the Zollverein Coal Mine Industrial Complex in the town of Essen -- a rusty but iconic piece of Bauhaus-style steel architecture that operated as a coal mine and coking plant for 135 years. Often dubbed "the most beautiful coal mine in the world," today it offers guided tours, a museum, a free swimming pool, an open-air cinema that screens movies all summer, and an ice skating rink in the winter.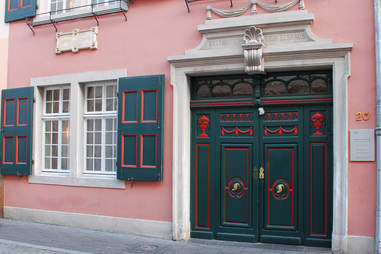 This one's for all you Beethoven fans out there.

| Robin Nieuwenkamp/Shutterstock
Bonn
The birthplace of Beethoven and a gateway to nature
Straddling the Rhine just southeast of Cologne is Bonn. You can visit the literal spot where Beethoven was born, which today is a museum housing the largest Beethoven collection in the world. On display are many of his manuscripts Moonlight Sonata and instruments, including his last grand piano. You can also check out the Bonn Museum Mile; among the five museums here are the Kunstmuseum for contemporary art and the Museum Koenig natural history museum. 
Bonn is also your jumping off point for some truly incredible hiking via the Nature Sieg Trail, a 14-stage, 125-mile trail network through the rolling hills east of Bonn. The trails wind by the Sieg River, around lakes, and even past ruins from World War II. Each stage, which is no more than 12 miles, is conveniently near a rail station for those who simply want a half-day or full-day hike. But there are also cute towns nearby with accommodations for more ambitious hikers who want to do the full multi-day hike. 
Spencer Spellman is a contributor for Thrillist.