10 Underrated Vacation Destinations You're Missing Out On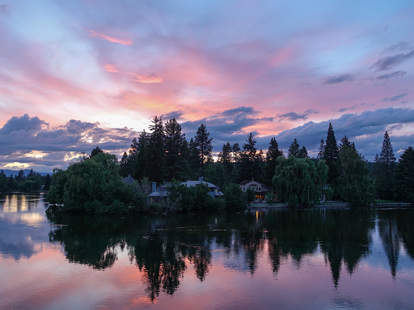 <a href="https://www.flickr.com/photos/gordon-s/19701068902/" rel="nofollow" target="_blank">Gordon Shukwit/Flickr</a>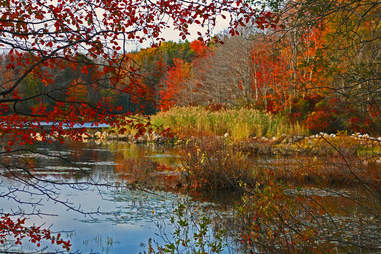 <a href="https://www.flickr.com/photos/mbgrigby/2939179077/" rel="nofollow" target="_blank">Mary Beth Griffo Rigby/Flickr</a>
1. Fall River, MA
THE SETTING: That New England's coast is an idyllic summer retreat is not news. Annually, 4 million people visit Cape Cod alone. But while the big-name shores like the Cape and Martha's Vineyard have their sands stuffed with tourists, there are towns like Fall River in south Massachusetts that are largely overlooked by those outside the New England know.
THE SCOOP: The smokestacks and rambling former-factories signify Fall River's bustling industrial past. Manufacturing work attracted a broad swath of immigrants in the 19th and 20th centuries; its Portuguese presence is now the most pronounced. Caldeiras Restaurant serves phenomenal food -- you should try their Alcatra a Terceirense, a traditional roast beef dish cooked in a clay pot with red wine, onions, bacon, and bay leaves. Fall River's vibrant music scene, much of it in the form of street ensembles, has earned it the local nickname "The City of Bands." 
THE SAVINGS: For just $58/night, you can rent this studio space, while enjoying exactly the same climate as Cape Cod. For a point of reference, the average AirBnB rental in Cape Cod for private digs is $268 (source: AirB&B).
<a href="https://www.flickr.com/photos/jschreiner/5919072795/" rel="nofollow" target="_blank">Joshua Schreiner/Flickr</a>
2. Bend, OR
THE SETTING: There's only one substantial rainforest in North America and it's in the Pacific Northwest; there's a misconception that all rainforests are tropical, but really the designation only refers to average annual precipitation. At its densest, the PNW temperate rainforest has 4x the biomass as anywhere in the tropics. Translation: the land here is exceptionally lush, and the millions of acres of surrounding forest (primarily Douglas fir, Sitka spruce, western hemlock & western redcedar) are uniquely beautiful.
THE SCOOP: The Bend Ale Trail is the self-proclaimed largest beer crawl in the West (there's 16 breweries and 80,000 residents). If you get your special passport stamped by 10 breweries in "Beer Town, USA," you even get a free souvenir pint glass -- what other towns encourage beer crawls with merch?!? If you aim to trade some natural beauty for human efforts, visit the Old Mill District on the for First Friday Art Walk. The artsy stuff (street-side interpretive dance, free wine in plastic cups, very white walls, etc.) kicks off at 4pm and stays open until 10pm.
THE SAVINGS: You can rent this "cozy microhome" for $72/night.
<a href="https://www.flickr.com/photos/brettdavis/14047856459/" rel="nofollow" target="_blank">Brett Davis/Flickr</a>
3. Weeki Wachee, FL
THE SETTING: The town of Weeki Wachee is a pre-Interstate Old Florida gem with a population of 12 at last count. It exists where Highway 50 intersects with Highway 19, and at the mouth of the Weeki Wachee River, where crystalline water bubbles up from a limestone aquifer. It's the deepest natural spring in the US and the dopest spot that time forgot.
THE SCOOP: Sabal palms and moss-dangled sand oaks flank a winding river, where loafing manatees and log-like alligators share water pure enough to bottle. But since 1947, the town's only real business has been it's kitschy mermaid show at the state park, which boasts both theatrical mermaid performers (the whole show takes place underwater in the spring, behind glass in an underground theatre, which means real-life manatees, turtles, and gators have all made cameo appearances). Plus, there's Buccaneer Bay, a waterpark with spring-powered slides. And yes, their mayor Robyn Anderson was once a mermaid (apparently the pay is about the same). 
THE SAVINGS: It's only 13 bones (or clams, or whatever) to get in. Compare that to a day at Disney's Magic Kingdom, which costs $94.79.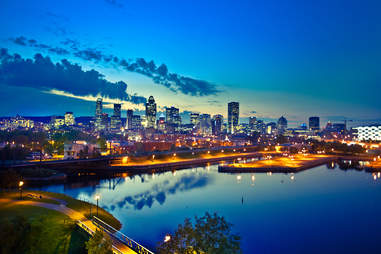 <a href="https://www.flickr.com/photos/caribb/9153815305/" rel="nofollow" target="_blank">Next Cinema/Flickr</a>
4. Montreal, QC
THE SETTING: You don't have to fly across an ocean to find your tongue clumsily navigating French; most Montrealers speaks it at home, making it second only to Paris for largest French-speaking city. The center of Canadian culture and industry for centuries, Montreal's cute-AF cafes, umpteen cultural attractions, and narrow cobblestone streets are enough to trick your Instagram followers into thinking you went to Europe.
THE SCOOP: If you like experiencing things on a large scale and in an exotic locale, Montreal should be next on your list. It has 90 official festivals a year, covering the entire gamut of anything you could want to celebrate (food, film, even "digital creativity") with an entire city. And for a break from the hustle and bustle, try Pointe-Taillon National Park where emerald-colored conifers meet an unspoiled lakeside beach. 
THE SAVINGS: You can stay in this studio for just $25/night. Compare that to the average cost of a three-star hotel in Paris: $158.
Rob Hainer/Shutterstock
5. Athens, GA
THE SETTING: Athens is where the Old South intersects with the trendy-cool of big school (college). Its Victorian era architecture (fish-scale shingles, flamboyant colors, wrought iron spires) is meticulously maintained; the University of Georgia was the first state college in the US, and Rolling Stone recently christened Athens as the town with the best collegiate music scene.
THE SCOOP: Eat at The Table Bistro, and enjoy top-notch, health-conscious cuisine that costs less than $10 for an entree. For some quirk, check out The Tree That Owns Itself, an old oak and town icon; while the original has since been replaced by its acorn-offspring, Athens attributes ownership of the land beneath the white oak's rambling branches to itself. Plus, all these things are free: Athens Farmer's Market, Georgia Museum of Art, Founders Memorial Garden, and the Georgia Museum of Natural History.
THE SAVINGS: Stay at this riverfront loft (accommodates 5) for $99/night. Compare that an average of $158 to house 5 in Athens, Greece somewhere not on a river (source: AirB&B).
<a href="https://www.flickr.com/photos/airmanmagazine/21348760094/" rel="nofollow" target="_blank">Andrew Lee &amp; Airman Magazine/Flickr</a>
6. Harrisonburg, VA
THE SETTING: Harrisonburg inhabits the Shenandoah Valley, the land gulf between two beauts: the Blue Ridge and Appalachian. Both of the first Arts & Cultural and Culinary District(s) in Virginia were founded here. Its nickname is The Friendly City, which is apt -- it's what happens when you combine a small Southern hamlet with an arts and food emphasis, plus the sense of security a town exudes when it's surrounded by two major mountain ranges. 
THE SCOOP: Check out the White Oak Lavender Farm (AKA WOLF) for a cartoonishly bucolic setting and literal farm-to-table dining (it's a farm and restaurant). Hustle the too-nice locals at Gold Crown Billiards Bar & Grill, which is open 'til 2am and perfectly described by Google-reviewer Darrel Smith as "The only place in Harrisonburg we could find with a pool table and dart board!" Or just enjoy warm Americana vibes downtown, which looks like a place where bluebirds would hang your laundry. 
THE SAVINGS: Roast marshmallows at this "historic mountain cabin" for $76/night (which claims it can accommodate 16; 76/16 means you pay like five bucks a night if you and 15 of your friends are tight like that).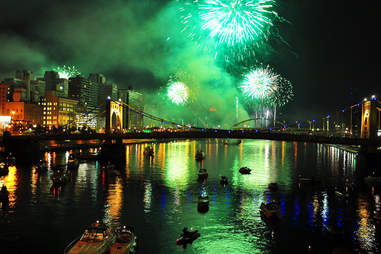 <a href="https://www.flickr.com/photos/alancharness/2913434807/" rel="nofollow" target="_blank">Alan Charness/Flickr</a>
7. Pittsburgh, PA
THE SETTING: America's former industrial capitals, compromising the so-called Rust Belt, have dealt with the changing landscape of US manufacturing with varying degrees of success. Pittsburgh has handled the shift with more grace than most, and its factories-turned-lofts and mills-turned-bistros tout a charm without its pretensions.
THE SCOOP: Andy Warhol's hometown is really proud -- like, seven stories proud. The Andy Warhol Museum, part of four Carnegie museums (others being: art, natural history & science), has more than 900 of the artist's works on display; Warhol probably deserves the nod from Pittsburgh just for making the word "Factory" cool. You've also got to try the Primanti Brothers sandwich, the city's not-so-well-known signature dish, which comes with french fries already stuffed in it. Plus there's plenty of hip bars where you can wash it down.
THE SAVINGS: According to Demographia International, Pittsburgh is the most affordable city in America. Forget staying somewhere skimpy just because you're in a city: rent this apartment-in-a-house for just $63/night.
<a href="https://www.facebook.com/chaumontchamber/photos/pb.126770897399556.-2207520000.1444893791./934316336645004/" rel="nofollow" target="_blank">Chaumont Chamber/Facebook</a>
8. Sackets Harbor, NY
THE SETTING: This village of fewer than 700 is "upstate" in a real sense (it's more than an hour north of Syracuse, thought to be the end of the Earth by European settlers until 1598*, and is basically Canada**). The town is situated around the rambling rural expanse of Chaumont Bay, an arm of Lake Ontario. Much of the town is waterfront (or near it). 
THE SCOOP: There's no scene. That's basically the point. Like, there's an ice cream shop. And you should have a boat, and then come back from a day on the lake to enjoy restaurants mere steps from docks. Just don't plan to swim in the icy-cold water, which is filled with eels that are harmless but totally icky.
THE SAVINGS: This house accommodates six for $232/night (232/6 = $39/per person, which is just $1.60/hour).
*This is made up.
**This is true.
<a href="https://www.flickr.com/photos/themaninblue/5645923255/" rel="nofollow" target="_blank">Cameron Adams/Flickr</a>
9. Madrid, New Mexico 
THE SETTING: This coal-mining settlement turned ghost town was brought back to life by artists and other creative types, who now run the 40+ trinket shops and art galleries and supply its general sense of funk. It's like stepping into a time machine and visiting the Old West, before discovering a bunch of chill hippies borrowed your time machine, beat you there, and completely took over. 
THE SCOOP: Check out the Jezebel Soda Fountain, which hasn't changed a lick since the 1920s. And fersure hit up the Old Coal Town Museum, and buy something ceramic from the Spirt Art Gallery & Cooperative. 
THE SAVINGS: Stay in this tipi for $48/night, which is way cheaper than a flight to Spain.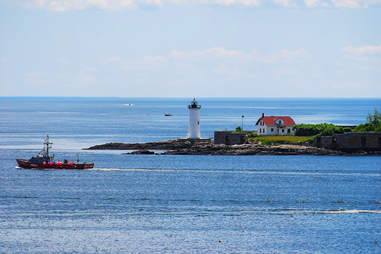 <a href="https://www.flickr.com/photos/drocpsu/6870126092/" rel="nofollow" target="_blank">DerekD/Flickr</a>
10. Portsmouth, NH
THE SETTING: Founded in 1623, Portsmouth considers itself the 3rd-oldest town in America (and by the looks of its centuries-old redbrick downtown, it is). The small city sits along the shore, where the Piscataqua River, which divides New Hampshire and Maine, meets the Atlantic. 
THE SCOOP: Bring your appetite for a clammy kind of New England charm and literal clams. To that end, eat at the River House Restaurant, which has the best chowder you've ever eaten and an accordantly nautical theme (it's literally on a boat). Or enjoy one of the town's breweries: Earth Eagle Brewings, Redhook Ale Brewery, or Portsmouth Brewery. There's also great whale-watching boats, depending on the season. 
THE SAVINGS: Stay in this stupidly nice apartment (seriously, look at the porch and garden) that's very nearby downtown Portsmouth for just $77/night.