Employers Are Pulling a Fast One on You by Offering 'Unlimited' Vacation Time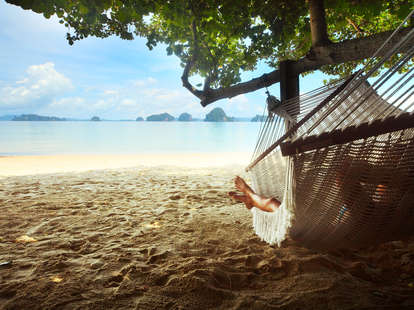 Dudarev Mikhail/Shutterstock
Yo, you just landed a plum new job -- congrats! Decent salary, health insurance, snacks in the pantry, a dog-friendly office, and what's this? Unlimited vacation? Doesn't get any sweeter than that.
But slow your roll a sec. Before you start dreaming of German-style holidays to Southeast Asia twice a year, it's worth knowing what you're getting into. In most workplaces, the dream of "unlimited" vacation sounds much sexier to employees (and to themedia) than its reality. The big winner in companies with unlimited vacation policies? Employers, actually, who get more out of the arrangement than you might expect.
"The benefit to organizations is greater than the benefit to the individual," said Rob Ferguson, a psychologist and management consultant who co-authored the book Making Conflict Work.
"Let's say the company you work for guarantees you 21 days per year, and you take only seven of those and you leave," Ferguson said. Most companies would have to pay you out for those unused days, or they'd roll over. But under unlimited vacation policies, "the company is saving an enormous amount of money by not having to pay out benefits. The books look better, profits look better, and there's no financial benefit to the employee."
An unlimited vacation policy means, in a strange way, you have no vacation days if you don't use them. Before GE acquired the company he worked for and switched employees to unlimited vacation, they would be paid out for their unused days, said a Seattle-based GE engineer who wished to remain anonymous because he wasn't authorized to speak with media. "Some of my coworkers preferred to take less vacation and get some extra money in return," the engineer said. That's not an option anymore.
Under the wrong manager, you can get screwed
Unlimited vacation isn't simply about vacation days. As a policy it calls in complex questions of trust and company culture. Those features of a workplace are established by leadership, said David Burkus, the author of Under New Management and an associate professor of management at Oral Roberts University.
"If it's cutthroat, and employees are working hard and skipping vacations to put in more hours and outperform their colleagues, this policy won't work," Burkus said. "If it's a culture where you already trust employees to do what's in their and your best interest and give them a lot of freedom, then it should work really well."
It's a passive perk, said Renee Pepmiller, 33, who got unlimited vacation in her past job at Zirtual. "It's one of those things that's easy to offer on paper," she said. "But unless it's properly encouraged and utilized by leadership, it falls by the wayside and in practice is generally underused."
Ferguson, an expert in conflict management, believes unlimited vacation is set up for inequality and puts the burden on the employee. "The basic assumption is that you're going to get your work done," which might be the case for some people, he said. "But when you're an employee who does some kind of day-to-day work, every day of vacation you take is putting more stress on the other members of your team."
The GE engineer said that when unlimited vacation rolled out, there was initial wariness of peer pressure or manager pressure to take less vacation. But when you have a manager who is "very relaxed and hands off," it works. "In my case, the permissive vacation policy is working out very well, but I do feel there is potential for abuse by bad managers or groups with a different culture than mine," the engineer added.
Of her own experience with unlimited vacation, Pepmiller pointed to the importance of how leadership sets an example -- good or bad.
"You see supervisors, managers, CEOs, etc. generally not taking that time off, or going somewhere but working through their vacations," she said. "That mindset trickles down to everyone else, so people either don't take time, or don't take as much as they need, or feel obligated to work through vacations and constantly be available."
And if you don't take that vacation? "The company owes you nothing," Ferguson said.
How to max out your unlimited time off
The danger -- and opportunity -- of unlimited vacation looms large for younger travelers. The 2016 US Consumer Travel Report by travel research firm Phocuswright found that 82 percent of Americans under 34 take a leisure trip in a given year, making them the most-traveled demographic (well surpassing even Americans of retirement age). Americans' overall trend in travel is to spend more on their vacations and to travel farther when they do. In an ideal work setting, being able to take more time would allow for these more ambitious trips.
Navigating a company culture, then, can mean the difference between scraping out the time to take that African safari, or getting stuck making only a few day trips at best.
So how do you actually make sure you get three or four weeks of down time out of this so-called unlimited vacation? Start by getting a sense of the office vibe.
"Figure out what kind of boss you have," Ferguson advised. "If you have a good boss, go to your boss and talk about it." He suggested coming up with an informal system that doesn't violate company policy but works for you and your family. "Now, if you have a dictator boss, keep your résumé up to date because unlimited vacation can end up being very little vacation."
The GE engineer suggested keeping communication open with your manager and to schedule time off as far in advance as possible: "It's hard for your manager to complain if you tell them about vacation plans months in advance, and they would need a good reason to retract approval later."
Burkus encouraged managers to be "extra showy" about using their vacation time. "Employees take their cues off of what you do, so if you're stingy with your vacation, they will be, too. If you make a point to demonstrate you're taking enough vacation to really rest and recharge, then they will, too," he said.
Pepmiller, who now has four weeks of mandatory vacation with her current employer, Baremetrics Inc, agreed. "It really has to come from the top-down... Managers and C-suite folks should be encouraging time off and discouraging working during vacations."
And for workers really feeling the burnout, she urged them to just take time off. "Don't cheat and answer emails or hang out on Slack. Just check-out. You'll be more refreshed."
Sign up here for our daily Thrillist email, and get your fix of the best in food/drink/fun.
Hannah Bae is a freelance journalist based in Brooklyn. She has worked for organizations such as CNNMoney, Newsday, and the US Embassy in Seoul, South Korea. Follow her on Twitter @hanbae, and check out her Korean food project @oelsbaeseasoning on Instagram.