Unsung US Islands You Should Visit This Summer
We have our Nantuckets and our Catalinas, our Key Wests and our Oahus -- all terrific domestic islands. But peace, solitude, and affordable digs aren't exactly their fortes. No, if you want an unplugged island getaway (that doesn't break the bank or require a passport), we suggest thinking beyond the leis and whale belts and checking out one of these lesser-known domestic isles.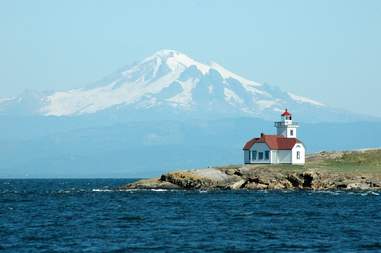 Monika Wieland/Shutterstock
Why they're so great: Bainbridge and Whidby are both lovely, but the San Juan Islands Islands are a whole other entity. Located just west of Seattle, the island cluster is a paradise for both nature lovers and foodies. Yep, you can go sea kayaking and spot an orca whale or five, but you can also eat your way through season-inspired restaurants, go tasting at quaint boutique wineries, or sample some hard cider at Westcott Bay, the oldest cidery in Washington State.
Must-do: The islands are also way artistic. On top of the myriad galleries, there's the San Juan Islands Museum of Art (IMA), which opened last year and includes a 20-acre sculpture park.
Chebeague Island, Maine
Why it's so great: Maine is awash in lilliputian island escapes, including 15 with year-round populations. We especially love Chebeague -- off the coast between Portland and Freeport -- for its remoteness, its cheery but no-nonsense locals (360 at last count), its sole clam shack, its IG-worthy rocks, and its bikeability (you're a fool to bring a car).
Must-do: Stay, eat, and drink at the Chebeague Island Inn. The historic inn is almost comically picturesque (a yellow clapboard beacon atop an oceanside hill) with a large stone fireplace and a wraparound porch that demands multiple G&Ts. Yacht owners anchor offshore just to dine at the inn's restaurant, which sources most of its ingredients from the ocean and the island's one farm.
Joseph Sohm/Shutterstock
Why it's so great: While we adore the Keys -- like, truly adore -- they are certainly no longer off the grid. Pine Island, however, is like a teeny Caribbean isle that no one seems to know about. Located off Fort Myers on Florida's Gulf Coast (right next to more popular Captiva and Sanibel Islands), Pine Island provides refuge to artists and fishermen alike, as well as tourists enamored of boating and nature walks (this is not a beach resort, which probably helps keep it under the radar).
Must-do: Visit Matlacha, one of Pine Island's five communities and by far the most colorful, both literally and figuratively. Technically its own island, the tiny bastion is chock-full of galleries, shops, seafood shacks, and Caribbean-colored cottages.
Eugene Kalenkovich/Shutterstock
Molokai, Hawaii
Why it's so great: Behold, the one Hawaiian island (sandwiched between Honolulu and Kahului) no one really talks about -- which is probably why it's nicknamed the "Friendly Island" (fewer tourists = a way friendlier vibe). This one has everything you want in a check-in-and-check-out vacay: zero traffic lights, pristine beaches and coconut groves, 3,000ft-high cliffs, waterfalls galore, epic snorkeling, and a healthy monk seal population. Oh, and common lore says hula dancing was invented here.
Must-do: You have to try the hot bread, a local delicacy that's sort of like an unconventional, bigger, more delicious donut, complete with decadent filling.
SF photo/Shutterstock
South Bass Island, Ohio
Why it's so great: "Ohioan island" just feels like a contradiction in terms, but Lake Erie's South Bass is the middle-of-the-country party island that you've never heard of -- unless you're from the Midwest. The main hangout is Put-in-Bay, nicknamed the "Key West of the North," where people perch fish by day and drink at night, wandering the streets while steel drummers and barbershop quartets perform outside. There's plenty of interesting architecture too, including an old ship that was converted into a massive house.
Must-do: South Bass Island State Park is the yin to Put-in-Bay's yang, a scenic retreat where you can fish, swim, and keep an eye out for the eastern fox snake, which is harmless but looks a lot like a rattler.
Why they're so great: They're usually just called "the islands," for starters, which tells you something about their geographical prominence. Sitting just south of the Quebec border in -- you guessed it, Lake Champlain -- the 28-mile island chain stretches down toward Burlington, can be accessed by car, and makes for a great day or weekend trip. Stop to bird, bike, nosh on cider donuts, or just sit and dip a toe in the nation's sixth-largest lake.
Must-do: Stop at Snow Farm, Vermont's first vineyard, which produces surprisingly sophisticated bottles (think rosé and vidal blanc, not horrible fruit wine)
Why it's so great: It may be the only resort island off of the Virginia coast, but anyone worth her middle-school reading list knows what really makes Chincoteague special: it's the inspiration for Misty of Chincoteague! And while sure, the famous wild ponies are actually on nearby Assateague, a wildlife sanctuary, you can bike, fish, boat, or crab on Chincoteague proper. It has a throwback feel -- more motor inn than exclusive resort.
Must-do: Assateague is a must for sure (take a boat tour to whistle at the horses), but so is eating tons of fried oysters and crab cakes and soft serve
Why it's so great: If you've ever island-ed (totally a word) in Michigan, it was probably on Mackinac, the well-known vacation getaway. But Beaver has its own sleepy appeals. Located on Lake Michigan between Charlevoix and Mackinaw City, it's more reasonably priced, for starters, and plays to the nature rather than party set.
Must-do: Sit back and watch the stars. Beaver Island is considered one of the best stargazing spots in the entire country, owing to the utter lack of light pollution.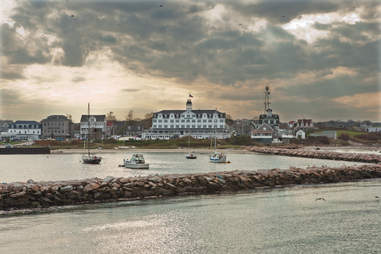 Mona Makela/Shutterstock
Why it's so great: Where Nantucket and Martha's VIneyard are monied and tourist-clogged, Block Island -- a 30-minute, high-speed ferry ride from Newport -- has more of an easygoing, soft-sell vibe that is far less intimidating. Iconic clapboard homes and restored grand hotels mix it up with honky-tonk watering holes and a boating -- not yachting -- crowd. Also: there's terrific surfing. Who knew?
Must-do: Rent a bike to tour the island, nearly two-thirds of which is protected land. A hike along the Ireland-esque Mohegan Bluffs. Cocktails and cornhole at the Oar (go for either the $2 'Gansetts or the house special, the frozen mudslide).
Sign up here for our daily Thrillist email, and get your fix of the best in food/drink/fun.
Meaghan Agnew has lived on three islands so far and isn't done yet. Meantime, follow her landlocked exploits at @meaghandeth.