12 adult vending machines selling gold bars and... used ladies' underwear?
From caviar and chicken eggs, to iPads and Smart cars, you can pretty much get anything from a vending machine these days. Which is awesome, since the caviar sales guy tells the worst fish jokes. What other weird, wild things can you buy from a machine on the street? Here are 12 of our favorites.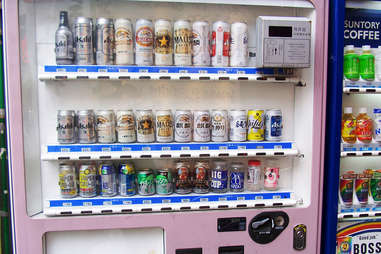 What: Beer and sake
Where: Japan
Two-dollar beer is pretty much the most common item you'll find in a Japanese vending machine, as the country doesn't have open container laws. Once located on almost every street corner, there are (unfortunately) fewer around these days due to concerns about underage drinking.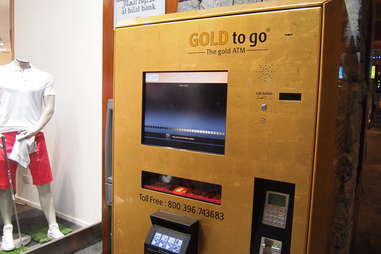 What: Gold
Where: There are 40 locations worldwide, and, naturally, a bunch of them are in the United Arab Emirates. In the US, look to Vegas, Atlantic City, and NYC.
At over $1300 an ounce, gold is considered a pretty fail-safe investment. At least that's the thinking behind this Germany-based gold ATM, which dispenses gold coins and bars weighing up to one ounce at prices updated every minute. Many are located, not surprisingly, around casinos.

What: Weed
Where: California
Dispense Labs has bid adieu to its aseptic medical dispensaries in favor of this medical cannabis vending machine, which can push up to 800 products and is hopefully located right next to the machine dispensing Doritos.

What: Caviar
Where: Los Angeles, CA
At Hollywood and Highland Shopping Center in LA, vending machines sell caviar (from $30 to $500 an ounce), truffles, and even mother of pearl spoons, so that you don't have to eat your fish eggs with your fingers.

What: Used Women's Underwear
Where: Japan
While today more urban legend than reality, these vending machines did exist. They were made illegal in 1993 and allegedly sold used underwear for around $50-$100 a pair.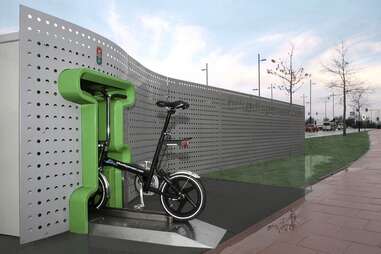 What: Bikes
Where: The Netherlands
There are 35 Bikedispensers -- vending machine-like, self-service bike rentals -- around tourist hotspots and train stations across the Netherlands. Unlike other bike rental systems where the bikes are locked/stored outside, though, the Bikedispenser shoots out RFID-equipped mini-bikes like a Pez dispenser ($4 per 20hrs) from inside a protected garage.

What: Moët & Chandon Champagne
Where: Selfridges, London
Pop 200ml champagne-minis for $29 at London's most famous department store.

What: Burritos
Where: Los Angeles, CA
Eschew the sweaty gas station hot dog in favor of a $3 burrito from the brand new Burrito Box. Located inside a gas station on the Santa Monica Boulevard, this automated burrito slinger rolls six varieties including a chorizo with egg and cheese breakfast number, and even add sides like sour cream, Tabasco, and guacamole.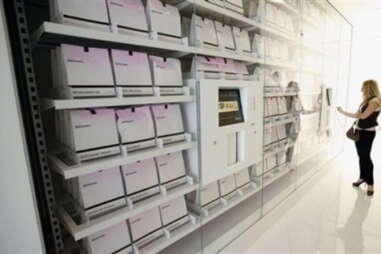 What: Bentley rentals, Jean Paul Gaultier dresses, designer watches, etc.
Where: The Mondrian South Beach and the Hudson Hotel in NYC
Taking it up a notch from those iPod vending machines at the airport, these ATMs for the one percent peddle everything from $350, 24-karat gold plated handcuffs, $400 Comme des Garçons wallets, a 90k Bentley Arnage T convertible rental, and even an ironic $28 "F*ck the Recession" T-shirt.

What: Syringes
Where: Cairns, Australia
Needle vending machines ($2 for a sterile, one-time-use needle) are meant to reduce infection rates among drug users. And they may be headed to a heroin hotspot near you.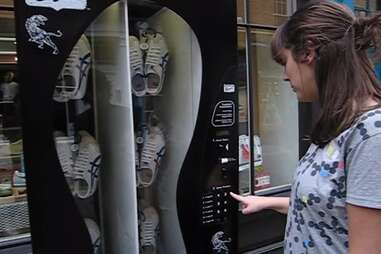 What: Onitsuka Tiger Sneakers
Where: London
Japan's most famous sneakers, Onitsuka Tigers, did a brief stint in a vending machine near Carnaby Street back in 2008 before going on a nationwide tour. The machine carried up to 24 pairs of the same style in various sizes.

What: Sprinkles Cupcakes
Where: Beverly Hills, CA
Yep, that's an ATM where -- for a $3.75 "fee" -- you can withdraw sweet diabetes delicious cupcakes 24 hours a day.
Sophie-Claire Hoeller is Thrillist's über-efficient German associate travel editor. She's had frequent flyer status ever since her mother gave birth to her at a Lufthansa terminal. Follow her adventures @Sohostyle.