8 Underappreciated American Cities You Need to Check Out This Year
The process of choosing just 19 places to visit in 2019 was long, arduous, fraught with infighting -- nah, just kidding, we had a great time. But by necessity, a list so limited overlooks some truly remarkable corners of this big 'ole world of ours. As we Sophie's Choice'd one destination after another, we kept coming across cities in our own backyard that made surprisingly compelling cases for a visit.
Sure, they lack the daydreamy wanderlust of brand names like New Zealand and Morocco, but a handful of American cities have been quietly upping their games, making 2019 the year to visit. Think new entertainment districts and thriving old neighborhoods, renewed support for the arts and more beds for travelers. Yes, food scenes will flourish and breweries will boom, but it's all the more impressive when a city manages to stick to its roots and dig its heels ever-deeper into whatever it does best -- be it bourbon or cattle or fresh veggies or just general weirdness. So by all means, head to Uzbekistan if the spirit moves you. If not, here are eight American destinations proving you don't have to stray far to find the next cool thing.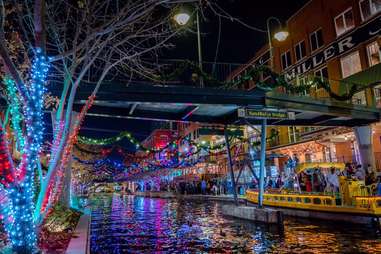 Oklahoma City, Oklahoma
Modern neighborhoods tap into OKC's former glory
Settled by robbers and outlaws in the late 1800s, it's easy to think of Oklahoma as the Australia of America, but it's time to stop calling it "flyover country." Having weathered the largest homegrown terrorist attack in U.S. history, enormous economic fluctuation, and of course the infamous tornadoes that sweep through the state in the summertime, Oklahoma City carries chutzpah that is not to be underestimated.
The fast-developing neighborhoods smartly take advantage of their historical roots, like Film Row, which celebrates a direct connection to Hollywood's golden age of Hollywood. In the Deep Deuce District, the city's 1920s and '30s African American jazz district, new housing and attractions like a whiskey bar and gourmet hot dog eatery are reviving the area. Be sure to swing through Automobile Alley, formerly the center of a thriving automobile manufacturing industry and the district credited with jumpstarting Oklahoma City's revitalization. The stylish Sidecar Bar features a menu of bar bites, with a wide range of craft cocktails, all at $11 or less. At Water's Edge Winery, you can find traditional varietals like chardonnay and pinot grigio, or fruit wines made with peach, apple and berries.
And no visit to OKC is complete without a stop at the magnificent Oklahoma City National Memorial Museum. The first half of the museum focuses on the Oklahoma City bombing, while the second half takes attendees through a CSI-level hunt for the bombers and details the way DNA was used for the first time ever to track them down. How's that for wild? -- Becki Iverson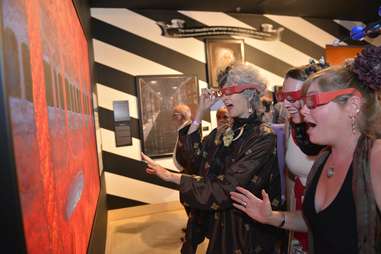 Baltimore, Maryland
With grace and grit in the face of adversity, Baltimore is a city on the rise
Baltimore has always had somewhat of an image issue. Serial didn't help things, as the city is beleaguered by negative headlines that far too often conjure images of a crime-infested netherworld. And while there's no denying Baltimore has its social and economic challenges, a creative renaissance invites opportunities for artists and entrepreneurs to flourish and create new buzz.
While new hotels like the recently opened Hotel Revival in Mount Vernon and Sagamore Pendry in Fells Point offer respite to visitors, for local flavor, you have to dig deeper and be willing to get a little weird. This is the home of John Waters, after all. Walk in the steps of the pop culture icon while visiting some of the city's historic theaters, like The Senator, which boasts a restored 40-foot silver screen, and screens revivals of Waters' work throughout the year. (Cry Baby is playing in February.) For the more traditional, the Baltimore Museum of Art features the world's largest collection of Henri Matisse paintings. Don't miss one of the world's largest free arts festivals, Artscape, which sees more than 350,000 attendees over three days in July.
For every establishment like the BMA, there are just as many counter-culture equivalents. The American Visionary Art Museum is lauded as one of the world's most cutting edge sanctuaries for self-taught artists, as is Creative Labs. Taking up a warehouse in North Baltimore's trendy-ish Hampden neighborhood, this consortium of creatives supports emerging artists with its huge performance space, a woodworking shop, private arts studios and more.
Of course, you can't leave without eating the city's famous Maryland blue crabs. There's no shortage of options, from Mount Vernon's The Elephant to modern soul food at Ida B's Table to R. House, a chef-driven food hall in a former mechanic's garage in Remington. The city doesn't get nearly enough love for its phenomenal beer and cocktail scene, either. The Elk Room serves up some of the city's swankiest, ever-changing speakeasy-style libations, as does The Blue Bird Cocktail Room back over in Hampden. For something truly no-frills, W.C. Harlan is heralded a hometown hero, as is sister property Clavel, beloved for its wide array of mezcals and Mexican inspired bites. -- Michelle Gross
Greenville, South Carolina
Great weather, a business-friendly environment, and exciting events are putting Greenville on the map
It doesn't have the hipster buzz of nearby-ish towns like Asheville and Charleston, but Greenville, South Carolina is on the up-and-up. To make it "the most liveable and beautiful city in America," Greenville's multi-term mayor has pushed through incredible civic initiatives, creating low-rent artist studios along the Reedy River and trading a highway in favor of a pedestrian bridge overlooking Falls Park. Miles and miles of hiking and biking trails call for exploration, and 300 days of great weather invite exciting food and music festivals to take over the city. Signature fests include euphoria, a four-day food-and-wine fest in September, and Artisphere, a mid-May blowout when dozens of art and food vendors descend on the main drag.
Not only is there an outpost of Sean Brock's highly acclaimed Husk (minus the reservation insanity of the Charleston original), Greenville chefs are getting in on the farm-fresh game. Case in point, Jonathan Willis started Farm Fresh Fast as a CSA-style delivery service, but now runs a full-service, locally-sourced restaurant with everything from burgers to CBD-laced jambalaya. Got kids? Don't miss Seedlings, his farm-to-table restaurant located within the Children's Musuem of the Upstate.
Meanwhile, two dozen new restaurant concepts are opening this year in the city. Take Gather, a food hall composed of 13 shipping-containers housing all-new local restaurants, including smash burgers from KO burgers and Roman-style pizza from Al Taglio. Another food hall, created by Feed and Seeds' forthcoming The Commons, is slated to open later this year, too.
More of a booze tourist? Greenville has one of the fastest-growing craft scenes in the country, with over a dozen homegrown breweries (and at least three more coming this year), including World Beer Cup gold medalist Craft Brewing. Don't just sit down with a cold one -- get out and hit up ax-throwing barCraft Axe-Throwing. -- Jeff Miller
Sacramento, California
Always the bridesmaid, never the bride, this state capital is a rising agricultural jackpot
Sacramento sticks out like a sore thumb among California's big cities, and that's its superpower. Sure, it's got the Golden State triumvirate of sun, heat, and highways, but it's also got more personality and a tree-filled skyline. After its initial Gold Rush-era boom, Sactown's popularity gave way to glitzier metropolises like SF and LA. Now, the fastest-growing city in California -- and the most hipster -- is ready to steal back the spotlight.
Major revitalization projects have completely changed the landscape. The newly finished Downtown Commons, or DOCO, brought life to Sacramento's historic streets. Its main feature is the Golden 1 Center, a state-of-the-art arena that houses the Kings and has quickly become a stop on mainstream performers' tours. New attractions, combined with exposure from Lady Bird's early 2018 success, have opened more eyes to Sacramento's value. While the city has something for everyone -- history buffs, sports fanatics, and nature enthusiasts alike -- it's the rising food and arts scene that's best positioned the city to reenter the national radar this year.
Boasting 1.5 million acres of active farmland, the region has prime access to fresh ingredients, and artful chefs have started taking notice. Between meals, locals turn to top-shelf breweries and craft coffee roasters, like rising star Urban Roots Brewing and established Temple Coffee.
There's more to the city than food and drink, of course. In fact, Harvard researchers once named Sacramento the most diverse city in America, and years later, creatives are finding more opportunity for expression. Perhaps the most visible example is Wide Open Walls, an outdoor mural festival that's preparing for a third year of bringing color to storefronts, building facades, and unused walls around town. There's no time like the present to check it out. -- Kyler Alvord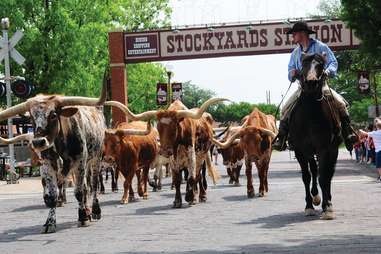 Fort Worth, Texas
New entertainment offerings are finally freeing Cow Town from Dallas's shadow
As far as next door neighbors go, Dallas is formidable -- the flashiest, most sprawling house on the block. But Fort Worth has set out to disprove the old Texas axiom that bigger is better, and secure its rep as a destination in its own right.
It's cattle legacy (the city's nickname is literally Cow Town) is alive and well thanks to a daily cattle drive of longhorns stomping through the Historic Stockyards District, which is also where you can still get a feel for Texas' famous cowboy culture -- honky-tonks, boots, and all. While these might sound like kitschy novelties, there is plenty going on that proves Fort Worth is looking towards its future, too. In fact, the Stockyards is in the middle of a massive makeover as approximately $175 million has been poured into transforming an underused portion into a major entertainment hub with live-music venues, hotels, shops, and restaurants (including the city's first Shake Shack).
Music lovers should pay close attention to the Fortress Festival, a two-year-old two-day bonanza that's just hitting its stride. The 2019 edition (scheduled for April 27 and 28) features an enviable lineup of both homegrown names, including Grammy-nominated R&B singer Leon Bridges, and national acts like Chvrches and Tinashe. And in November, the 14,000-capacity Dickies Arena, the new home of the Fort Worth Stock Show & Rodeo, is set to become a regional touchpoint for big-name concerts and sports competitions. Lastly, TEXRail, a 27-mile commuter rail line that extends from downtown all the way to the DFW airport, has just opened a few days ago. Skipping Dallas for Fort Worth is easier than ever. -- Chadner Navarro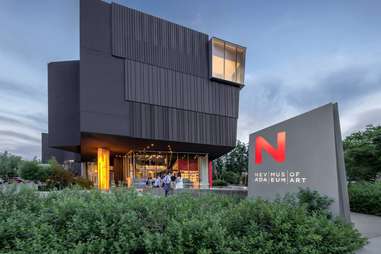 Reno, Nevada
The "Biggest Little City in the World" is more than just a Burning Man stopover
Sure, you'll find Burners stocking up on supplies or throwing away incredibly dusty trash on the way home, but Reno's raison d'être is its eclecticism. While not as flashy as Las Vegas -- and proud of it -- it has its fair share of casinos, nightclubs, and headliner shows.
But beyond the glitz, Reno has its own relaxed vibe -- you can even go lazy tubing down the Truckee River, right in the city center. And while the city's Old West heritage is still alive and still wild -- 2019 marks the 100th year of the annual Reno Rodeo -- Silicon Valley has gotten wind of Reno's charm, and an influx of tech companies have expanded the local economy and population.
As a result, native Renoites who skipped town are heading back home as chefs, brewers, and mixologists to meet growing demand. Lorenzo DeVincenzi took his experience living and working in Napa, opening tiki-inspired RumSugar Lime bar. Then there are the transplants who enjoy Reno's vibes, like chef Mark Estee, who stayed and opened the Liberty Food & Wine Exchange, serving creative American gourmet fare like a shellfish-studded black spaghetti and duck confit polenta.
As you zig-zag Reno's streets, don't miss the area's lively street art scene, with 80 murals dotted through the area. Also, check out the renowned Nevada Museum of Art, featuring sculptures once found in Burning Man's Black Rock City -- proving that there is certainly a collective creative spirit in town, even when the traveling Burners have gone home. -- Erik Trinidad
Grand Rapids, Michigan
A robust beer scene and dynamic investment are putting Grand Rapids squarely in the spotlight
When it comes to buzz, it's no Detroit, but Michigan's second most populous city is also one of the fastest growing in the country. Historically, Grand Rapids was known for furniture manufacturing (Herman Miller and Steelcase are homegrown brands) but the last few decades have kindled some, uh, more dynamic points of interest. First came the beer scene -- there are about 40 breweries and brewpubs scattered around town, and that number doubles if you wander outwards a bit.
The food's nothing to sneer at, either. Michigan is second only to California when it comes to agricultural diversity in the US, and Western Michigan (where Grand Rapids is) produces a third of the state's output. That means the city's restaurants are perfectly positioned to feed your farm-to-table fantasies. There's also a pretty robust art scene thanks to the likes of Urban Institute for Contemporary Arts and the Grand Rapids Art Museum, plus the annual competition from ArtPrize, which attracts approximately 1,500 submissions that are installed all over the city.
But to really speed things up, a development investment of $1 billion will see the opening of new residential towers, entertainment venues, and hotels in Grand Rapids. The Frederik Meijer Gardens & Sculpture Park, Michigan's second most popular tourist attraction, is undergoing an expansion, and there are also plans to restore the rapids from which the city got its name. If you're not familiar with what the city looked like before, all these upcoming projects are primed to beautify Grand Rapids, because after all, what's a vacation without some good-looking things to Instagram. -- Chadner Navarro
Louisville, Kentucky
Revitalized neighborhoods are attracting younger crowds with plenty of whiskey and artsy music fests
Would you go to Louisville to drink bourbon, eat beignets, and play bocce ball inside a Methodist church-turned-Cajun restaurant? Go ahead and nod emphatically. ChurchKey is just one of many surprises Derby City has in store this year. Credit Louisville's rise to the ongoing revitalization of old neighborhoods that fell through the cracks of suburbanization: Butchertown and Germantown are attracting millennials like flies with craftsman shotgun homes, ample backyards, and taverns on every corner. On the east end of Market Street, "NuLu" (because every city needs a SoHo, right?) is now the hot 'hood for its proximity to Downtown, home to a fully revamped Whiskey Row. A fire in 2015 delayed the restoration of a key stretch of Main Street, but Louisville has enough moxie and cast iron bracing to persevere. Today, you'll find a stretch of eight distilleries on the strip that are easily crawlable -- or trolly-able, should you inevitably go overboard "sampling" craft bourbon.
The latest season of Top Chef is set in Louisville and feasting on a riverboat on Lake Cumberland looks like a thin slice of heaven. The city's restaurant diversity extends well beyond the hot brown nowadays, with new additions like gothic Italian castle Grassa Gramma and zen vegetarian-friendly outpost Naive. And speaking of Top Chef, former contestant Ed Lee's latest concept Whiskey Dry has opened as an approachable landing spot for his signature burgers with a progressive assortment of 200+ whiskeys.
In case you're already penciling Derby 2019 to make your vacation plans, think hard about whether you'd rather save the $1,000 hotel fares and, instead, hit Churchill Downs. September is sure to be prime visiting time with consecutive music festival weekends -- Louder than Life (Metal), Hometown Rising (Country), and Bourbon & Beyond (everything else) -- and it just-sohappens to be National Bourbon Heritage Month. -- Sean Cooley