​Airlines Are Getting Crappier, Study Confirms
From less legroom to inedible plane food, almost everything about the flying experience feels like it's getting worse. Turns out, it's not just your imagination -- a new study shows that, while carriers are making more money than ever, the service they provide is reaching new levels of suckiness.
The report, compiled by researchers at Embry-Riddle Aeronautical University and Wichita State University, rated the 12 largest domestic airlines based on US Department of Transportation data for the number of on-time flights, lost bags, passenger complaints, and travelers bumped from flights last year.
Overall, airlines lost 13% more bags, bumped 3% more travelers from flights, and received 22% more customer complaints in 2014, while just 76.2% flights were actually on time (down from 78.4% in 2013).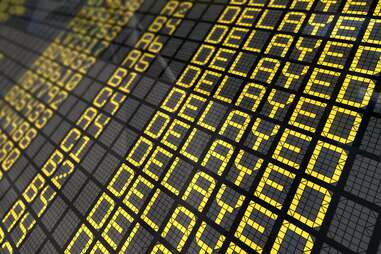 But which was the absolute worst US carrier? That's Envoy Air, which operates American Eagle, and got an Airline Quality Rating (AQR) of -2.83, more than double the average score of -1.24, and was named the poorest service for on-time flights and lost luggage, misplacing one bag per 110 flyers. On average one bag is lost per 275 flyers.
Next worst, ExpressJet scored an AQR of -2.12 and sucked most at overbooking flights and turning away passengers at the gate. Which is a great way to turn any normal person into Yosemite Sam in about a millisecond. SkyWest, which tied with ExpressJet for bumping the most passengers from flights, landed third worst, with a -1.84 AQR.
As for the airlines providing the best service, Virgin America flew to the top of the list for the third year in a row, awarded an AQR of -0.30, and credited with actually taking care of passengers' bags and for not bumping folks from its flights. Hawaiian Airlines, which operated the most on-time flights last year, took second, while Delta Air Lines grabbed third place. But only Virgin, Hawaiian, and Alaska Airlines -- which made it to no. 5 with the fewest customer complaints -- actually improved on their service from the previous year.
Now here are the results, along with each airline's AQR -- try not to swear off flying (or at the airlines) when you read them.
12. Envoy/American Eagle: -2.83
11. ExpressJet: -2.83
10. SkyWest: -2.12
9. United: -1.84
8. Frontier: -1.48
7. American: -1.35
6. Southwest: -1.22
5. Alaska: -0.65
4. JetBlue: -0.61
3. Delta: -0.60
2. Hawaiian: -0.53
1. Virgin America: -0.30