Which US Airport Had Over 25,685 Flight Delays Last Year?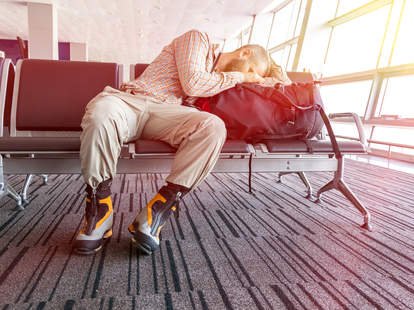 Can we all just lay off the poor airlines for a second? Any time a flight is delayed, everyone's first reaction now is to jump on Twitter and say something incredibly intelligent like: "3-hour delay due to Category 1 hurricane. Way to go @spiritairlines!"
Because, you see, sometimes it's not the airline's fault. Sometimes it's weather, or an extra long line at TSA, or overburdened ramp agents. In fact, of the US Department of Transportation's five official categories for flight delays, only one of them is "airline carrier." The others? Well, the others have to do with the airports you're flying in and out of.
But which airports are always running late? In their never-ending mission to prove charter flights are better than commercial ones, the team at Stratos Jet Charters studied US Department of Transportation data from four million domestic flights to find out where -- and why -- all the delays are happening. The studies examined three of the five leading factors for flight delays: security, extreme weather, and late-arriving aircraft (the other two, 'National Aviation System' and the aforementioned 'airline carrier' were not included), and determined the ten worst airports for each type.
Security
According to the USDOT, security delays are "caused by the evacuation of a terminal or concourse, re-boarding of aircraft because of a security breach, inoperative screening equipment, and/or long lines in excess of 29 minutes at screening areas." So, as much as you'd love to blame the guy who's slow taking off his shoes for your late flight, security accounts for less than one half of one percent of all delays. These ten airports had the most delays related to security:
 
10. Philadelphia International - 55 delays per year
9. Baltimore-Washington International - 63
8. Ft. Lauderdale International - 68
7. Los Angeles International - 85
6. Boston-Logan - 87
5. Chicago O'Hare - 100
4. John F. Kennedy International - 105
3. Dallas-Ft. Worth - 203
2. Charlotte Douglas - 244
1. Phoenix Sky Harbour - 247
Late aircraft
These are delays caused by aircraft arriving late from other cities. So it's no surprise that major hubs like O'Hare, Dallas-Ft. Worth, and Denver rank high. Since the early 2000s, late-arriving aircraft have become the single leading cause of flight delays, accounting for nearly 42% of them in 2014. These airports had the most holdups:
10. La Guardia - 10,647 delays per year
9. Houston George Bush - 11,069
8. Phoenix Sky Harbour  - 11,400
7. San Francisco International - 12,482
6. Las Vegas McCarran - 12,806
5. Los Angeles International  - 18,009
4. Denver International - 18,609
3. Dallas-Ft. Worth - 19,820
2. Atlanta Hartsfield-Jackson - 20,084
1. Chicago O'Hare - 25,687
Weather
Weather delays are defined by USDOT as: "Significant meteorological conditions (actual or forecasted) that... delays or prevents the operation of a flight, such as a tornado, blizzard, or hurricane." And while you might think that bad weather causes most delays, turns out it only accounts for about 4% of late flights. Crazy, right? Not surprisingly, though, the list of most weather-delayed airports are in the northeast, midwest, and Florida (where freak thunderstorms ground planes almost-daily in the summer).
10. Miami International  - 957 delays per year
9. Boston Logan - 1,177
8. La Guardia - 1,264
7. Houston George Bush  - 1,306
6. John F. Kennedy International - 1,555
5. Orlando International - 1,929
4. Denver International - 1,969
3. Dallas-Ft. Worth - 4,869
2. Atlanta Hartsfield-Jackson - 5,068
1. Chicago O'Hare - 7,385
Sign up here for our daily Thrillist email, and get your fix of the best in food/drink/fun.
Matt Meltzer is a staff writer with Thrillist. Follow him on Instagram @meltrez1.