23 Awe-Inspiring Records Held by US National Parks
America, the undisputed world champion of declaring it's the world champion, can rightfully claim the most fantastic public lands on the planet. One of the founding fathers of our national parks, Teddy Roosevelt, laid down the smack when he urged Congress to protect a ruddy patch of the Southwest. "In the Grand Canyon," he declared, "Arizona has a natural wonder which is in kind absolutely unparalleled throughout the rest of the world." America's national parks: the hottest on the planet since 1872.
For more than a century, Americans have been locking their most superlative natural features for future generations -- the biggest, the tallest, the deepest, the oldest, the flat-out coolest. Here we've scoured the 58 parks under the National Park Service (happy 100th this summer, y'all!) and pulled out some of the freakiest records from within.
World's largest living tree
Sequoia National Park
California
The General Sherman giant sequoia stands 271ft tall and weighs more than 4 million pounds. Truly in a class of its own.
Lowest point in the Western Hemisphere
Death Valley National Park
California
Badwater Basin sits 282ft below sea level. Curiously, it's a mere 76 miles from the Sierra Nevada mountain with the highest elevation in the contiguous United States: Mount Whitney (14,505ft).
Hottest world temperature ever recorded
Death Valley National Park
California
A blistering 132-degree temperature was recorded at appropriately named Furnace Creek on July 10th, 1913.
World's largest block of granite
Yosemite National Park
California
El Capitan stands nearly 3,000ft tall, attracts rock climbers from around the world, and is one of the most scenic places in Yosemite.
America's deepest cave
Carlsbad Caverns National Park
New Mexico
The deepest cave in this park reaches 1,593ft into the earth -- nearly a third of a mile.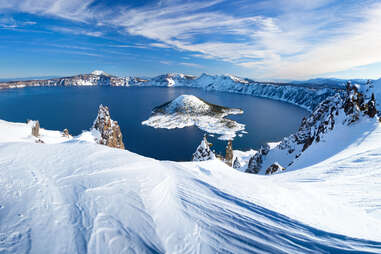 America's deepest lake
Crater Lake National Park
Oregon
This volcanic-formed lake is 1,943ft deep, which could submerge the Empire State Building 700ft deep. One of the the deepest lakes in the world, it's also the most beautiful place in Oregon.
Highest point in North America, world's tallest mountain from base to peak
Denali National Park
Alaska
Denali (née Mount McKinley) stands at 20,310ft, the highest point in North America. Its summit isn't the world's highest -- you could find a hundred Himalayas taller -- but its rise from base to summit is the tallest of any above-sea mountain in the world.
Oldest non-clonal organism ever discovered
Great Basin National Park
Nevada
In 1964, a grad student found a gnarly, 17ft-tall bristlecone pine that seemed representative of the older trees in a particular grove. With the help of the US Forest Service, he cut it down, carved it open -- and found, a bit embarrassingly, that it was about 5,000 years old. Prometheus, as the tree came to be known, had been the oldest continually living thing on the planet, a title that passed unceremoniously to something else once the old pine was felled.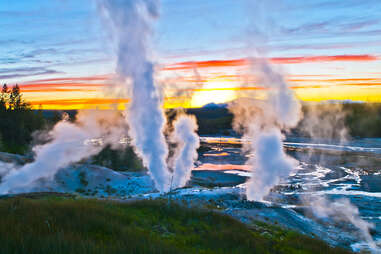 Most geysers in the world
Yellowstone National Park
Montana/Wyoming/Idaho
You like geysers? Yellowstone has 500 active ones, about half the world's supply.
World's tallest active geyser
Yellowstone National Park
Wyoming
With that many candidates, it's no surprise Yellowstone wins this category. Steamboat, in the Norris Geyser Basin, erupts to a height of 300ft.
World's longest known cave system
Mammoth Cave National Park
Kentucky
More than 400 miles of caves have been mapped. And that's just so far -- we're nowhere near the end.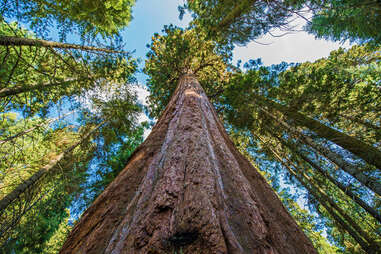 World's tallest collection of trees
Redwood National Park
California
The trees in this park can stretch up to 30 stories high. The star of the show is the 370ft Stratosphere Giant, which until 2006 held the record for world's tallest tree. It has been exceeded by Hyperion (378ft), Helios (373ft), and Icarus (371ft) in Eureka, California.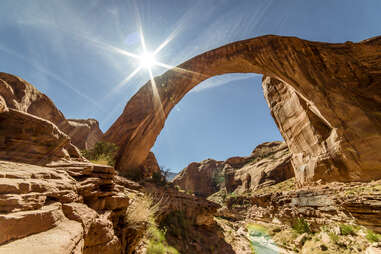 World's largest natural bridge
Rainbow Bridge National Monument
Utah
The Rainbow Bridge stands 290ft tall and stretches 2,575ft wide. And it does cross water: the aptly named Bridge Creek, which cut this sandstone wonder over eons.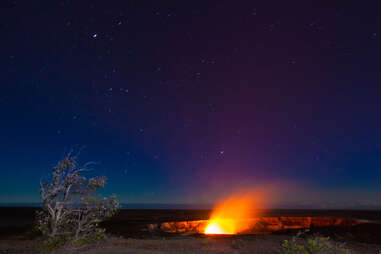 World's most active volcano
Hawai'i Volcanoes National Park
Hawaii
Kilauea has been erupting perpetually since 1960. Judging by seismic activity, it has been going through one big, prolonged eruption pretty much since 1983.
World's tallest active volcano, world's tallest mountain
Hawai'i Volcanoes National Park
Hawaii
Mauna Loa's summit is at 13,796ft above sea level, giving it the title of tallest volcano in the world. But its base is another 19,685ft below sea level. If you do the math that totals about 33,500ft, making it the largest mountain in the world. (And that doesn't count a similar depth to which the mountain's mass has depressed the crust beneath it. To truly reach the bottom of the mountain, you'd have to travel more than 10 miles down from its peak.)

America's largest barrier reef
Dry Tortugas National Park
Florida
Because this park off Key West is so often overlooked, the coral reefs at the end of the 300-mile Florida reef are largely unobstructed. The reef is also the fifth-largest in the world and the second-largest in the Western Hemisphere, behind the Mesoamerican Reef in Belize.
North America's tallest waterfall
Yosemite National Park
California
Yosemite Falls sends water down five steep plunges and a series of cascades -- a drop of a remarkable 2,425ft.
World's largest density of sandstone arches
Arches National Park
Utah
Inside just 120 square miles, the park boasts more than 2,000 sandstone arches, some as tall as 300ft.

World's largest gypsum dune fields
White Sands National Monument
New Mexico
The soft, white, sandy dunes sprawl across 275 square miles, an area the size of Singapore.
Largest ice field entirely in the United States
Kenai Fjords National Park
Alaska
The Harding Icefield spans some 700 square miles (for now) and has been covering this section of South-Central Alaska for about 23,000 years.
World's largest collection of boxwork
Wind Cave National Park
South Dakota
While most caves are characterized by stalactites and stalagmites, Wind Cave is full of super-rare boxwork formations, a sort of web of rock latticework that stretches over the interior of the cave. Roughly 95% of the boxwork in the world can be found at Wind Cave, which at 143 miles long is also the sixth-largest cave in the world. In 1903 Teddy Roosevelt established it as the seventh US national park, the first cave in the world to earn the designation.
North America's tallest sand dunes
Great Sand Dunes National Park
Colorado
At 700ft tall, you might think these aren't nearly as impressive as some of the nearby Rocky Mountains. Until you try to climb them.
And our personal favorite...
Most lightning-struck man in history
Shenandoah National Park
Virginia
Former park ranger Roy Sullivan has been struck by lightning an unbelievable SEVEN TIMES. And lived. He even claims an eighth strike as a youngster, but no matter what, it's still a world record. No word on whether he also plays the lottery.
Sign up here for our daily Thrillist email, and get your fix of the best in food/drink/fun.