You might have visited a handful of America's most popular national parks as a kid on summer vacation. You might have passed through one of the underrated ones as an adult, turning the 4th of July into a weekend trip, or squeezing the last of your PTO reserves to road trip home for the holidays. But you've probably seen few, if any, of our country's parks in the fall, and it is time we all sat down and fixed that.
Now that summer's ended, our national parks are not only less crowded, but many of them become completely transformed. There's all that autumn foliage of course, but that's really just the starting point. Elk are rutting, fog is descending, salmon are flinging themselves upstream. To help inspire your next fall getaway, check out the autumnal splendor of a few of our favorite national parks.
Yellowstone National Park
Wyoming, Montana, and Idaho
It is one thing to see elk during the summer, or any season when they are not rutting, and another to see them in the fall, when they are. The first time you hear one bugle will stop you in your tracks. And while Yellowstone's crowds will have finally thinned after Labor Day, much of the park will remain accessible 'til around November, including bike rentals and fishing holes -- plus, there are special fall travel packages that'll sort your itinerary for you. Take a hike (trust us) through America's oldest national park while the trails are still open. Contemplate the supervolcano without being elbowed by children.
MORE: Check out Thrillist's Ultimate Guide to Yellowstone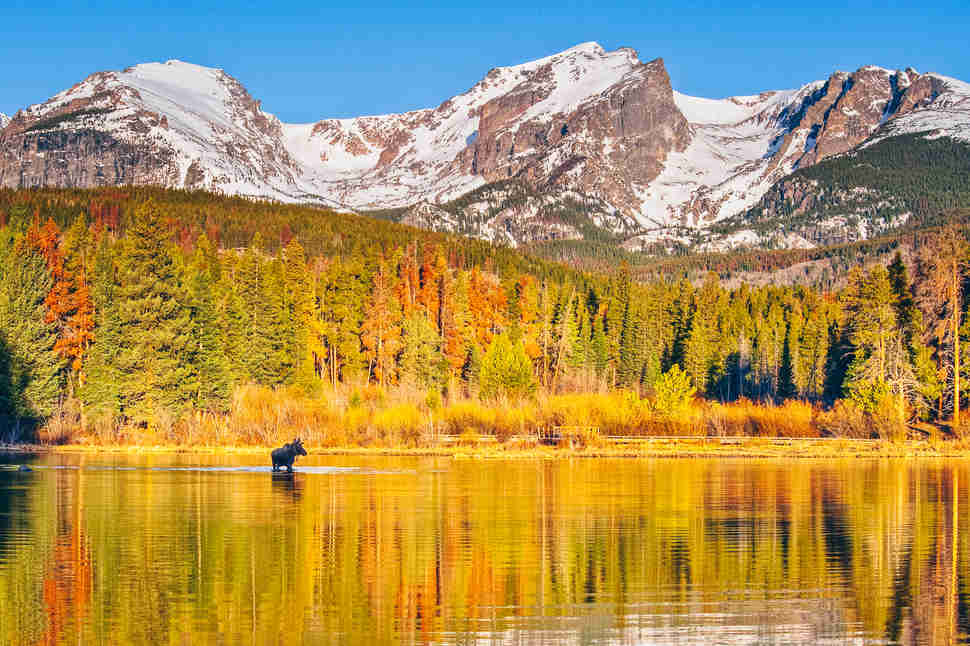 Rocky Mountain National Park
Colorado
Much of the eastern part of the park will be desolate come autumn. You'll want to hit the 415-square-mile western section of the Colorado front range -- that's where the glorious fall foliage is gonna be. By late September, the aspens that blanket the Rocky Mountains are at the peak of their quaking -- when the leaves, quivering in the wind, have all become a single bright wash of gold. Hike through the Hidden Valley or Twin Sisters trail for the best aspen-laden views, and pack a picnic to while away a few hours at Bear Lake.
MORE: See which two Colorado spots are on our list of the best mountain towns in America
Grand Teton National Park
Wyoming
During a good year with an early snow, you might actually be able to enjoy some Jackson Hole skiing whilst nodding approvingly at the changing leaves. Late September is generally the best best for catching peak foliage at Grand Teton, a breathtaking vista just down the road from Yellowstone that's bursting with vibrant cottonwoods, aspens, and willows. Gaze upon Snake River bathed in autumnal glow, and get out there at dawn and dusk for the best odds of spotting moose and elk. Just keep an eye out for bears fattening themselves for winter, enjoying everything the season has to offer, too.
MORE: See Jackson Hole like a local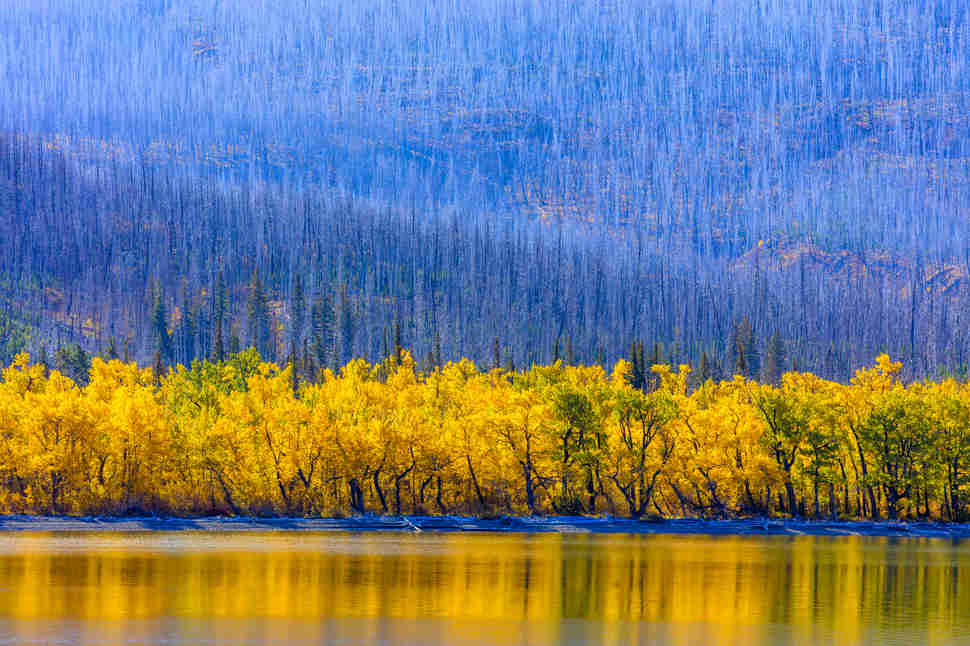 Glacier National Park
Montana
The glaciers are what you come to see, and you should, y'know, see them while you still can. But you should also come to Glacier National Park to see stunning fall colors, especially around late September and early October. Unlike evergreen trees you might be used to seeing, 'round these parts you'll find larch trees -- deciduous conifers that shed their needles in the fall. Most of the park's concessions will close after October 1, but the iconic Going to the Sun Road remains open. Hike the famous Highline Loop where you might spy some bighorn sheep, mountain goats, or grizzly bears. Or venture up to Cracker Lake to catch that sweet foliage reflected on the water. There's also a two-weekend Oktoberfest you'll not want to miss.
MORE: Want to see some serious glaciers? Consider eastern Greenland
Acadia National Park
Maine
An early-morning hike to the top of Cadillac Mountain -- the highest peak on the Eastern seaboard -- not only offers one of the most spectacular sunrises in America, but also a stunning view of New England's finest colors. The region will generally remains temperate and pleasant through the end of September. You'll find yourself hiking through the thick, eerie fog that lifts to reveal the blazing foliage of maple and birch trees. Get the latest updates on the progressions of Maine's iconic foliage here.
MORE: Why Acadia is one of the best places to visit in September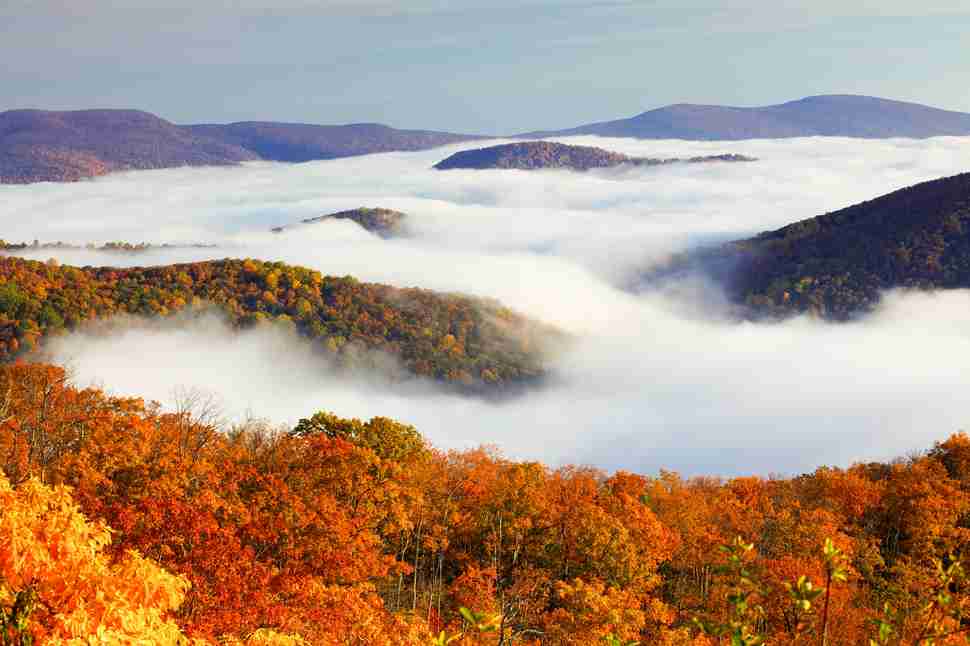 Shenandoah National Park
Virginia
If you love fall foliage (naturally) but aren't so much in love with getting out of your car (understandable) then Shenandoah, for you, is the best national park in America. Hit its famous 105-mile Skyline Drive and become enveloped by the very essence of the season as you cruise through. There are also no fewer than 75 scenic overlooks from which you can gaze out over the canopy of reds, oranges, and golds. Early October is when things hit their peak up here. For those of you who do want to stretch a little, pull over around Mile 49 for a gentle hike to the quadruple waterfalls of Rose River Cascades.
MORE: Fall in love with these small Virginia towns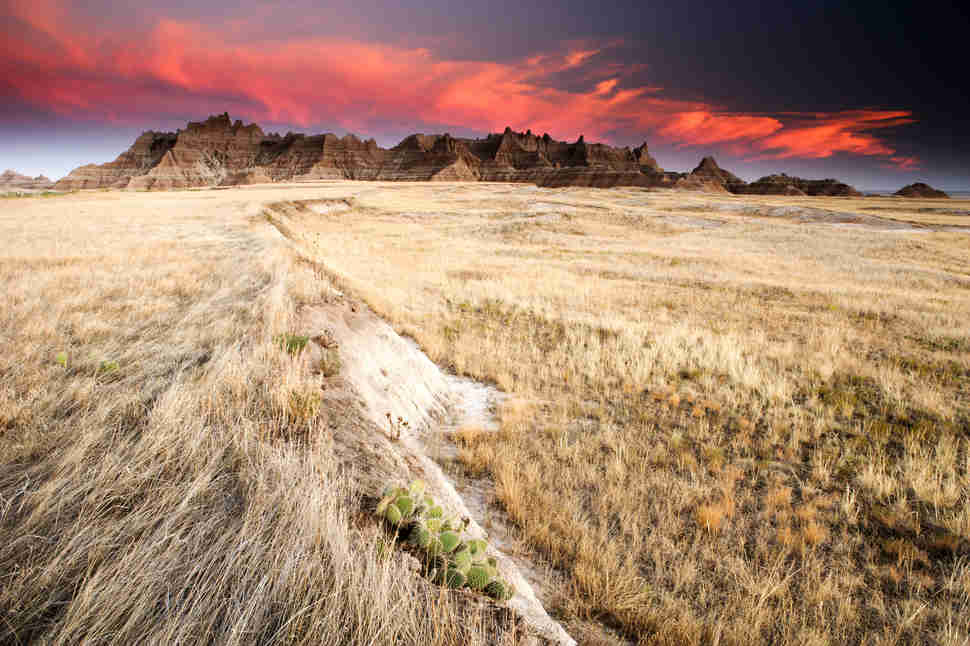 Badlands National Park
South Dakota
You may not think of the Badlands when you think of quintessential autumn foliage, but we never promised you that's all this list was about. This is different. This is, arguably, better. South Dakota's Badlands is the only national park in the country where you can get psychedelic desert colors at sunrise, then the deep burnished gold of autumn grasses in the afternoon. Drive through the park and you'll also see otherworldly rock formations, their pink and yellow striations bathed in warm autumn light, streaks of bright foliage in the backdrop, often blanketed in powdery snow. Or, even better, take advantage of the vastly reduced post-summer car traffic and hit the roads by bike.
MORE: Why South Dakota is the most underrated state in America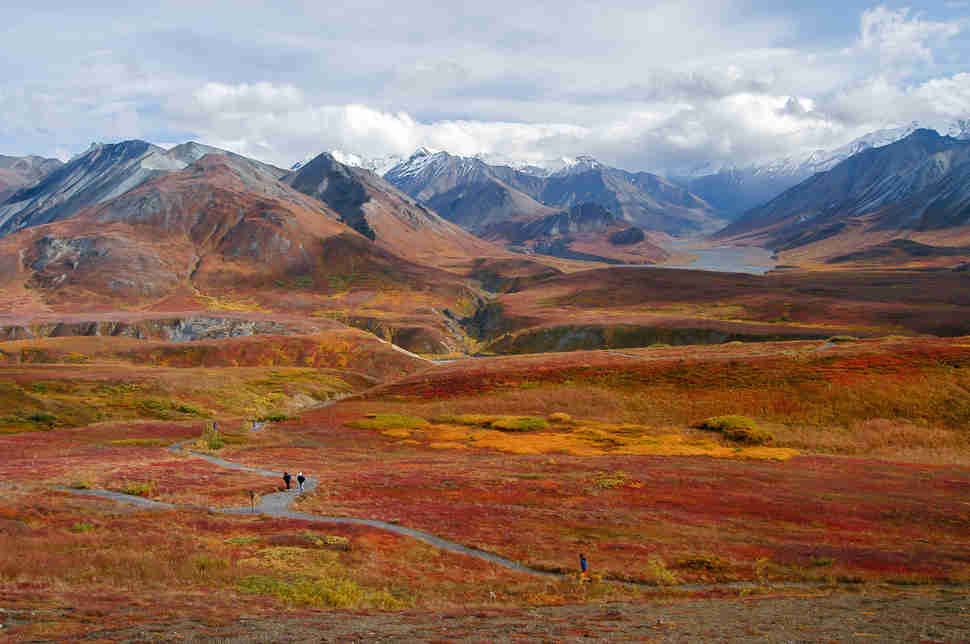 Denali National Park and Preserve
Alaska
Snow will begin piling up as early as late September here, and winter pretty much begins in October. Public transportation will close after summer, but this is a good thing -- it means that, if you have a car or the ability to rent one, you have Denali pretty much to yourself. The mountain serves as a stunning backdrop to the grizzly bears, moose, and caribou just moping through dense foliage. Oh, and you may also see some golden eagles screaming past the golden leaves. Think all the events and ranger-led programs will have gone dormant 'til spring? Sure, unless of course you care to attend a sled dog demo.
MORE: The best, most intense reasons to travel to Alaska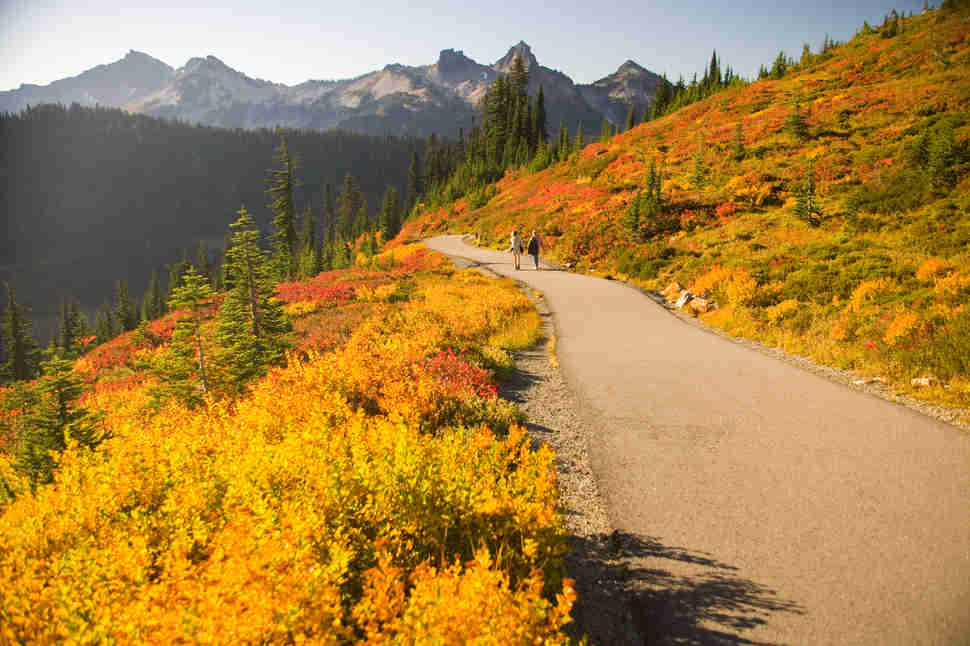 Mount Rainier National Park
Washington
A hike through the subalpine wilderness of Paradise (the area on the south slope of Rainier) will show you the very best vistas of the Evergreen State's not-so-evergreen trees. Maples, elderberries, aspens, and scores of other trees you likely couldn't name if you tried begin turning fiery reds and yellows in late September. Head up to Chinook Pass and Tipsoo Lake for some of the most luxurious views. You're in prime territory for elk and moose to wander across your path while they enjoy the foliage themselves, albeit in a more digestive manner than a sightseeing one. For those who need some fun motivation to hike -- like, something more than just the hike itself -- mushroom-picking permits are available from the US Forest Service.
MORE: Check out our favorite Seattle hikes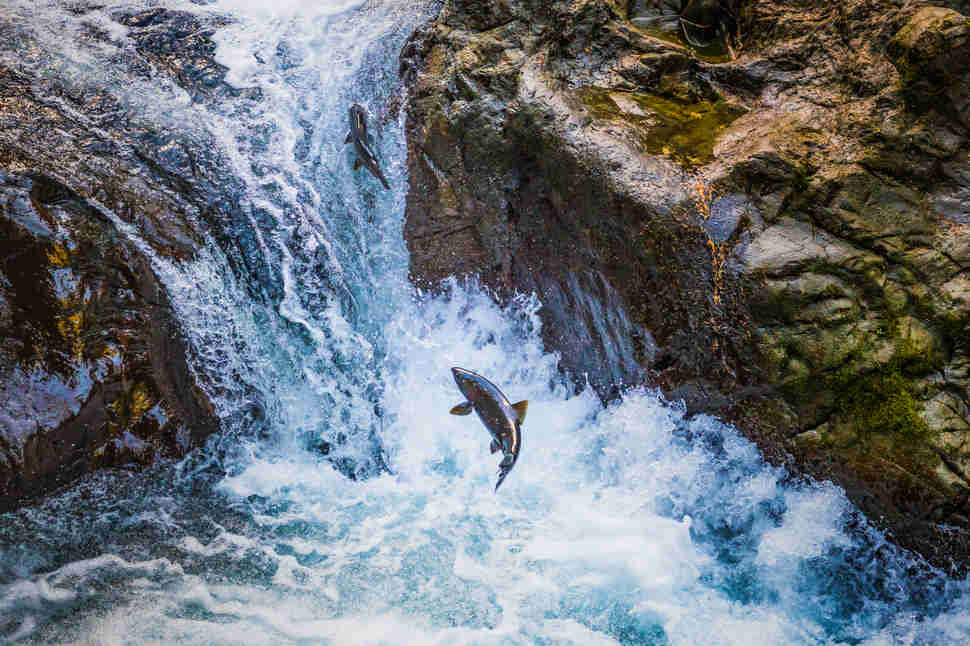 Olympic National Park
Washington
From glaciers to beaches to rainforest, Olympic National Park truly has the range. Rainforests aren't typically known for their spectacular autumn colors, but when you're the only temperate rainforest in the contiguous United States, you're automatically in business. At whatever point you finally manage to pry yourself away, head to the active tide pools to see what kind of marine life is still out when the temperature starts to drop. Here, too, the end of the dry season means mushrooms are sprouting up around your feet. And while you can see elk and deer and the like here, sure, you can also see otters. And bobcats. And, in late September and early October, coho salmon charging valiantly upstream, possibly being interrupted by a hungry bear in their way to spawn.
MORE: See which Olympic watering hole made our list of the best national park bars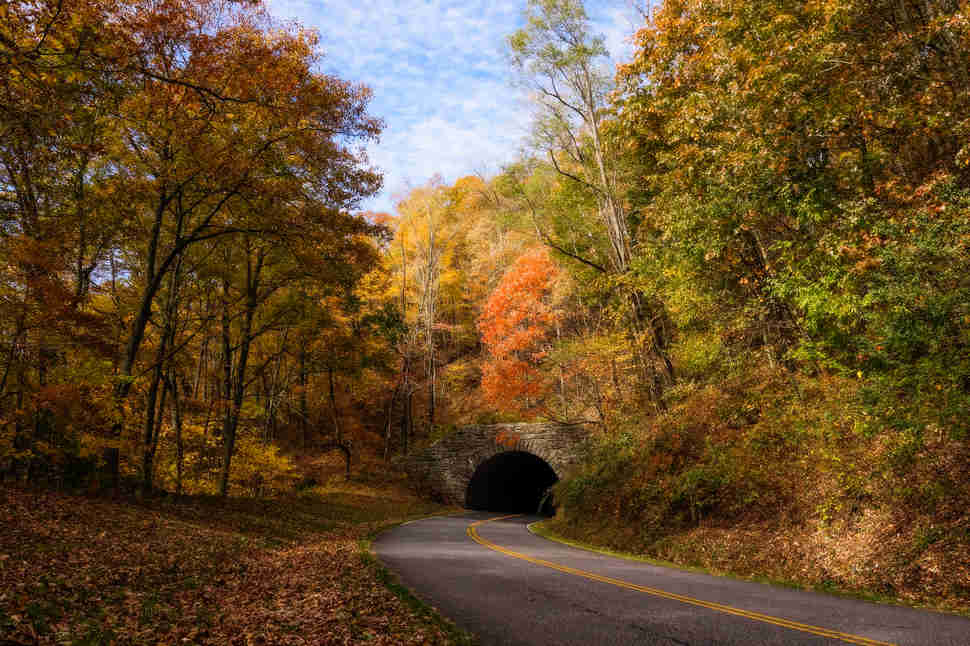 Great Smoky Mountains National Park
Tennessee and North Carolina
If you've the good fortune to already live near the area, the Smokies make for some of the easiest foliage to plan a trip around, because there's no single date-range where everything's at its peak. At the park's highest elevations, fall comes on the early side, with the blazing colors of beech and birch trees taking hold as soon as mid-September. Lower down, foliage season can last all the way through early November, with oak and sugar maple trees towering over a shock of autumnal wildflowers. The mountains that run through this park aren't as so much smoky this time of year as they are aflame. The reds, oranges, and yellows cover the hills and brighten the land; a trip to Looking Glass Falls is the best way to see it.
MORE: What to see and do during your trip to the Smokies
Yosemite National Park
California
Although the intimidating, breathtaking sequoias don't especially change color, a hike through California's most popular national park still offers visitors a number of festive fall sites. The famous Half Dome Trail is the highlight, but even if you can't get a permit, the rest of the park will make you forget all about that when foliage of cottonwoods, oaks, maples, Pacific dogwoods, and aspens peaks in late October. Everything in the park remains open, sometimes as late as November. That deafening silence? It's not just because the tourists have left; in the fall, many of Yosemite's waterfalls slow to a trickle.
MORE: The most beautiful places in Yosemite
Cuyahoga Valley National Park
Ohio
Between college football and the seasonal foliage, Ohio is a pretty awesome place to visit during the last few months of the year. And unlike the Browns, the fall colors are tough to beat, at least at this state park where you can hike to the Everett Covered Bridge and count the number of days until the NBA season starts. The first half of October is when you can enjoy foliage here at its peak. Brandywine Falls is absolutely clogged with tourists and their cars during the summer months, but come fall you'll be able to stay on that boardwalk as long as you like. Oh! Did we mention there's a scenic train ride? There's a scenic train ride, and it's open through October.
MORE: Did you know you can swim in Brandywine Falls, too?