The US government does not want you going to any of these places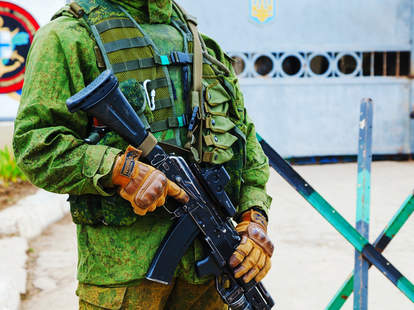 <a href="http://www.shutterstock.com/gallery-762964p1.html?cr=00&amp;pl=edit-00">photo.ua</a> / <a href="http://www.shutterstock.com/editorial?cr=00&amp;pl=edit-00">Shutterstock.com</a>
Sure, fares to Ukraine are crazy cheap at the moment, but you'd have to be crazy to go there -- unless your idea of fun involves annexations, militant rebels, and Borscht. Only one of those things is okay.
Given the present dangers, Ukraine finds itself under warning by the US State Department. And it's not alone; in fact, a whopping 41 nations are on the list, comprising roughly 20 percent of the entire world. That's not good.
Luckily, GlobalPost has catalogued all the US Passport and International Travel Office's current warnings and displayed them in this handy map. Consider it a guide to all the places you need to stay the hell away from (unless you want to get kidnapped).
We would not recommend trying to get kidnapped.
These are the specific warnings issued by the US State Department. Basically, as you get further down the list, the situation gets worse. You can also click here for further details: 
Security warning for some regions: 
Colombia and Mexico.
Security warning for entire country: 
Algeria, Saudi Arabia, Russia, Honduras, Djibouti, Venezuela, Iran, El Salvador, Burundi, Niger, Mozambique, and Haiti. 
Defer non-essential travel to some regions: 
Philippines, Kenya, Mali, Mauritania, Israel, West Bank, and Gaza.
Defer non-essential travel: 
Guinea, Liberia, Sierra Leone, and Pakistan.
Avoid all travel to some regions: 
Ukraine, Nigeria, Cameroon, Democratic Republic of the Congo, Sudan and Chad.
Avoid all travel to this country: 
Afghanistan, Lebanon, Iraq, South Sudan, Somalia, Lesotho, and North Korea.
Citizens remaining here depart immediately: 
Central African Republic, Libya, Syria, Eritrea, and Yemen.

Sophie-Claire Hoeller is Thrillist's über-efficient German associate travel editor, and has had frequent flyer status since she was born in a Lufthansa terminal. Follow her @Sohostyle.