Every State, Ranked by How Miserable Its Summers Are
Daniel Fishel/Thrillist
Daniel Fishel/Thrillist
People tend to think of winter as the soul-crushing time of year that you just do your best to endure, but depending on what part of America you live in, it could be summer that tests your will to live and the reliability of your A/C.
In the name of freedom and pseudoscience, we've taken the liberty of ranking all 50 states according to their level of summer misery, factoring in both the weather and the available ways to combat (or enjoy!) that weather. The higher the number, the more pleasant the summer. For those ranked at the bottom, we'd shake your hands out of respect, but they're really gross and sweaty right now.
50. Washington
Imagine the clouds breaking after a long storm. The landscape seems to brighten and bloom instantly, the sun gently warming you up as you step outside and take a stroll along the scenic waterfronts with equally scenic forests competing for your attention, the cool breeze in your face pairing nicely with the perfectly hopped beer and impossibly delicious artisanal ice cream you're double fisting (and somehow they taste good together)! Now imagine that feeling drawn out over a period of several months. That's summer in Washington.
49. Minnesota
I had always kind of assumed Minnesotans exaggerated when it came to the charms of their summers -- and make no mistake, mention the word "summer" in front of a Minnesotan and they are bound by state law to lecture you on the state's allegedly unparalleled summers for no less than nine minutes. I similarly always kind of thought the whole "10,000" lakes thing was an exaggeration, like someone saying "we have eleventy bajillion lakes" but nope, they have MORE than 10,000. And after spending some time there, I can begrudgingly admit that they aren't really exaggerating on the summertime fun front, either. In fact, they'll probably be angry they weren't number 50 instead of Washington. You know what? They might not be wrong.
48. Rhode Island
At the very bottom of Rhode Island lies Misquamicut State Beach and an entire sliver of a peninsula that juts into the Atlantic like a wooden spoon into a certain, regionally specific frozen lemonade. Now, if you're looking at a map, you might ponder how Rhode Island managed to claim that land from Connecticut, as it pretty clearly crosses over the border. And a clever person might say something like "well, the states are pretty clearly divided by the Pawcatuck River and the state lines follow the river out to the ocean." But THAT IS NOT THE POINT.
The point is this: RI is tiny, basically a state the size of a pre-renovation, middle tier high school football stadium in Texas, and usually it just gets the brunt of whatever weather is afflicting its bigger (but still somewhat small) neighbors in CT and Mass. But Rhode Island's secret is the summer. While all these other states were busy claiming land mass, RI made a smart long game Risk maneuver and just decided to scoop up all the coastline. And now they've got every summer pleasure you want, from the subtle wealth of beach towns like Little Compton, to the more aggressive wealth of beach towns like Narragansett, to the most aggressive wealth of beach towns like Newport, where billionaires used to build palatial estates and throw Gatsby-style Gilded Age parties where Vanderbilts and Berwinds and whomever Theresa Fair Oelrichs met playing lawn tennis that day would grind to Al Jolson and Mamie Smith as Harry Houdini impressed the children by trying to escape from a giant Del's Frozen Lemonade in the background. "Keep your land-locked suburbs," Rhode Island shouts. "We're going in the ocean."
47. Oregon
Nothing can screw up an Oregon summer. Not a two-hour brunch line. Not a surprise shortage of kombucha on tap. Not even an internet writer summing up your culture with broad hipster cliches that happen to be accurate, but whatever.
And to be clear, stuff can absolutely go wrong during an Oregon summer, like ending up with Sam Bowie and Greg Oden instead of Michael Jordan and Kevin Durant, for example. But no matter what hiccups happen along the way, the sun will (likely) be shining, the marionberries will be ripe, and the nearest brewery will probably be less than seven steps away with a patio that has your name on it. It's gonna be fine, because it's summer in Oregon -- if it's something you REALLY can't handle you'll just go camping.
46. Hawaii
As long as the trickster demigod Maui doesn't steal away Te Fiti's heart turning everything into ash, making the coconuts rotten, killing Moana's caring, mystical grandmother, and forcing Moana to go beyond the reef despite having just cursory knowledge of sailing and limited provisions, summer in Hawaii will be just as damn beautiful as it is every other damn season. Watch out for volcanoes, though.
45. New Jersey
The considerable damage of Hurricane Sandy (not to mention the emotional damage of Hurricane Snooki) forever changed the Jersey Shore, but one of the defining backdrops for experiencing an American summer has rebuilt itself admirably, and it's getting back to a place where "Sandy" is more likely to conjure up Springsteen lyrics than tragedy. And that's how it should be.
44. Michigan
If you're from Michigan, you know certain things. You know that a cold Oberon tastes like a Michigan summer. You know that Boston Coolers and Coney dogs ALSO taste like a Michigan summer, even if their geographic nomenclature suggests otherwise. And you know you're not going to argue about the relative merits of summertime in Michigan with strangers on the internet, because you're too busy enjoying a perfect piece of lakefront someplace to care about them, or about the little black flies that thirst only for your flesh.
43. California
There is a case to be made for the grossly hot weather inland, as the average high temperature in places like Fresno hits 96 by August, but even that's not ridiculous and anyway, California has 3,427 MILES of ocean shoreline, and another 32K of lakeshore. A couple of years ago, a former Google engineer made an interactive chart to showcase the places with the "most pleasant days" every year (taken from National Oceanic and Atmospheric Administration data) and Southern California dominates, with both LA and SD having more than 180 "pleasant" days a year. In fact, the top five most pleasant places are all in California (the recent heatwave notwithstanding). THERE IS A REASON THE MAMAS & THE PAPAS WROTE THAT DAMN SONG.
42. Vermont
By the time you read this, you will have missed 'Vermont Days,' the state's summer kick-off where everything is free, including state parks, fishing, museums, cheddar cheeses, maple syrup candies shaped like leaves/Bernie Sanders, and Phish concerts where they don't play "Been Caught Stealing" (Editor's Note: we may not have portrayed certain aspects of Vermont Days accurately).
Despite missing the greatest Vermont Day of the year, the Vermont climate during the summer is still somewhat grand (even if it isn't on an ocean), thanks to water hangs around Island Pond, Lake Willoughby, and Silver Lake, or hiking along the Quechee Gorge, Mount Mansfield, Camel's Hump, and all those damn ski mountains. Plus the average temps stay nicely between 85 and 60 all summer, so you'll never get that hot while sitting outside, enjoying your gratis cheeses and ice creams and rarely heard live music (EN: again, not correct).
41. Colorado
Maybe hike. Maybe ski. Maybe drink. Maybe smoke. Definitely summer in Colorado.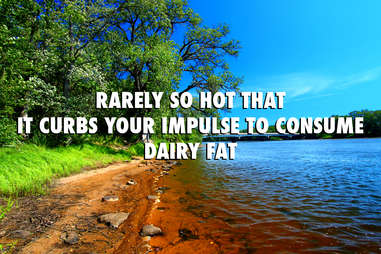 40. Wisconsin
Wisconsin: where it can get hot, but rarely so hot that it does anything to impede your impulse to consume various forms of dairy fat. They should put that on a T-shirt. Probably a tight-fitting T-shirt. Because of the dairy fat. But hey, everyone starts looking pretty damn good after enough Spotted Cows.
39. New Hampshire
People don't really give New Hampshire enough credit for their lakes, is what everyone who goes to NH in the summer shouts, all year long. And yes, we will admit that Lake Winnipesaukee, with its 258 islands and miles and miles of splendor and boats filled with upper middle class Beverly, Massachusetts, residents is pretty damn nice, and Lake Francis is close to the Canadian border in case you need a quick getaway. But take away those lakes and you're just left with a hot New England summer filled with NASCAR races, Mount Washington bumper stickers, and humid trips to Story Land, Santa's Village, and the gloriously named Hobo Railroad in unintentionally wet T-shirts.
38. Massachusetts
Despite the inevitable heat and humidity, Massachusetts summers were incredible for so, so, so long because of the glory that is the Cape and the Islands. And then great white sharks decided to use Cape Cod as a breeding ground and make their home on Nauset Beach in an attempt to dine on people right after they just ate a bunch of delicious onion rings and clam strips at Liam's, and suddenly my entire idea of the idyllic Cape Cod summer has been ruined by danger. Oh, plus the ever-present clusterf*ck of greenhead flies.
It's still kind of lovely though. You just have to go to Skaket.
37. Montana
Pro tip: If a state you generally don't think about that frequently has seen a steady stream of celebrities snapping up property there for decades now, there's a decent chance it features some decidedly underrated summers. Make sure you're nice to all the scraggly looking old bearded dudes, because one of them could be David Letterman. Also, because you should generally be nice. Like a summer in Montana.
36. Maine
There could be an argument made that Maine's summer weather is overhyped, that the brutal aspect of Maine's winters somehow makes the summer weather more compelling. And you know what? They may be right! But who really cares when you can flit around on Maine's 293 miles of coast and 4,617 islands, popping blueberries fresh off the bushes, and catching lobsters in your L.L. Bean duck boots?
The violent embrace winter keeps on Maine only makes the jimmy-laced frappes and basic ham sandwiches known as 'Italians' that Mainers enjoy in the warm summer months that much more spectacular. Also, please don't ask us to explain Down East.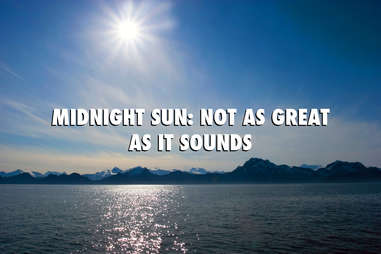 35. Alaska
It's kind of impossible to rate Alaska's summers in relation to those of the Lower 48. Temperatures that often struggle to climb past 60 might sound like a non-starter elsewhere, but when you're accustomed to spending much of your existence in bone-chilling darkness, it's hard to describe the legitimate revelation that is a brisk July day in Juneau. Also, there's that whole Midnight Sun phenomenon, which may sound appealing, but anyone with even a cursory knowledge of early 2000s psychological thrillers starring Al Pacino know it's not always everything it's cracked up to be.
34. Illinois
If you've ever experienced a perfect Chicago summer Saturday, skyscrapers to one side and a packed Lake Michigan Beach to the other, with seemingly everyone in the city out day drinking like there's no tomorrow, you may have thought to yourself "Is there any place better to be in the summer"? If you've ever been caught with no A/C in your car in Friday rush hour traffic among all the people trying to get their asses to Michigan or Wisconsin, you know the answer is "yes."
But still, it's not half bad, either.
33. Idaho
Imagine a Washington or Oregon summer, except the food isn't quite as good, there's no ocean, and people weirdly won't shut up about the college football exploits of somebody named Kellen Moore. That's Idaho. Not bad. Not the best.
32. Wyoming
Like a Colorado summer, but with fewer people with you to enjoy it. Come to think of it, that could be a feature or a bug, depending on how you like to roll.
31. North Carolina
North Carolina is kind of lovely during almost the entire year, thanks to the Appalachian Mountains acting as a sort of Captain America (Captain North Carolina?) shield blocking the gross chubby weather of the Midwest from entering and corrupting Dean Smith's elegant basketball and pork BBQ factory. With a giant coastline protected on the other side by the serpent-like islands of the Outer Banks, mainland Carolina seems like it's in a prime position to just sit back and enjoy that humid subtropical summer weather, until you start Googling cyclone danger.
DON'T GOOGLE CYCLONE DANGER!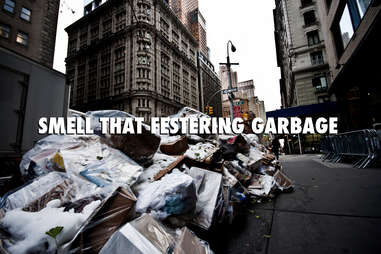 30. New York
On the one hand, there's the faint hope that a friend of a friend might invite you up to his family's cottage in East Hampton. What's that? Their neighbor's throwing a lavish party that weekend? And their neighbor happens to be Ina Garten? Oh how you'll delight the Barefoot Contessa when you shower compliments upon her ethereal lobster corn chowder. And in turn, the delight shall verily be yours when Jeffrey proves to be just as personable in real life as you'd hoped, the two of you trading assorted barbs and witticisms as you marvel at the tender crumb of the raspberry rhubarb crostata, a scoop of lavender ice cream melting slowly over the top as the sun sets, the first flickers of a bonfire crackling playfully down by the beachfront. Truly, it will have been an evening to remember.
On the other hand, there's the way a festering bag of garbage smells on a crowded Manhattan sidewalk in August. So yeah, this feels about right.
29. Kentucky
There is a reason it always seemed like the show Justified was taking place in the fall.
28. Nebraska
As Chancellor of All Things Nebraska Tom Osborne used to say, "A Nebraska summer is like a partially husked ear of corn -- OK, for the most part, depending on where you bite."
27. Connecticut
If New England states in the summer were Baldwin brothers, Connecticut would be whichever is the shittiest Baldwin brother.
26. Ohio
Because I'm a journalist, I did some firsthand reporting for the Ohio section and asked two family members who grew up in Ohio to describe and rate the Birthplace of Aviation's summer weather. The first said something about Sandusky Bay having "above average" jet skiing and the other said I look like a "lame (bad swear word)" in one of my social media pics.
ANYWAY, this sort of familial insubordination forced me to use search engines, and somehow I found my way to an Ohioan weather buff's long post on lake breeze effect and found out people around Lake Erie call it "nature's air conditioner," so Northern Ohio has something to brag about in the summer, while Southern Ohio gets pretty damn hot (subtropical even!) and is forced to spend most of the summer driving into Kentucky for cheaper gas while tossing wall lizards out of car windows.
25. Utah
On the plus side, Arches National Park is a damned treasure, highlighting a wealth of outdoor splendor that doesn't get nearly as much love as it should relative to some of the other Rocky Mountain states. On the negative side, temple garments really amp up the heat factor, and there's a reason Salt Lake City landed the Winter Olympics.
24. Nevada
There are multiple reasons people in Vegas never seem to walk anywhere. Summer in Nevada is one of them.
23. Delaware
"We have some coastline, we swear" is one of several rejected tourism slogans from a state whose summers have been described as "definitely not terrible" by at least one person I knew freshman year of college.
22. Iowa
Back before Chris Kingsbury consistently made three pointers from half court while smoking Marlboro Reds, Iowa was mostly tall grass prairie land, and then Iowa became the giant highway billboard for America's farmland, and all that prairie grass became part of farms, and I'm not sure if that had anything to do with the climate, but it is harsh as hell. Iowa never gets a season off — the winters are shitty and cold, and the summers are hot and humid as hell. Thunderstorms happen one in three days during summer months. Tornadoes are an issue. Little-reported fact: It becomes harder to enjoy loose meat sandwiches and Blue Bunny ice cream during tornadoes.
I'm not sure what Iowa did to Mother Nature, but y'all should probably apologize by the time she gets back from Maid-Rite.
21. Pennsylvania
Surprisingly, Vinny from South Philly doesn't grow MORE patient when it's 95 degrees out, the pollen is wrecking his allergies, and the Flyers just whiffed on yet another draft pick. Luckily, he doesn't speak for all Pennsylvanians. Jedediah from Lancaster, for example, has never experienced air conditioning but would love to discuss quality handmade furniture with you over a delightful slice of shoofly pie. Spend more time hanging out with Jedediah.
20. South Dakota
Severe dry spells! Frequent thunderstorms! Tornado Alley! Mount Rushmore! The World's Largest Pheasant!
In conclusion, South Dakota is much more lovely (and filled with people on bikes!) in the summer than in the winter.
19. Indiana
I spent sizable portions of the summers of my youth at a YMCA camp in Indiana, so it's hard for me to talk about summers there divorced from the affection and nostalgia I feel for the Hoosier State. Then I remember what it was like to sweat through three T-shirts in a single morning only to combat DEET-resistant mosquitoes in the evenings. That said, Indiana definitely has its charms, but the sandy splendor of the dunes and the trashy splendor of Indiana Beach can only carry you so far. Suck on a chili dog, Mellencamp.
18. North Dakota
If all of America was a summertime amusement park, North Dakota would be that game where you pay a buck to throw some rings on some bottles, they all bounce off, and you walk away as though nothing happened and forget about it entirely a few minutes later.
It makes sense, OK?
17. Tennessee
Remember walkin' in Memphis? No, not the song. Remember the time your belly was so full of ribs and mac & cheese from Central you were practically sweating BBQ sauce by the time you got to Silky O'Sullivans, where you figured a few beers might settle your stomach and cool you off? However, you were horribly wrong and the evidence ended up splattered all over Beale St. Somewhere in the distance you were sure you heard someone laughing at you, but it turned out it was just a bachelorette party whose piercing shrieks were somehow audible all the way from Nashville. #nashvegas #besties #JessSaidYes
Jess will enjoy her bachelorette party, save for the drama with Becca over some shit that's been brewing since sophomore year. It'll be a mixed bag, like a summer in Tennessee.
16. Maryland
The rapturous joy that is feasting on an unreasonably large pile of blue crabs is almost enough to make you forget that the air is also thick enough to chew, and there's a legitimate debate as to whether the air or the crab is more filling.
15. Virginia
Virginia is for lovers. Summer in Virginia is for counting how many lower back tattoos you can spot in a single afternoon at Busch Gardens, finding out what it smells like when a Colonial Williamsburg employee sweats through his breeches, wondering if Colleen's heat stroke is going to curtail your Shenandoah wine tasting plans, and also lovers. At press time, said lovers were wondering whether or not they should keep up this whole spooning charade because the A/C's busted and nobody's comfortable right now.
14. West Virginia
If you've ever experienced a bite of a pepperoni roll during a West Virginia summer, you've basically experienced what a pepperoni roll tastes like at any other time of year. Also West Virginia summers are sort of like Virginia summers without an oceanfront. And without a lot of other things.
13. Missouri
Don't sleep on Lake of the Ozarks and Party Cove, where one of America's greatest booze-fueled redneck lake parties rages all summer long. Then again, no amount of Ted Drewes frozen custard can change the fact that it's hot enough to fry a ravioli right there on the sidewalk, and that aforementioned party lake is a serpentine man-made monstrosity. Nope, no amount of custard can change that. Not even a Reese's concrete.
12. Oklahoma
Remember those terrifying and depressing old photos of the Dust Bowl from your history textbook in elementary school where it's all gray and bleak and everyone just looks like they can't decide whether to be sad or dehydrated or both? It's nothing like that anymore -- OR SO THE OKLAHOMA BOARD OF TOURISM WOULD HAVE YOU BELIEVE.
11. Kansas
It's kinda like Oklahoma, but with fewer onions on the burgers and a roughly equal number of tornado warnings.
10. South Carolina
Little-known fact: During the summer months, the South Carolina town of Mount Pleasant renames itself "Mount How Is It Possible That My Body Is Both Slippery and Sticky Right Now Don't Touch Me I'm Gross It's Even Too Hot to Enjoy a Plate of Mustard-Forward Barbecue Pass The Cheerwine As It Is My Only Refuge From This Unyielding Hazy Inferno."
For real. They have to change the signs and everything.
Also, Myrtle Beach has one of America's most impressive collections of dads in golf shorts.
9. New Mexico
It's tough to escape the desert heat when even the water supply has state-mandated thresholds of green chile. Somewhere south of Santa Fe there's a gila monster pricing flights to Seattle at a public library before realizing he has no source of income and deciding to peruse some NSFW lizard websites instead, really creeping everyone out in the process.
8. Florida
Southern Florida's tropical climate during the summer is like walking around inside a steam room, except the steam room is filled with people throwing alligators. Northern Florida is more temperate, which allows people to get more alarmingly sunburned at the Flora-Bama while tossing mullets. But since Dave Barry spent an entire chapter in his newest book defending Florida specifically against our arbitrary state rankings, we feel compelled to point out that the Gulf Stream keeps rather nice weather in most of Florida year-round, and Florida's beaches have the warmest surface temp in the continental US. Hi Dave!
7. Texas
It is so hard to generalize about Texas weather. Texas is the size of two Germanys! Do people in Bavaria have the same weather as people in, um, the other region of Germany that isn't Bavaria? I think not. And yet, it is tempting to generalize here, mostly because that is the entire point of this arbitrary exercise. So here we go: Texas summers are hot as hell. To further tease out that nuanced point, let me offer you an anecdote from my youth in Texas:
During the summer, the only time you were ever comfortable was for that brief period of time after you get out of a pool of water while your body is confused and wet. So large swaths of my youth were spent constantly getting in and out of pools and lakes and ponds and large puddles, in an attempt to stay somewhat temperate. Other parts of my youth were spent at the Galleria in Dallas, looking at the ice rink and wishing I could dig part of it up and eat it. I led a complicated childhood, is my point.
6. Georgia
Here's a typical summer Friday afternoon in Atlanta: I-85 is a parking lot in both directions, with people from around the state heading inbound to party and Atlantans heading outbound to be… anywhere else. But no matter where they end up, both parties will spend their evenings fending off mosquitoes and swamp ass on all fronts. In the present, meanwhile, they're just fending off thoughts about the highway collapsing.
5. Arkansas
Come for the same soul-draining swelter you'll find radiating through the rest of SEC country, stay for the utter lack of oceanfront, judicious use of air conditioning, and ubiquity of old timers for whom "goddamn" is a mandatory honorific for every mention of the word "sun."
It's slightly cooler if you head farther north -- just not cool enough.
Goddamn sun.
4. Alabama
The People of Alabama asked the Lord that He grant them their worldly right to play Football in All Seasons and the Lord granted this wish with mild winters and hot, sunny summers. But then the People went back to the Lord and asked if maybe He could tamp down the Humidity a tad because of Perspiration Issues and also if he knew anything about the Mosquito Problem, but then the Lord mentioned something about telling Moses to make a fiery serpent and set it on a pole and The People kind of just left it Alone and so now here We are.
3. Arizona
At what point does the "dry heat" argument lose its luster? Could it be when the temperature goes up to 120 DEGREES and summer days merely consist of retired people in air-conditioned cars driving slowly around mall parking lots looking for spots that are marginally close to the shade? Not there yet? How about when it's too hot for planes to take off? Maybe three is too generous?
2. Louisiana
According to the many meteorologist conferences I frequent, there is a rule that if John Grisham has written a novel that has since been turned into a movie that takes place in your state, that state has to have a pretty shitty summer. This is actually one of the core tenets of meteorological study. And as I recall with my nearly photographic memory of John Grisham novels that have been turned into films, The Pelican Brief features Julia Roberts as Darby Shaw, a Tulane Law student in NEW ORLEANS. And, as if that isn't enough, The Client features a senator from LOUISIANA going missing. Don't think I'm providing enough statistical data to back up my claims? Well how about this, taken from a city-data.com message board about unpleasant summers: "Arkansas and Louisiana feel like ovens 24 hours a day, even at nighttime during the summer." Sorry friends, but the Grisham Rule + message board statements from "AJF131" = facts.
1. Mississippi
It was tempting to go another direction with the No. 1 choice here, as Mississippi often finishes in the least-desirable position on these every state lists, whether the matter at hand is education, health of the general population, or lack of homicidal fire ants. After all, Mississippi is hardly the only Gulf Coast state sporting that unyielding combo of heat and humidity that we've had to find 37 different ways to describe in this article thus far. You know, the kind of weather not even an oil drum's worth of sweet tea can combat (38)! Top five most miserable summer? Certainly, but is it REALLY necessary to slot Mississippi all the way at the bottom? Surely not.
Then I spoke to a colleague of mine who is a leading authority on all things Southern and asked him to weigh in on where he'd least like to be during summer. His response was immediate.
"Mississippi. It's so hot. It's hot, and there's nothing to do."
Well, there's always mud pie and air conditioning?
Sign up here for our daily Thrillist email and subscribe here for our YouTube channel to get your fix of the best in food/drink/fun.

Deputy features editor Matt Lynch feels like there probably should have been a Bananarama "Cruel Summer" joke in here somewhere, but alas. Don't leave him there on his own @MLynchChi.