The US Virgin Islands Will Give You $300 to Spend There if You Go in 2017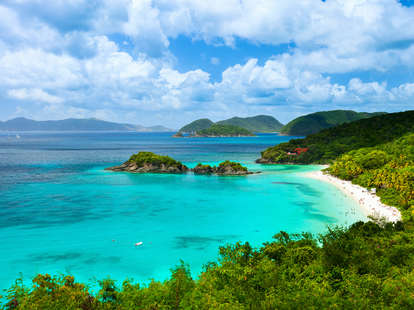 Trunk Bay, St. John

| BlueOrange Studio/Shutterstock
Trunk Bay, St. John

| BlueOrange Studio/Shutterstock
You wouldn't expect the US Virgin Islands to have to pay people to go there. North Dakota, maybe. Saskatchewan, sure. But St. Croix? It's a tropical paradise with no language barriers where you don't even need a passport. We should be banging down the doors to get in, not the other way around.
Not that the USVI is hurting for tourism, really, but to honor the 100th anniversary of the US taking control of St. Thomas, St. John, and St. Croix from Denmark, the islands are offering visitors $300 to spend exploring the place. That's right: three bills to dole out hiking, kayaking, touring, swimming, and eating your way through the Virgin Islands.
Can I spend that money any place?
Not exactly. They're not handing you 300 bones to blow on overpriced rum runners. The idea is to get you to explore and learn about the United States' chunk of the West Indies, so the credits are good for things like eco-tours, museums, food tours, and kayaking adventures.
But unlike those Valpaks you used to get in the mail that said "$400 in savings inside!", this arrangement isn't a fancy way of saying "coupon book." The credits will be good on anything you buy from these designated sites and activities, up to and including the full retail prices. Gratuity, of course, not included.
So how do I get these "credits"?
Simple. You book a trip to the USVI for at least three nights through VisitUSVI.com and the department of tourism will send you $300 in credits. These are actual paper you can use just like cash at any of the participating locations. And if you happen to travel in March (aka the month of the actual centennial) the DOT will throw in a commemorative souvenir.
All sorts of events are going on in the USVI to commemorate the centennial, which you can peep right here. But even if you're not into any of it, going on a vacation where $300 worth of your trip is covered is never a bad idea. Or, at least, never an expensive one.
Sign up here for our daily Thrillist email, and get your fix of the best in food/drink/fun.
Matt Meltzer is a staff writer with Thrillist who has spent a lot more than $300 on overpriced rum runners. Follow him on Instagram @meltrez1.